A woman's body is constantly changing throughout each stage of life. Having smaller or asymmetrical breasts is a common superficial concern that many women experience due to heredity or natural changes in skin tissue. At Rattinan Clinic, we have a passion for helping our patients look and feel their best at any age. For women who have smaller, unsymmetrical, or unevenly shaped breasts, we offer personalized breast augmentation for a more aesthetically pleasing appearance tailored to you.
What is Breast Augmentation?
Breast augmentation procedure is a customizable treatment that utilizes breast implants to enhance the size, volume, and shape of breasts,It is designed for patients who are unsatisfied with the lack of volume, size, and appearance of their breasts. It is also effective at improving symmetry for an enhanced silhouette. It is one of the most common cosmetic surgeries skillfully performed at Rattinan Clinic. If you are searching for an effective solution for enhancing your breasts, a personalized breast augmentation can benefit you!
What to Expect
During an initial consultation, a personalized treatment plan is created that is tailored to you and your specific needs and aesthetic desires. This includes selecting the specific type of breast implant. There are two primary types of breast implants which include saline and silicone. Saline implants contain a composition that is similar to water. These implants are backed by years of research in order to ensure optimal patient safety and results. The preference of which implant will be used during treatment is unique to each patient.
The procedure is performed under anesthesia for patient comfort during and following the procedure. During treatment, a tiny incision is made in one of three areas. The most common area is along the breast crease for minimal and discrete scarring. Other possible areas include below the nipple or in the armpit region. Once the incision is made, a pocket is gently created within the breast to facilitate the implant. The implants are then placed in the pocket within each of the breasts. The incisions are then closed to complete the procedure.
The procedure process typically takes a total of 1 to 2 hours to complete. Patients are provided at-home post-procedure recovery instructions to ensure a speedy and healthy recovery. Following the recovery process, you can instantly notice immediate results for enhanced and symmetrical breasts.
Back to the table of contents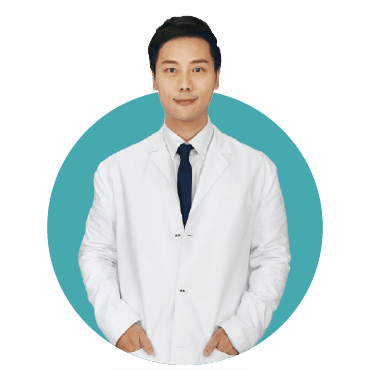 Surgeon
The surgeon who performs the treatment
DR. Wutthiwat Anupansawang
Board Certifications
M.D., Mahidol University, Siriraj Hospital (2004)
Certificate of General Surgery Training Program, Metropolitan Group Hospitals, Chicago (2008)
Certificate of General Surgery Training Program, Case Western Reserve University, Cleveland (2009)
Diploma Thai Board of General Surgery, Siriraj Hospital (2012)
Certificate of the International Visiting Scholars Training Program Completion at the Department of Surgery, ASAN Medical Center, Seoul, Korea
Certificate of Completion in Body Liposculpturing Surgery, Seoul, Korea.
Certificate of Completion in Rhinoplasty, Blephaloplasty, Breast Augmentation, Hair Transplant Surgery, Seoul, Korea
Special Clinic Interests
Diabetics and bariatric
Transgender Hormone replacement

Operation Time
1 1⁄2 Hours

Anesthetic Method
Anesthetic


Recovery Period
1 Week After Surgery
Alert : Common complications that can occur after surgery include: Bleeding, infection Or that inflammation They differ depending on the physical condition of each person. Therefore, caution should be followed strictly.
Atmosphere Rattinan Medical Center
Clean, safe and meet international standards
Class A surgical facility
Along with a team of expert doctors
Established 1999, over 24 years of experience
Accredited by AACI (American Accreditation Commission International) 2021- current