Many individuals find certain proportions attractive, i.e., a slim waist and a large backside. Few people are born with this proportions, however, which is where buttock augmentation comes into play. Buttock augmentation is a surgical procedure to reshape, add volume to the buttocks and improve the contours of the backside. Plastic surgeons all over the world perform this procedure, and it has become popular in many different regions. Performing buttock augmentation along with liposuction allows the "right" proportions to be attained.
Buttock augmentation is commonly performed using implants, which are silicone-filled capsules to add volume to the area. These are surgically placed in the buttocks in order to give the patient the look they want to achieve. Fat grafting is another option for buttock augmentation, which is a procedure to transfer fat from one area of the body into the buttocks.
The most popular types of buttock-related surgeries include butt lifts, implants, and augmentation with fat grafting.
Source: www.plasticsurgery.org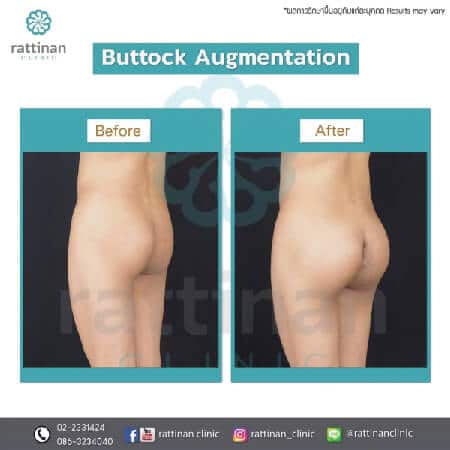 With Rattinan's Hybrid Technique, the buttock enhancement is done by fat grafting and intramuscular gluteal augmentation technique to ensure that implants are naturally position giving natural look and good aesthetic results, including lower complications. Patients can choose the shape that they prefer, either round or water drop shape. Some might not need to undergo surgery (this varies depending on the individual), no scars, less pain, affordable price and downtime recovery.
Who Can Benefit From Buttock Augmentation?
A person who has small buttock or always has a flat butt and would like to look better when wearing tights or bikinis.
A person who already did breast augmentation and would like to enhance the shape of their bodies.
Those who lost a lot of weights and need to do body tightening including enhancing their buttock.
Buttock sagging or slack appearance due to aging.
Male who wants a feminine look. Since a man normally do not have shaped hip, buttock implant is another option for them.
Those who do not want to wear hip and butt padded panties and want to wear skinny pants to show their hips.
What is an Ideal Shape?
Generally, women have a round shape but men have a square shape. For a woman's buttock, there will be lower back part and the tail bone will make her have a right proportion. Research said that the appropriate proportions are at 45 degree which will be eye-catching.
Buttock that has a masculine shape.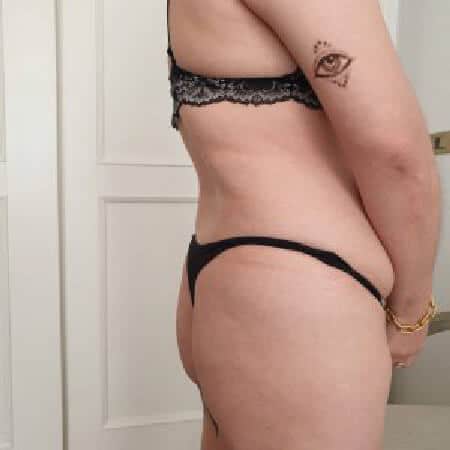 The buttocks look flat when wearing jeans. Buttock implants will correct this issue.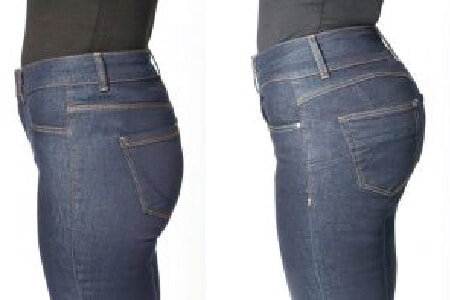 Comparison of hip degree.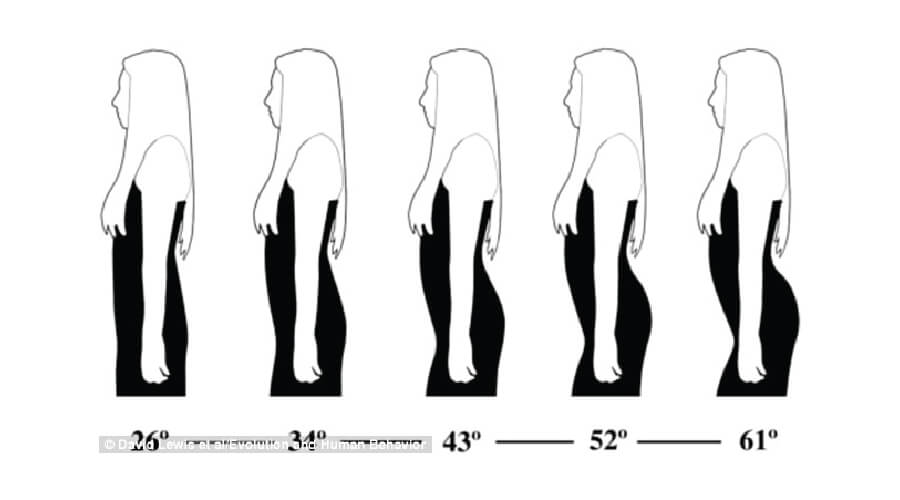 Each degree has different appeal
26 degrees, too flat and looks masculine
34 degrees, can see some hip but not eye-catching
61 degrees, too much not quite nice
The ideal ones are those between 43-52 degree in No.3-No. 4 which is around 44 degree between back and buttock.
Back to the table of contents
Why are Men Attracted to the Shape of the Pelvis?
Psychologically men like women with an aesthetically-pleasing pelvis shape as they are said to have an easier time giving birth. Meanwhile, women may not like it and prefer smaller butt than pelvis shape as it would be more difficult to wear pants.
How to Address Sagging Buttocks?
Similar to breast augmentation, apart from flat buttock, individuals may also experience sagging buttocks.
Excess sagging skin buttock need do the surgery to lift up the skin
Small buttock, need to replace with silicone.
Excess sagging skin and small buttock need to do both.
Skin Laxity in the Buttocks
The butt line will be longer than half of the buttock. The half part is divided by red dot line as shown below: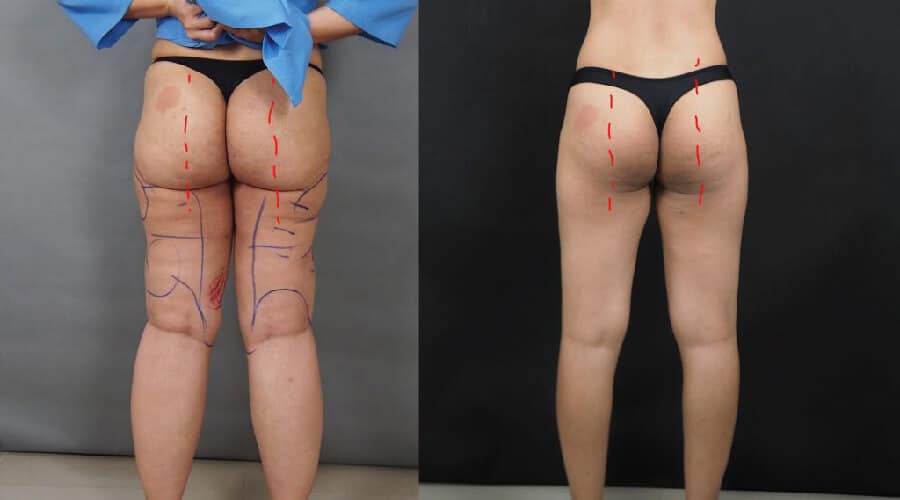 From the images,
The left image has a long butt line and lots of sagging skin which almost reach the outer part.
The right image has a tighter buttock, no excessive sagging skin.
Addressing Skin Laxity
For left image, reduce the size by liposuction or replacing with silicone to lift up but it is not a good solution. Need to do tightening to make it look less sagging. Remove the skin above the waist and lift up. The butt will be lift up to the former look.
Back to the table of contents
Three Techniques We Offer at Rattinan
1. Auto-augmentation
This method suits those who lose a lot of weight, excess sagging skin on the backside, flat muscle, visible stripe. This group of people need to remove the skin on their waist and lift up. The patient's own removed tissue can be used to add volume in the buttock. The picture below shows the case that need to do butt lift and has enough left tissues so the silicone is not necessary.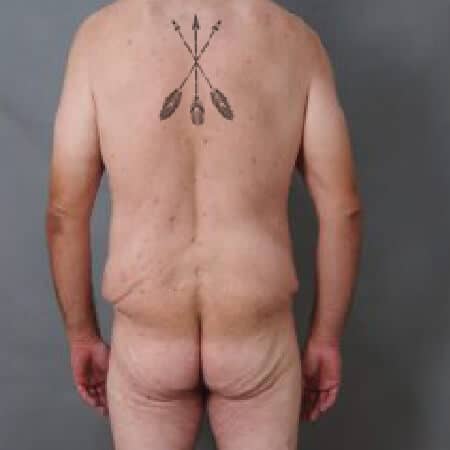 2. Silicone Implants
From the image No. 2, if she added 150cc-250cc of silicone implants to her buttock. It will give her a more contouring effects.
Issue with the silicone moving?
Intramuscular implant insertion technique can be used to ensure that the implants will not move or slip out of place. The muscle and fat cover provided in this plane is enough to hide the implant to make a natural look.
3. Silicone Implants combined with fat grafting
Ideal for those who have low fat in the butt making even placing the implant under the muscle not natural look. Need to fill the fat to enhance the volume.
Comparing Brazilian lift with Silicone Implant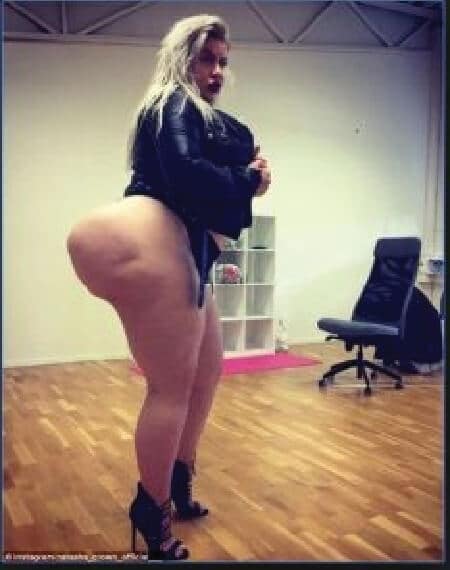 Most dangerous fat injection is used by Brazilian butt lift technique which is prohibited in many country due to high death rate at approximately 1 : 5000. This is because the fat injection need to be inserted under muscle for better survival and higher volume. And fat embolism travel to lung or heart via large vessels in the butt and it can stay long. This method used to be popular 10 years ago.
We do not recommend this type of surgery. At our clinic, we offer silicone augmentation + fat injection to only in skin layer which is safer and less complication. Sometimes only using the silicone implants are not enough. From the picture below, we insert the implants to increase the volume but still not beautiful enough since the butt sides still looks flat.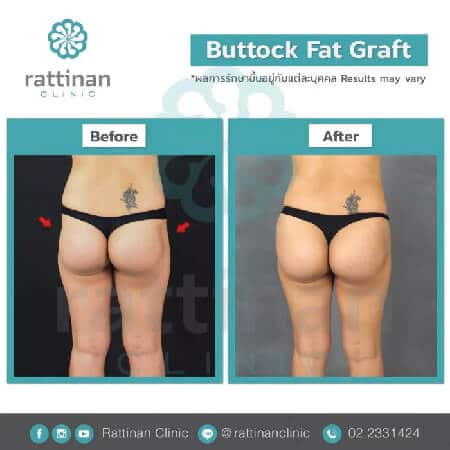 So we use buttock fat grafting technique to fix this. Using the fat from love handle and fill the fat in the butt sides, 250 cc each under the skin which is safe and not reach the muscle plane. As a result, this patient got slim waist and wider hip, more symmetrical look.
Am I a Good Candidate for Butt Augmentation?
Good candidates include individuals who are unsatisfied with the size or shape of their buttocks. It can also be beneficial for individuals who suffer from a sagging backside. This is a surgical procedure, however, so not everyone will quality. It is important to be in good overall health before you undergo any type of surgery. This will ensure a quick and safe recovery. Individuals who have a muscular body type may want to consider implants, while those will extra fat deposits may be well-suited for a butt lift.
Back to the table of contents
Why Choose Rattinan Clinic?
At Rattinan Clinic, Intramuscular implant insertion technique is performed so the implants placed under the strong muscle and will lock the silicone firmly in the intramuscular not in the subcutaneous plane. Buttock augmentation surgery is performed under general anesthesia, carried out in outpatient settings in clean and safe environment. Implants we use is from the brand SEBBIN from France,
How Long Does the Procedure Take?
Total surgery time is 2 hours, then patient will stay at the recovery room for another 3-4 hours until stable. No need for hospitalization.
How Long is the Recovery Time?
The recovery time for butt augmentation via implants is approximately is within 1-2 weeks before you can return to work.
What Should I do After Surgery?
You will need to sleep on your stomach rather than your back or side. When sitting, use a pillow or cushion placed behind the legs (hamstring muscles) to help raise the buttocks, avoiding pressure onto the fat grafts.
What are the Side Effects?
Side effects include swelling, bruising, numbness, pain, and asymmetry. Less common but more serious side effects include excessive blood loss, blood clots, deep vein thrombosis, and cardiac and pulmonary complications.
Back to the table of contents
What Results Can I Expect?
The new shapes are visible almost immediately. However, it will take some time for the final results of the procedure to fully develop. Satisfaction with your new image should continue to grow as you recover from surgery. Although good results are expected from your buttock enhancement surgery, there is no guarantee.
In some situations, it may not be possible to achieve optimal results with a single surgical procedure and another surgery may be necessary. Following your physician's instructions is essential to the success of your surgery. It is important that the surgical incisions are not subjected to excessive force, motion, swelling or abrasion during the time of healing.
Meet the Doctor
The buttock augmentation is performed by DR. SURINNART CHAROENCHITT – BOARD CERTIFIED PLASTIC & RECONSTRUCTIVE SURGEON with the technique that he learned in France.
Back to the table of contents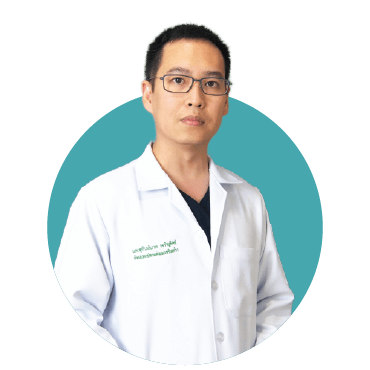 Board certified plastic & Reconstructive surgeon
The surgeon who performs the treatment
Dr. Surinnart Charoenchitt
Biography
M.D license no. 33163
Doctor of medicine (2005)
Board certified Plastic and Reconstructive surgery , Chulalongkorn University (2013)
Fellowship at Air force Military Medicine
Fellowship, Post Bariatric surgery body lifting , Geneva , Switzerland
Certificate, Buttock augmentation , Paris, France
Member of the International Society of Aesthetic Plastic Surgery (ISAPS)
Job Title
Specializations
Plastic and Reconstructive Surgery
Buttock augmentation
Tummy tuck
Arm lift
Thighs lift
Braline Backlift
Breast Lift

Operation Time
1 1⁄2 Hours

Anesthetic Method
Anesthetic

Stay in Hospital
1 Day

Recovery Period
1 Week After Surgery
Alert : Common complications that can occur after surgery include: Bleeding, infection Or that inflammation They differ depending on the physical condition of each person. Therefore, caution should be followed strictly.
Atmosphere Rattinan Medical Center
Clean, safe and meet international standards
Class A surgical facility
Along with a team of expert doctors
Established 1999, over 24 years of experience
Accredited by AACI (American Accreditation Commission International) 2021- current