If you have a flabby stomach or excess fat and skin that doesn't respond to diet and exercise then you might need to consider having a tummy tuck surgery also known as abdominoplasty. Abdominoplasty is a surgical procedure to remove excess fat and skin and restore separated abdominal muscle. Even individuals who have normal body weight and proportion can develop an abdomen that protrudes or is sagging.
COMMON CAUSES :
Aging
Heredity of low collagen fiber in the skin
Pregnancy
After massive weight loss
Different types of Tummy Tuck Procedures at Our Clinic in Thailand
Full tummy tuck – a type of abdominoplasty that addresses three components of the abdomen: fat, muscle, and the skin. The scar may extend from hip to hip and locate near the bikini line.
Mini tummy tuck – another variation of abdominoplasty that has a shorter incision just above the pubic region similar to C-section. To eliminate stomach bulging muscle repair is done and removal of excess skin, sometimes it can be combined with liposuction to remove fat if patient desired. The patient candidate must have small sagging on the lower abdomen only. No repair of belly button.
Reversed abdominoplasty or tummy tuck – another type of abdominoplasty treating upper abdomen skin sagging which incision at inframammary. This type of surgery is not suitable for all patients. Patients with previous inframammary scars favor this technique
Fleur de Lis abdominoplasty or tummy tuck – Variation of abdominoplasty for sever sagging of skin, addresses the vertical skin excess by adding a vertical excisional component. It is usually suitable for patient after massive weight loss.
What Abdominoplasty Surgery Can't Do :
A tummy tuck is not a substitute for weight loss or exercise programs
Cannot correct stretch marks, although may be removed or improved if they are located on the areas of the excess skin that will be excised.
For a woman who plans to get pregnant is advised to postpone a tummy tuck until she is done having children.
Also if planning to lose a lot of weight you will also be advised to postpone a tummy tuck. Tummy tuck results are technically permanent but the outcome can be greatly diminished by significant fluctuations in your weight.
Who is a Good Candidate for Tummy Tuck Surgery?
You're a good candidate for tummy tuck surgery if :
You are physically healthy and at a stable weight
You have realistic expectations
You are a nonsmoker
You are bothered by the appearance of your abdomen
Contact Us
Back to the table of contents
Tummy Tuck Surgery Risks And Potential Complications
Any surgery has its own risks and complications on deciding to have a plastic surgery an individual must always take into consideration the benefit of a particular procedure will achieve his or her goal and if the possible risks and complications of tummy tuck surgery are acceptable.
What Are The Risks Involved With Tummy Tuck Surgery?
Potential risks and complications of abdominoplasty :
Anesthesia risks
Bleeding
Infection
Fluid accumulation (seroma)
Poor wound healing
Skin loss
Numbness or other changes in skin sensation
Skin discoloration and/or prolonged swelling
Unfavorable scarring
The recurrent looseness of skin
Fatty tissue found deep in the skin might die (fat necrosis)
Deep vein thrombosis, cardiac and pulmonary complications
Asymmetry
Suboptimal aesthetic result
The possibility of revisional surgery
Persistent pain
How Should I Prepare for Tummy Tuck Surgery?
Tummy tuck surgery preparation includes :
Lab tests for medical evaluation
Stop smoking and drinking alcohol
Take certain medications or adjust your current medications
Avoid taking aspirin, anti-inflammatory drugs, and herbal supplements as they can increase bleeding.
Contact Us
Back to the table of contents
What are the Steps for a Tummy Tuck Procedure in Rattinan Clinic in Bangkok, Thailand?
The goal of abdominal contour surgery is the esthetic improvement of the abdomen with the least conspicuous scar feasible as well as to achieve a narrower waistline and natural look umbilicus.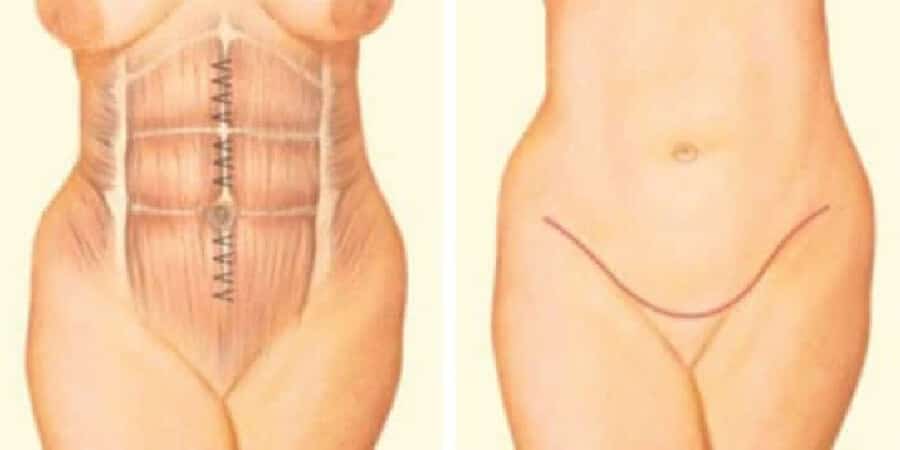 Step 1 : Liposuction all abdominal area, and waistline.
Step 2 : Abdominal muscle repair using a permanent suture
Step 3 : Excess skin removal.
Step 4 : New umbilicus creation using a star shape technique.
Step 5 : Before we finish, a very small catheter containing numb medication will be placed directly to the incision to eliminate pain. It will stay throughout the hospital stay. Most patient reports zero pain score after our tummy tuck surgery.
small catheter containing numb medication is connected with external balloon pump that provide medication up to 72 hours.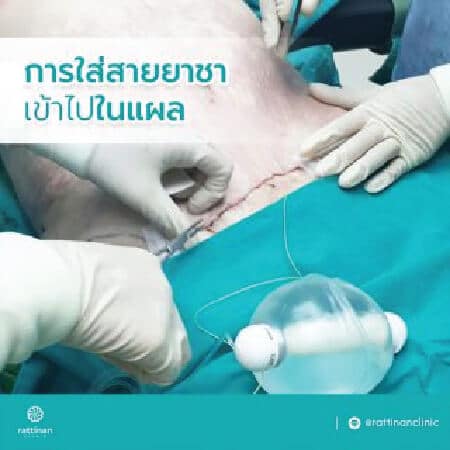 Step 6 : Drainage will be removed before the patient leaves the hospital.
Step 7 : Stitch off 14 days later. For a patient who might need to leave early please ask for the option to use absorbable suture and special glue.
Step 8 : Patient starts the scar treatment program.
Contact Us
What Is The Recovery Process Post Tummy Tuck Surgery In Thailand?
During your tummy tuck recovery in our clinic in Thailand, dressings or bandages may be applied to your incisions, and you may be wrapped in an elastic bandage or a compression garment to minimize swelling and support your abdomen as it heals following your tummy tuck surgery.
You will be given specific instructions that may include :
How to care for the surgical site and drains
Medications to apply or take orally to aid healing and reduce the potential for infection
Specific concerns to look for at the surgical site or in your general health
When to follow up with your plastic surgeon
What Is The Cost Comparison Of A Tummy Tuck In Thailand Compared To Australia And New Zealand?
We don't know the exact cost of tummy tuck surgery in Australia and New Zealand, but we believe it's still cheaper even when you combine the cost of surgery with the costs of airfares and accomodation. Thailand used to compete with other countries for medical tourism in term of cost but now its quality and standards are more important.
Cosmetic surgeons in Thailand have far more experience because they treat more patients than surgeons in Australia and New Zealand. Liposuction, for example in our Rattinan Clinic accommodates up to 600 cases per year. It would take an Australian surgeon 4-5 year to reach that level.
Back to the table of contents
What Is The Cost Of A Tummy Tuck Surgery In Thailand?
The cost for tummy tuck surgery varies widely. It depends on what is required and the type of surgery. It may range from US$3,100 to US$7,800. Tummy tuck is broad a definition for a range of surgery that may be performed. Each patient has different issues which require different procedures. A complete tummy tuck does four things :
Liposuction of the whole abdomen. In our case we extend to hips and waistline.
Abdominal muscle repair. We believe it is important to achieve a flat stomach as well as it help have a more defined waistline.
Skin removal. It is important because most clinics just do this step and call it a tummy tuck.
Umbilicus repair (umbilicoplasty) we move the low position and unattractive belly button to its natural position (a waist line not hip line).
Why Travel To Thailand For Tummy Tuck Surgery?
There are three reasons.
The first is that it is likely to cost you less than the same procedure in Australia or New Zealand even if you include travel costs.
The second is that cosmetic surgeons in Thailand are highly experienced and Bangkok in particular has some of the highest quality hospitals in the world.
The third is that Thailand is a beautiful country to visit with relatively inexpensive hotels, amazing food and lots of tourist attractions.
Tummy Tuck Surgery in Bangkok or Phuket?
Phuket is a very popular tourist destination in Thailand. Some tummy tuck patients choose to go to Phuket and recover in a holiday setting. Bangkok has some of the best hospitals and surgeons in Thailand. So whether you choose Bangkok or Phuket depends on how comfortable you are with the hospital and surgeon. Rattinan clinic is based in Bangkok, Thailand and we believe we have one of the best tummy tuck surgeons in the country.
Contact Us
Back to the table of contents
Tummy Tuck Results
The initial results of the tummy tuck surgery may be concealed by the swelling and the inability of the patient to stand or walk in an upright position until the healing is complete. Scarring is unavoidable and it may take several months to a year to fade as much as it will. It's important that the surgical incisions are not subjected to excessive force, swelling, abrasion or motion during the time of healing. Your surgeon will give you specific instructions on how to care for yourself.
Tummy Tuck Surgery Before and After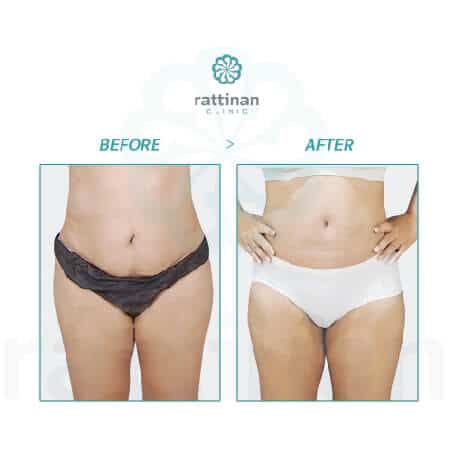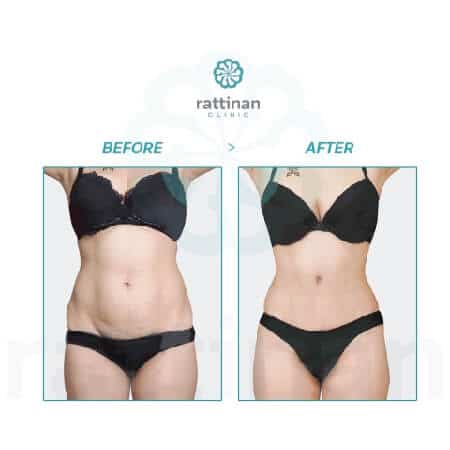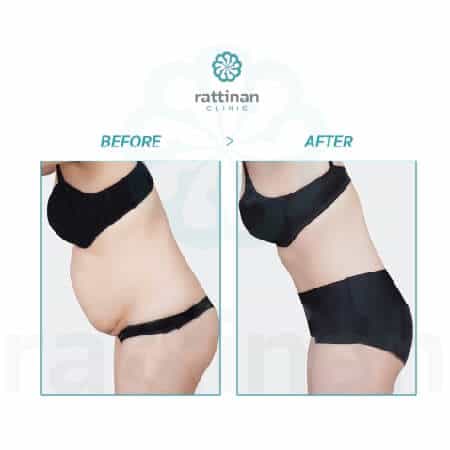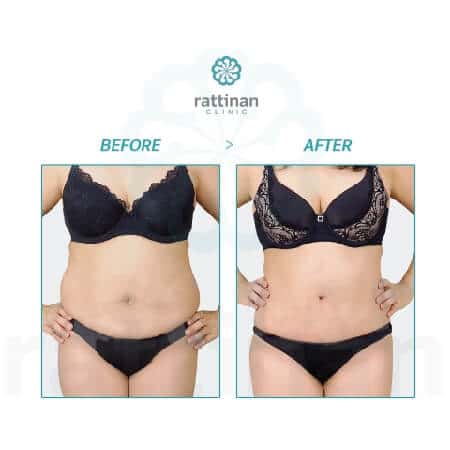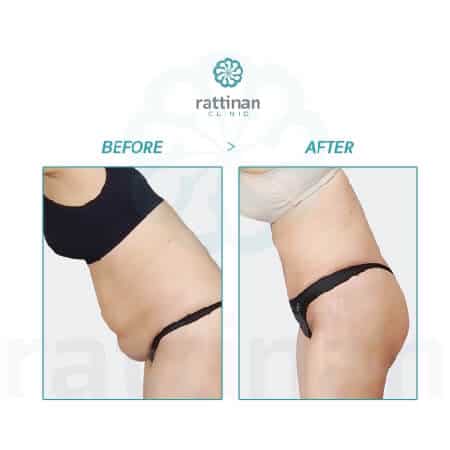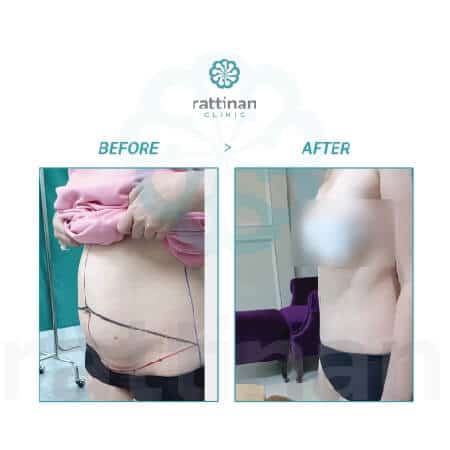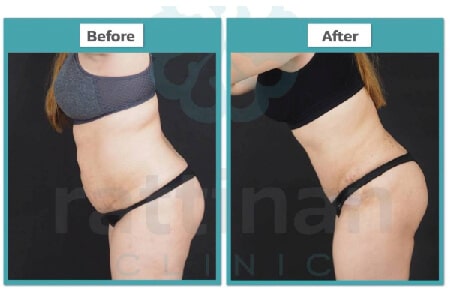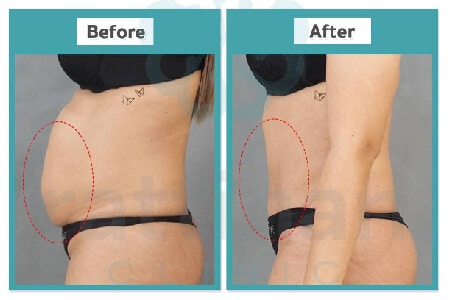 Contact Us
Abdominoplasty Thailand Review :
I am 5-weeks post op from a tummy tuck, muscle repair and liposuction and 4week post op from a vaginoplasty and labiaplasty. I have been healing well and have had a little discomfort from all procedures. I did have a lot of pain after the vaginoplasty and labiaplasty but I think that was more due to my eagerness to have the surgeries so soon after the first lot.
I cannot speak more highly of this clinic. Dr Suthipong has the best bedside manner and he was my primary surgeon for my tummy tuck, muscle repair and liposuction. He always made sure I was comfortable and never tried to sway me into doing anything I wasn't comfortable with.
The entire staff have been welcoming and treated me like royalty at all times. I was so nervous to start this process but I am so happy I decided to go here. So happy in fact that I am looking to go back for more procedures. If you are looking to have some cosmetic surgery done in Thailand, I could not recommend this clinic any more.
Back to the table of contents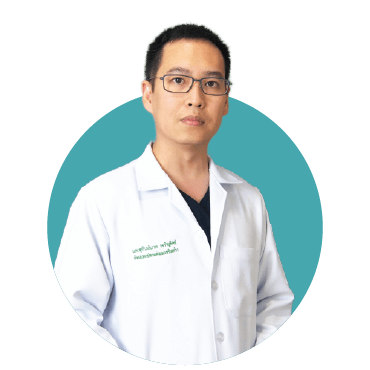 Board certified plastic & Reconstructive surgeon
The surgeon who performs the treatment
Dr. Surinnart Charoenchitt
Biography
M.D 33163
Doctor of medicine (2005)
Medical specialty: Plastic surgery at Chulalongkorn University (2013)
Underwater Medicine Department of Naval Medicine (2015)
Fellowship at Air force Military Medicine
Job Title
Specializations
Plastic and Reconstructive Surgery

Operation Time
1 1⁄2 Hours

Anesthetic Method
Anesthetic

Stay in Hospital
1 Day

Recovery Period
1 Week After Surgery
Alert : Common complications that can occur after surgery include: Bleeding, infection Or that inflammation They differ depending on the physical condition of each person. Therefore, caution should be followed strictly.
Atmosphere Rattanan Medical Center
Clean, safe and meet international standards
Along with a team of expert doctors
Over 22 years of experience