The majority of people carry around excess fat and skin around the stomach. While diet and exercise may help relieve the issue, there's no way to target weight loss in a specific area or lose extra skin naturally. As a result, many people resort to getting a tummy tuck, also known as an abdominoplasty. Here's what you need to know about the procedure.
An abdominoplasty is a surgical skin removal procedure. In an abdominoplasty, a surgeon removes excess skin between the pubic bone and navel. They may also remove excess fat and tighten the underlying muscles. During the procedure, the connective tissue in the abdomen is tightened, using sutures to hold it in place. Once complete, a tummy tuck leaves the stomach looking flatter and more toned.
Why Do People Get Tummy Tucks?
Everybody is different, so there are several reasons that people get tummy tucks. You may have weak connective tissue in the abdomen, poor skin elasticity, or excess fat due to:
Significant weight loss (from natural weight loss or gastric bypass surgery)
Aging
Pregnancy
C-section or abdominal surgery
Naturally low collagen fiber in the skin due to genetics
A tummy tuck can address these issues. It can be a cosmetic surgery that gives you a more toned appearance and improves your self-image. It can also serve to remove stretch marks on the lower stomach, below the belly button. It can even hide existing C-section scars within the tummy tuck scar.
Abdominal problems can be complex and involve much more than just skin and fat. Muscle issues, misshapen bellybuttons, and more can impact your overall health and appearance. A tummy tuck can correct the following five issues:
Excess fat leftover under the skin after liposuction.
Droopy skin that cannot be corrected with lasers or various skin tightening procedures.
Low or misshapen belly button shape.
Abdominal muscle issues caused by bloating or fat gain in the midsection.
Lack of waist or shape due to expanded lateral lumbar muscles.
The Best Tummy Tuck in Thailand
Unfortunately, not all surgeons ensure that the above five issues are addressed. Rattinan Medical Center offers the best tummy tuck in Thailand because all elements of the abdominal area are taken into account to provide patients with a beautiful figure. Whether you want to correct a saggy stomach, remove wrinkles, or tighten muscles, Rattinan Medical Center can provide the solution you need with the best tummy tuck surgeon in Thailand.
Rattinan Medical Center, found 1999, is the only AACI (American Accreditation Commission International) accredited ambulatory plastic surgery facility in Thailand with team of plastic surgeons lead by Dr Surinnart Charoenchitt (Board Certified Plastic Surgeon and International Society of Aesthetic Plastic Surgeon member)
Under AACI accreditation program, we could ensure to you that we are committed to the very  highest standards of patient care and safety.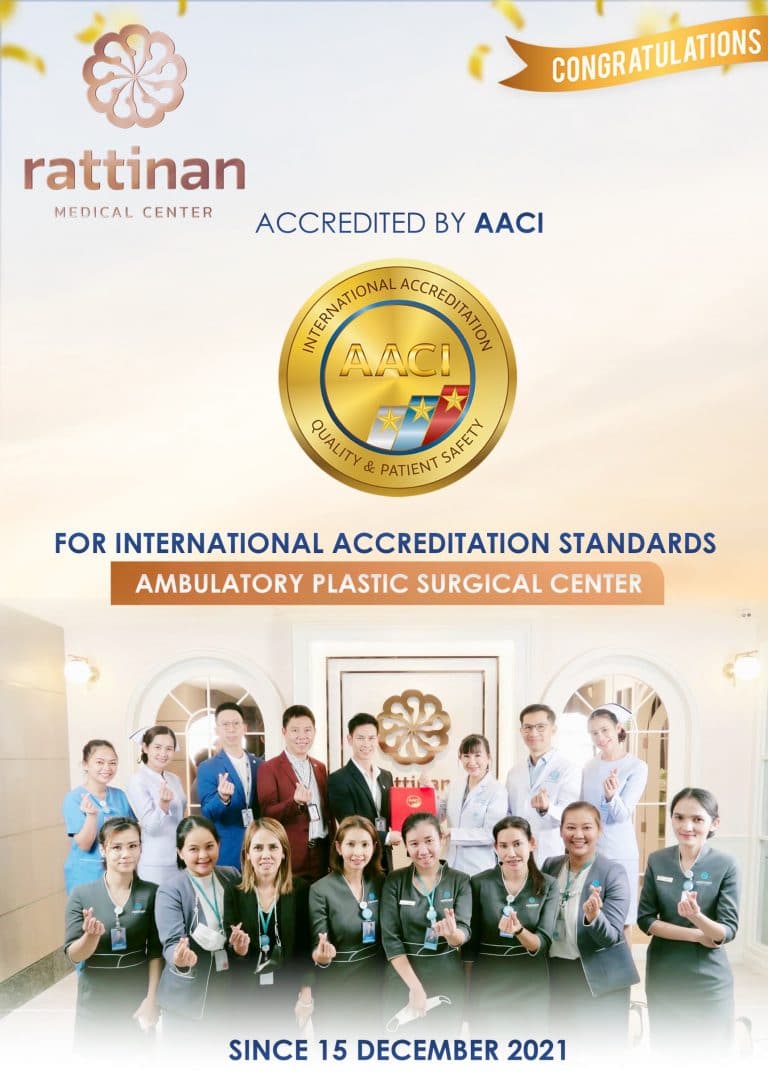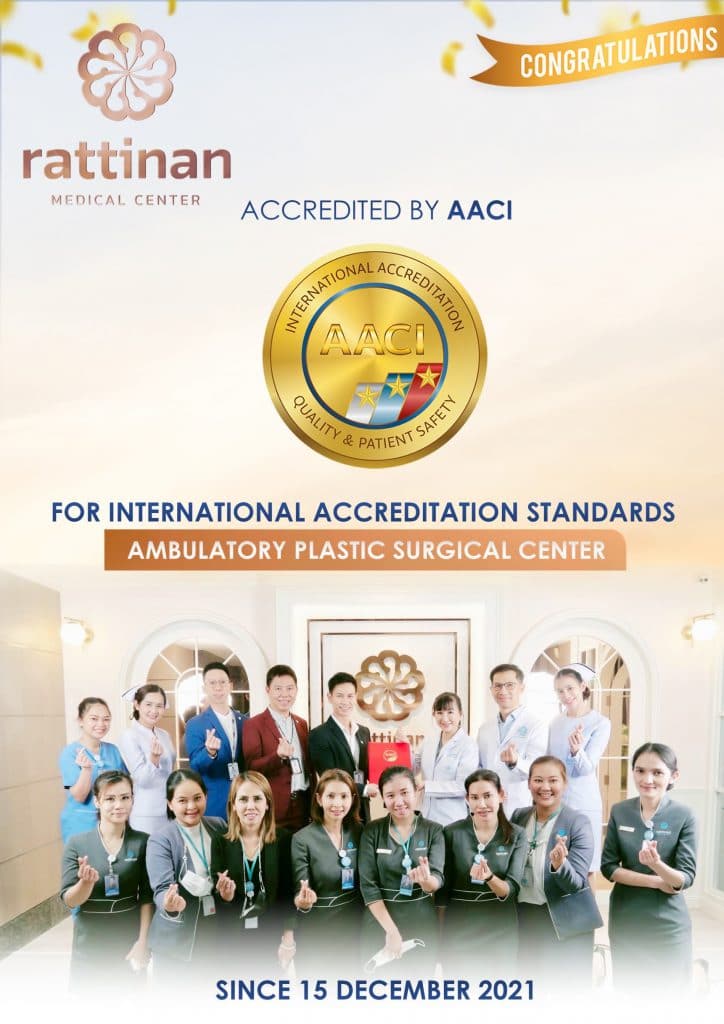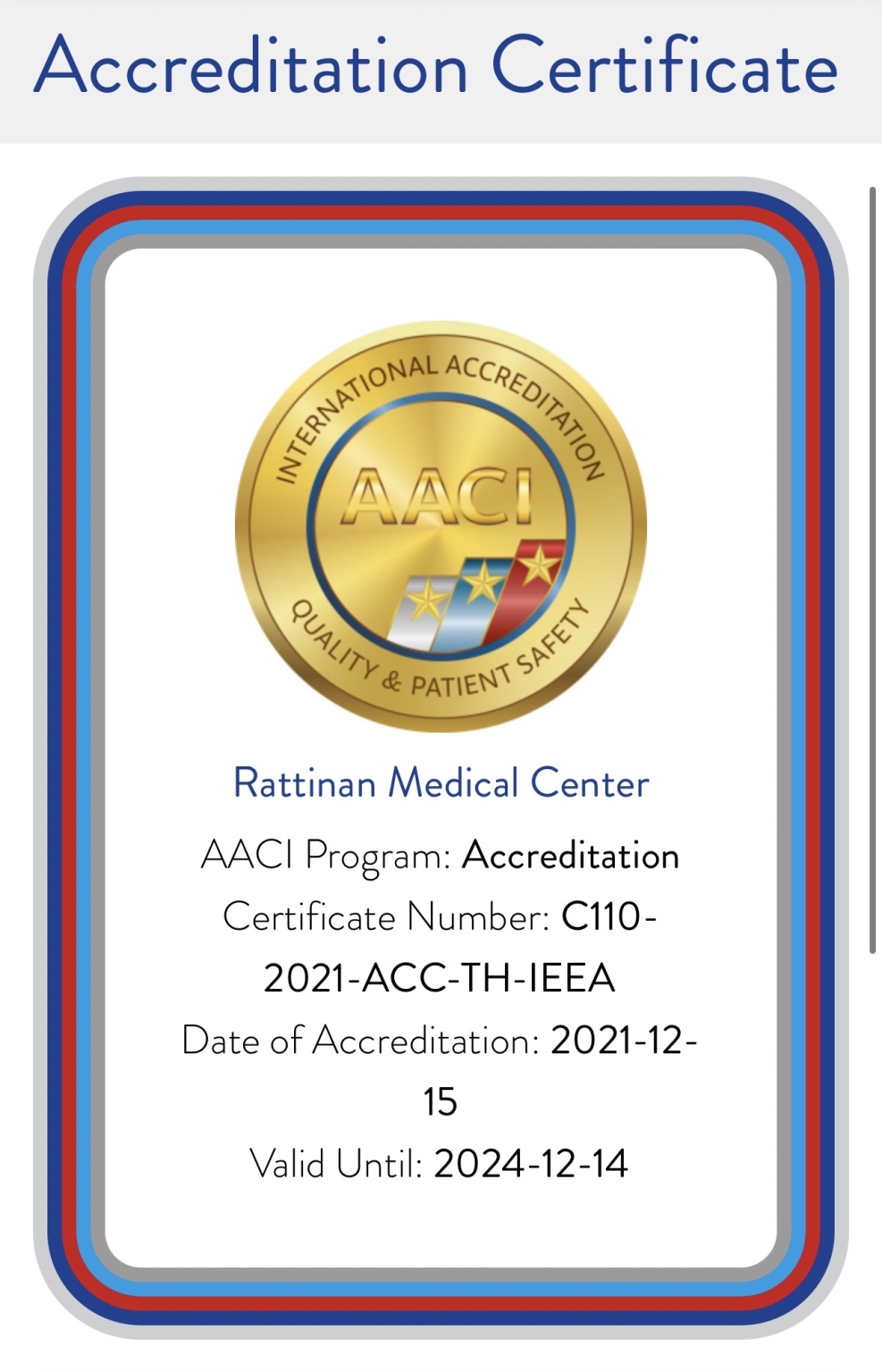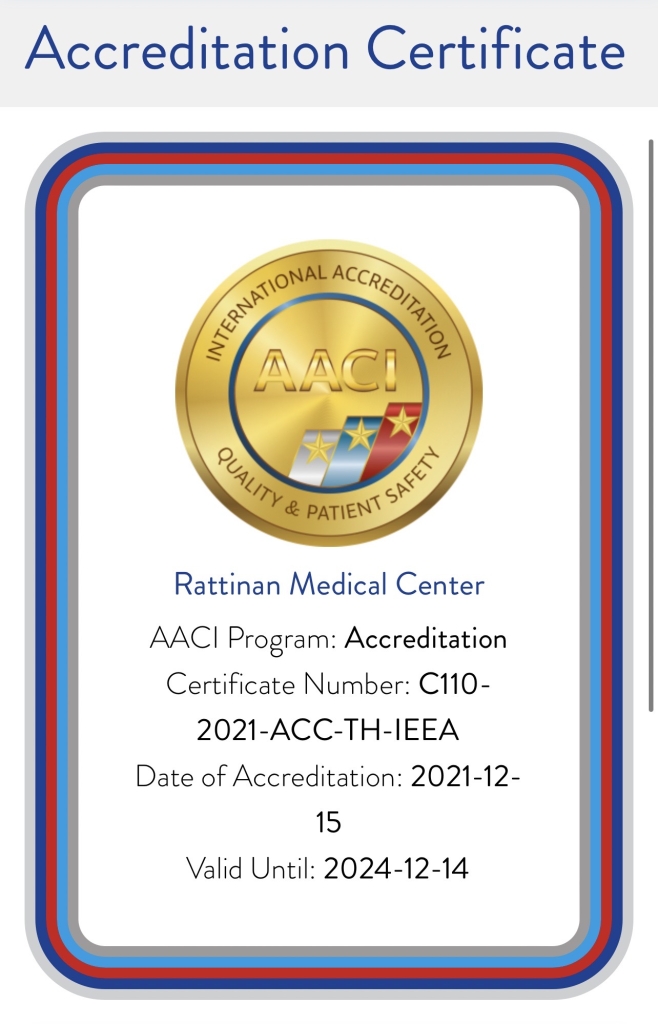 The Full Tummy Tuck Package is a 5-in-1 surgery, providing a tight, fit shape in just one procedure. We place a tube that provides continuous numbing medication to the wound after surgery. This means you'll never be in pain.
The package itself includes:
Abdominal liposuction to remove fat.
S-waist liposuction to narrow the waist and give you a proportional, natural shape.
Restructuring of the abdominal muscles, tightening the muscle and building a narrower waist. Patients can sit up normally when fully healed.
Skin surgery on the abdomen to remove excess skin, tighten remaining skin, and hide cesarean incisions if needed. (Be sure to bring your normal underwear on the day of surgery to provide the surgeon with an understanding of where the tummy tuck incision needs to be hidden.)
Move the belly button for optimal placement and appearance.
The Full Tummy Tuck Package includes several bonuses, included at no cost to you:
Physical examination
Medication (valued at 3,500 baht)
Post-surgery follow up examination from a doctor and beauty specialist nurse
Compression suit for recovery (valued at 4,500 baht)
Three pulsed dye laser sessions to effectively reduce scarring (valued at 9,000 baht)
Three sessions of seroma removal to address many people's concern – how to get rid of seroma after tummy tuck (valued at 9,000 baht)
Four day, three-night stay at the hospital in a private room
Below are images of tummy tuck before and after and Pregnancy tummy tuck before and after, so you can see what the Full Tummy Tuck Package can offer.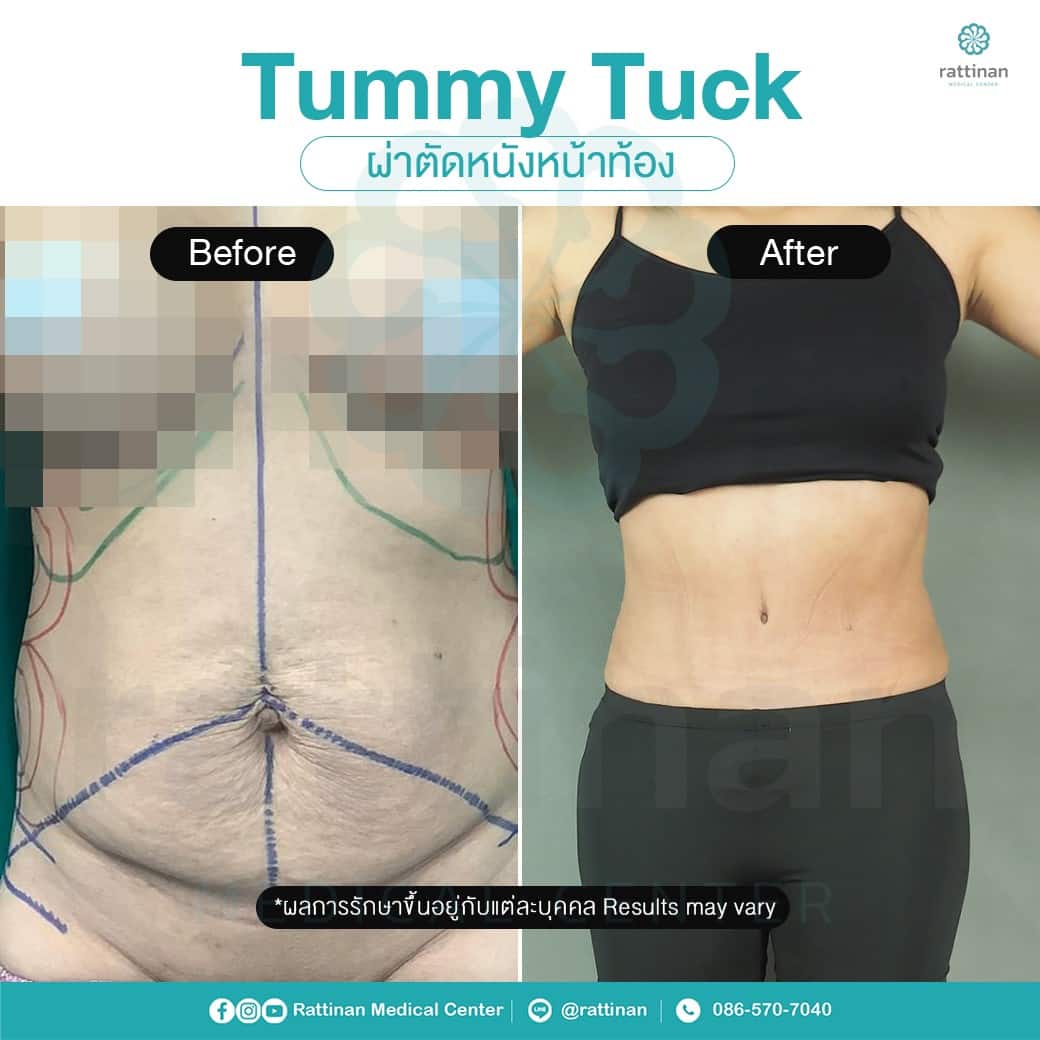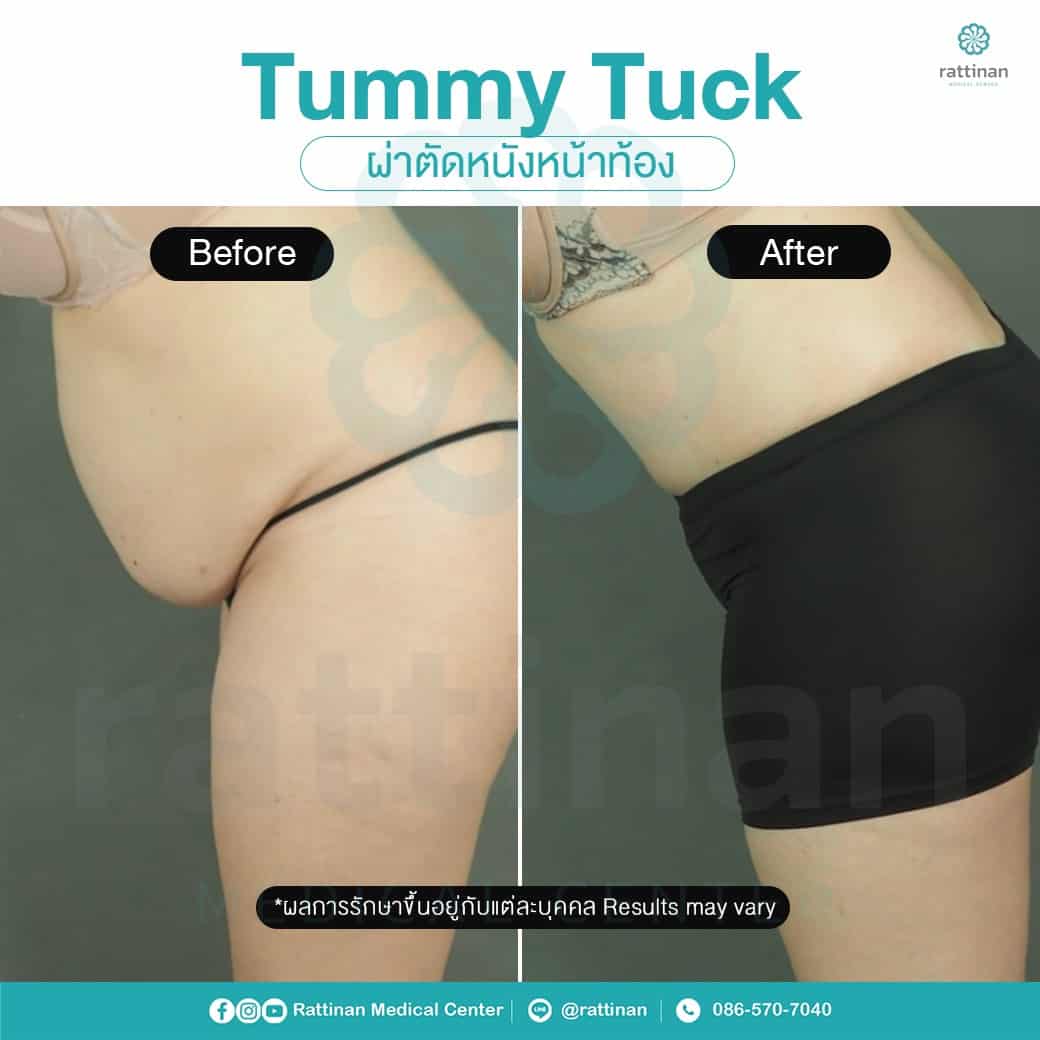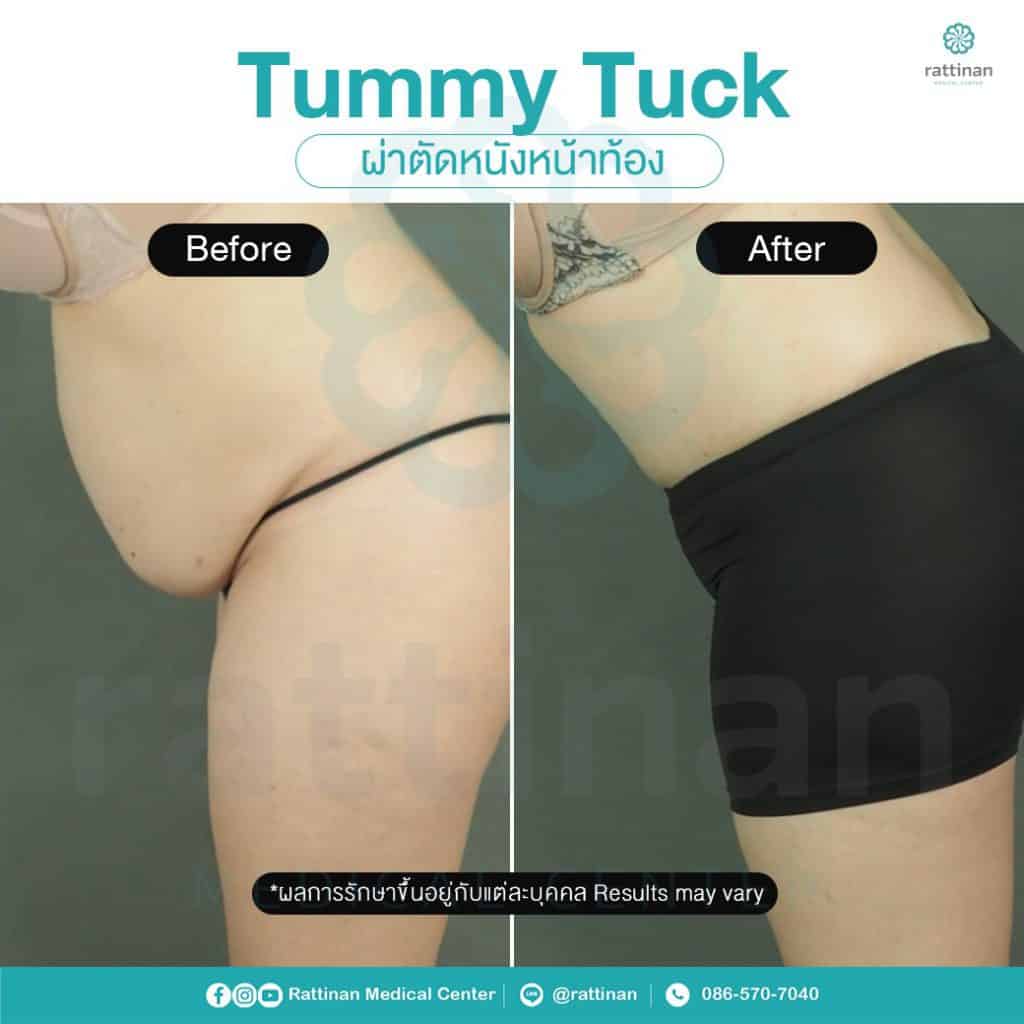 The Mini Tummy Tuck Package can eliminate a protruding stomach by removing excess skin. It involves a small incision near the pubic bone and works only on the lower part of the stomach, with no changes to the belly button. While a mini tummy tuck can improve the appearance of the stomach and leaves a smaller scar, it is not for people with sagging beyond the lower stomach.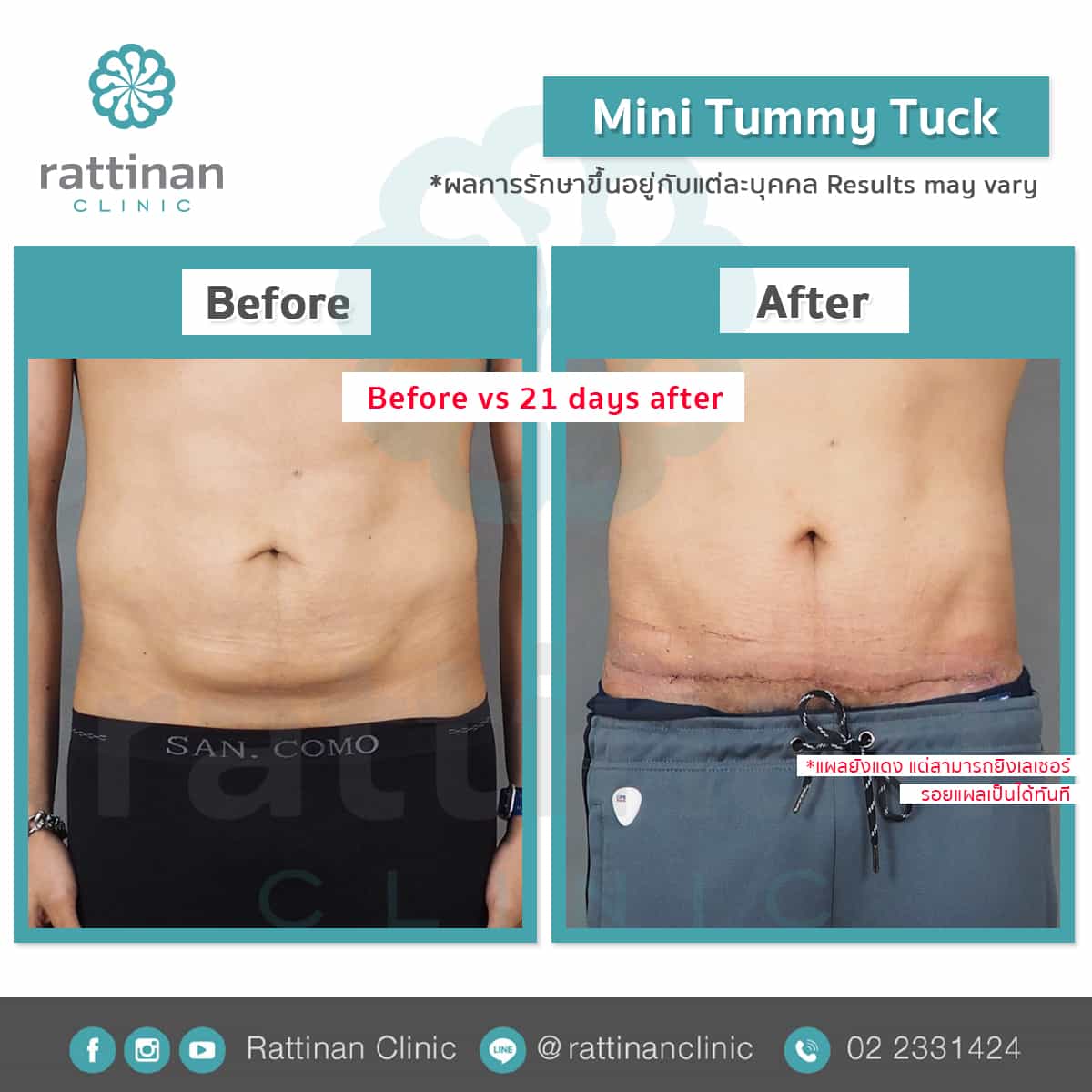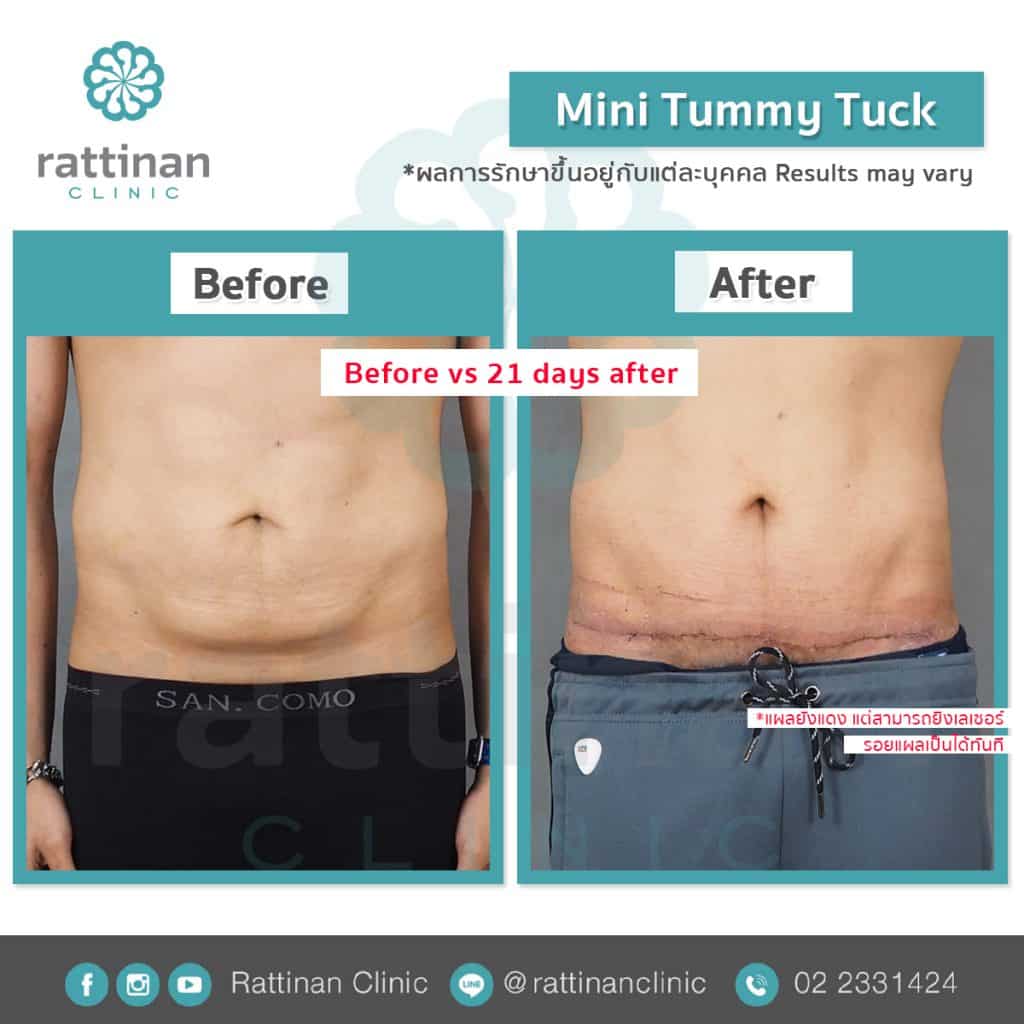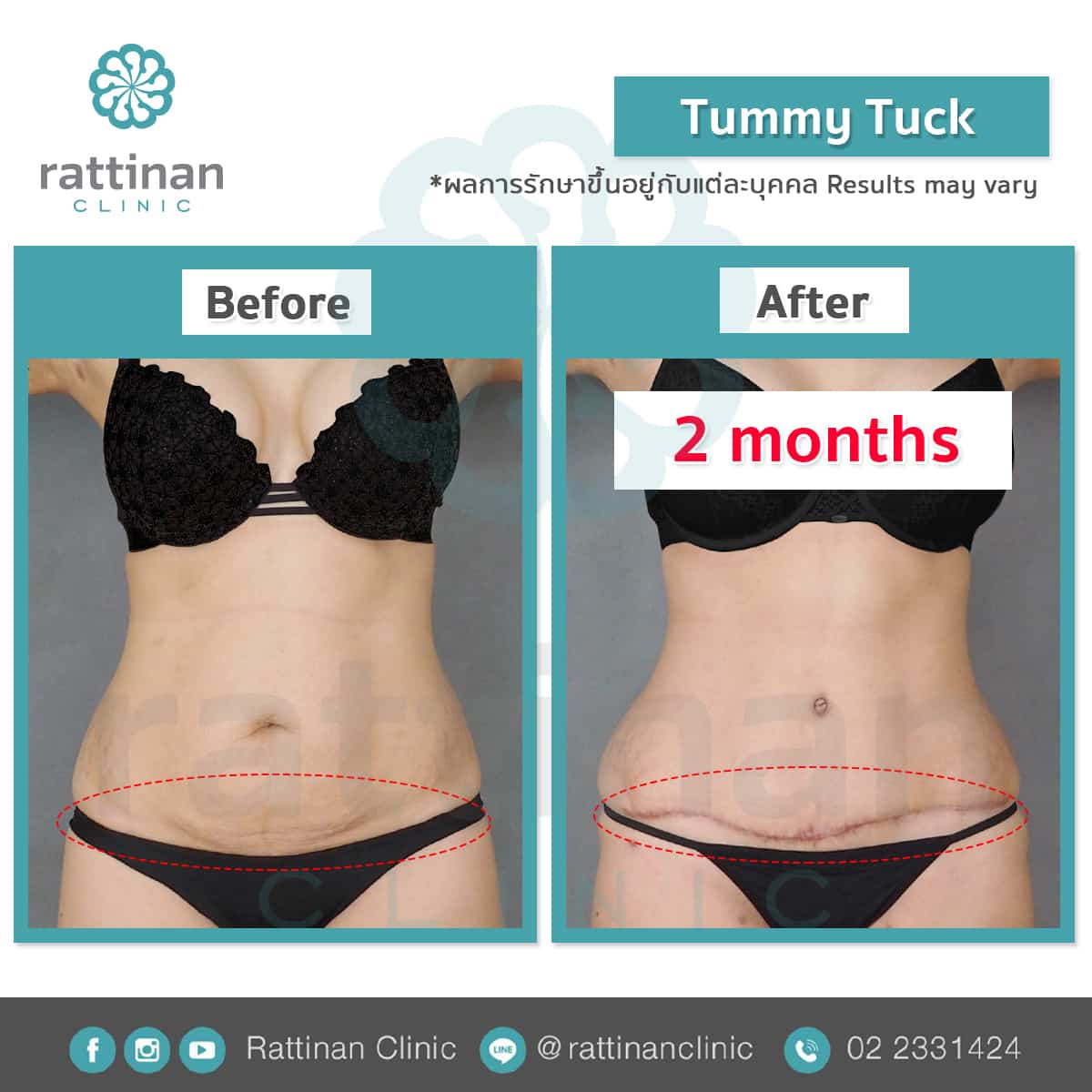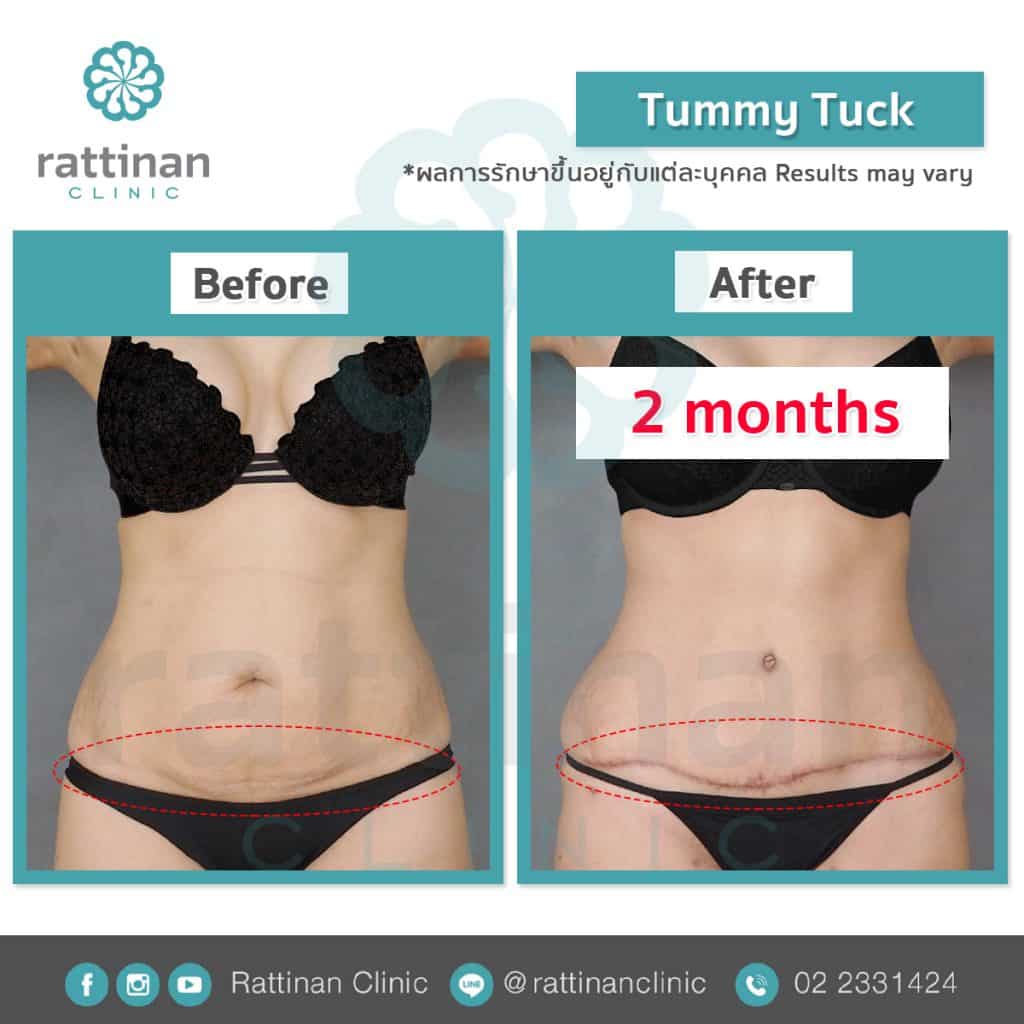 How to Prepare for Abdominoplasty
Schedule a physical exam at the hospital to ensure you're eligible. There are no age restrictions, but you should be in good health.
Stop smoking and avoid consuming any vitamins, dietary supplements, hormones, or blood clot-dissolving drugs for at least two weeks prior to surgery.
24 to 48 hours before surgery, eat light or liquid foods only to help reduce bloating in the days following surgery.
Start taking antibiotics one to two days before surgery.
Stop drinking water and eating any food eight hours before surgery.
On the day of the tummy tuck, you can expect to lay down in your bed at the hospital and be prepped for surgery. You'll have a Povidone scrub, as well as a 15-minute cleanse of the navel with a cotton swab.
Post-surgery, your doctor will place two drain lines and an anesthetic line in the surgical wound.
As you recover, you'll need to wear a compression garment, like a tummy tuck belt. Immediately after surgery, you'll wear the garment 24 hour hours a day for three days. After that, you'll wear it for 12 hours a day, during the daytime only.
You'll have several follow up appointments to ensure recovery, including:
One day post-op to teach you to care for your wounds at home
Two weeks post-op to ensure you're healing properly
First laser treatment to reduce tummy tuck scars within one month after removing sutures, followed by three more appointments, each one month apart.
How painful is a tummy tuck?
With this continuous anesthetic line, pain is minimal. Plus, it will replace the need for painkillers containing morphine, which cause nausea and vomiting that can rupture the wound. All tubes are removed before you leave the hospital.
How much is a tummy tuck?
Our mini tummy tuck packages start at just $3,000.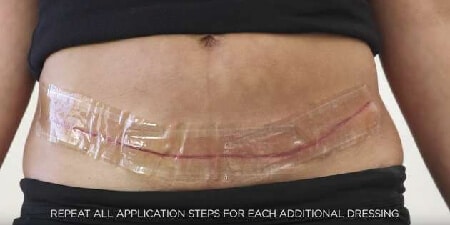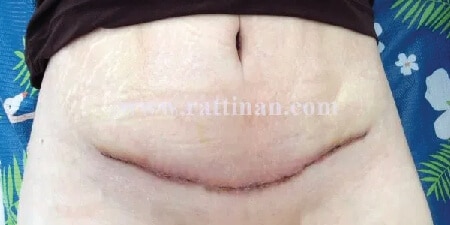 How to Care for Tummy Tuck Scars
Your surgeon will determine the best place for your incision based on the underwear that you bring, which ensures that you can dress normally and hide the scar. After surgery, the incision site will like experience tension and pulling as you go about your daily life.
To counteract this, put silicone sheets over your wound to support the incision and avoid stretching the wound and worsening the scar. This is key as your wound gradually heals in the weeks after surgery. We recommend the Embrace brand, which is from the United States and has FDA approval. It should be worn for at least three months in a row after surgery to avoid keloids. You can buy the silicone sheets at the hospital or on Amazon.
Laser Treatment for Abdominoplasty Scars
Laser treatment immediately after surgery will help reduce the color of the scar, but waiting too long may cause the scar to turn brown or dark red. We recommend the Pulsed Dye Laser immediately after removing the sutures. This laser has been the subject of studies and research to determine that it can effectively improve the appearance of your scarring.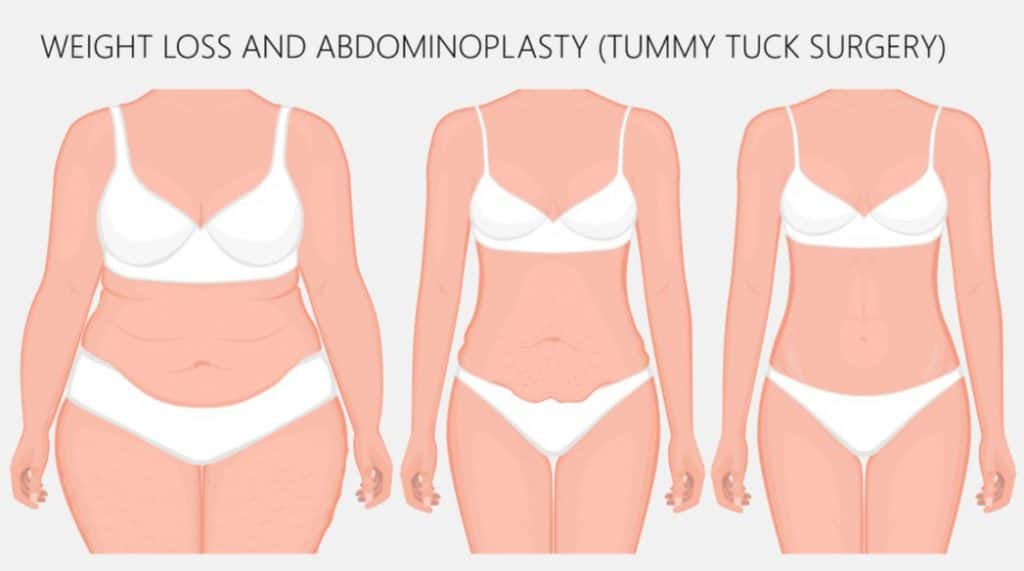 Liposuction vs Tummy Tuck
Liposuction is a surgery that removes fat from various parts of the body. It's suitable for visible excess fat that is hard to reduce via diet and exercise. It's a safe procedure that offers instant results and can provide patients with a toned look. Abdominal liposuction can help create an attractive midsection and even showcase your six-pack, but it's only suitable for people in reasonably good health with a limited amount of belly fat.
An abdominoplasty can remove excess skin and fat, as well as tighten the skin into place. Lipo without tummy tuck can only remove fat – it cannot remove excess. Additionally, only a tummy tuck can correct wrinkled or sagging skin – lipo cannot. The abdomen is full of layers of skin and muscles, so fat and wrinkles may still remain after lipo, requiring a tummy tuck.
Should I Get A Tummy Tuck or Liposuction?
Since the abdomen is multilayered, liposuction is best for people with a small protruding stomach. For more complex issues, like a large bloated belly or a larger belly due to childbirth, a tummy tuck may be needed to address the excess fat and skin.
Similarly, saggy skin that is a result of massive weight loss is hard to tighten with just liposuction and could be completely corrected with a tummy tuck. It's important to note that people currently losing weight can potentially control how much their skin sags. Research has found that people who lose weight by consuming a diet with poor nutrition tend to have less collagen and saggier skin.
If you're not sure whether a tummy tuck or liposuction is best for you, make an appointment for a free exam at Rattinan Medical Center.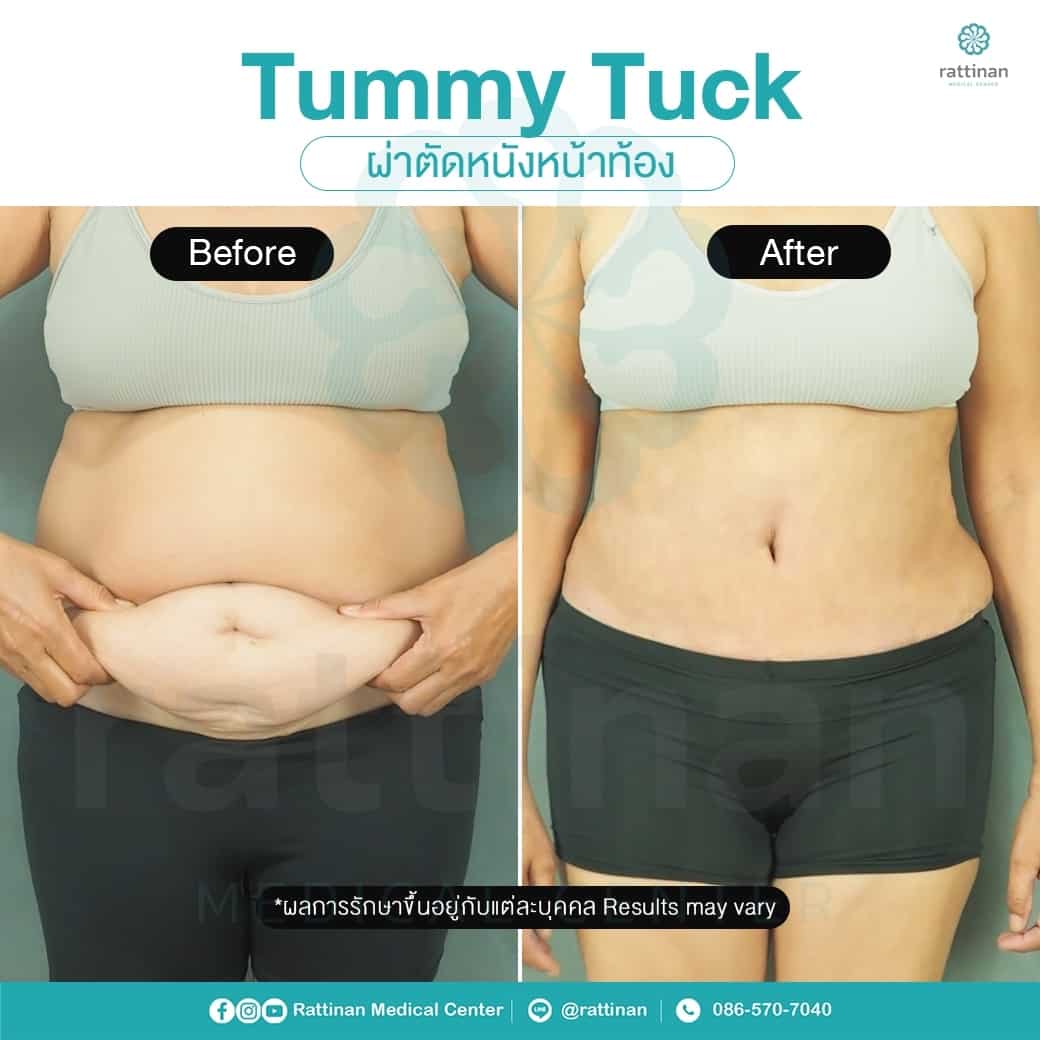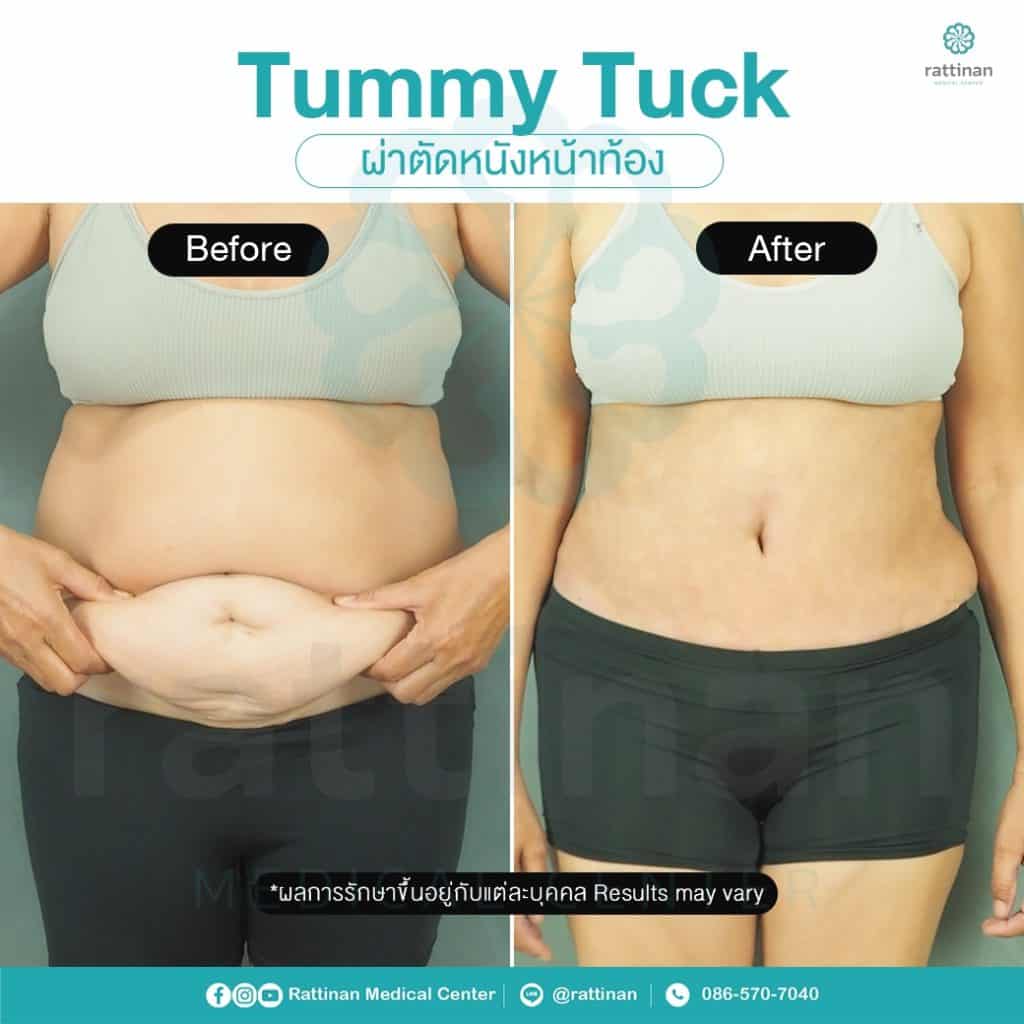 Liposuction Suitability Self Exam
Liposuction might be right for you if you meet the following criteria:
Excess thick fat on the belly with skin that doesn't have many stretch marks and remains undamaged.
No skin or fat that hangs in layers, especially when sitting.
A high, preferably round navel. If the navel is hanging low and sinking into the edge of the jeans, liposuction may not be a good fit.
When sitting in your underwear, you can see your underwear in the mirror. There's no fat covering the underwear partially or completely.
Abdominoplasty Suitability Self Exam
A tummy tuck might be right for you if you meet the following criteria :
May be thin without excess fat.
Excess fat can be picked up.
Poor skin quality, potentially with stretch marks.
Low hanging belly button.
In your underwear, the skin hangs over the edge and partially or completely covers the underwear.
When standing, you can hold your stomach fat with both hands as shown in the picture below.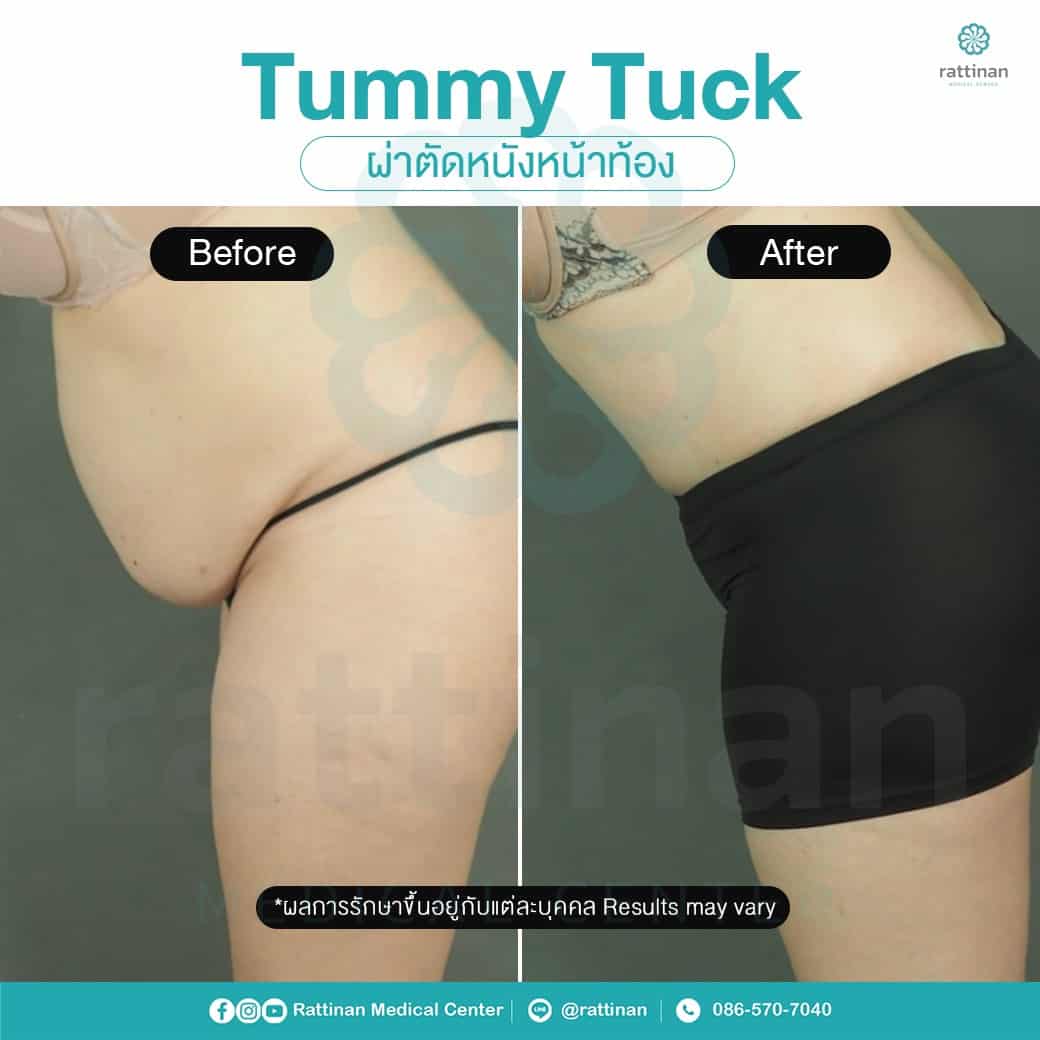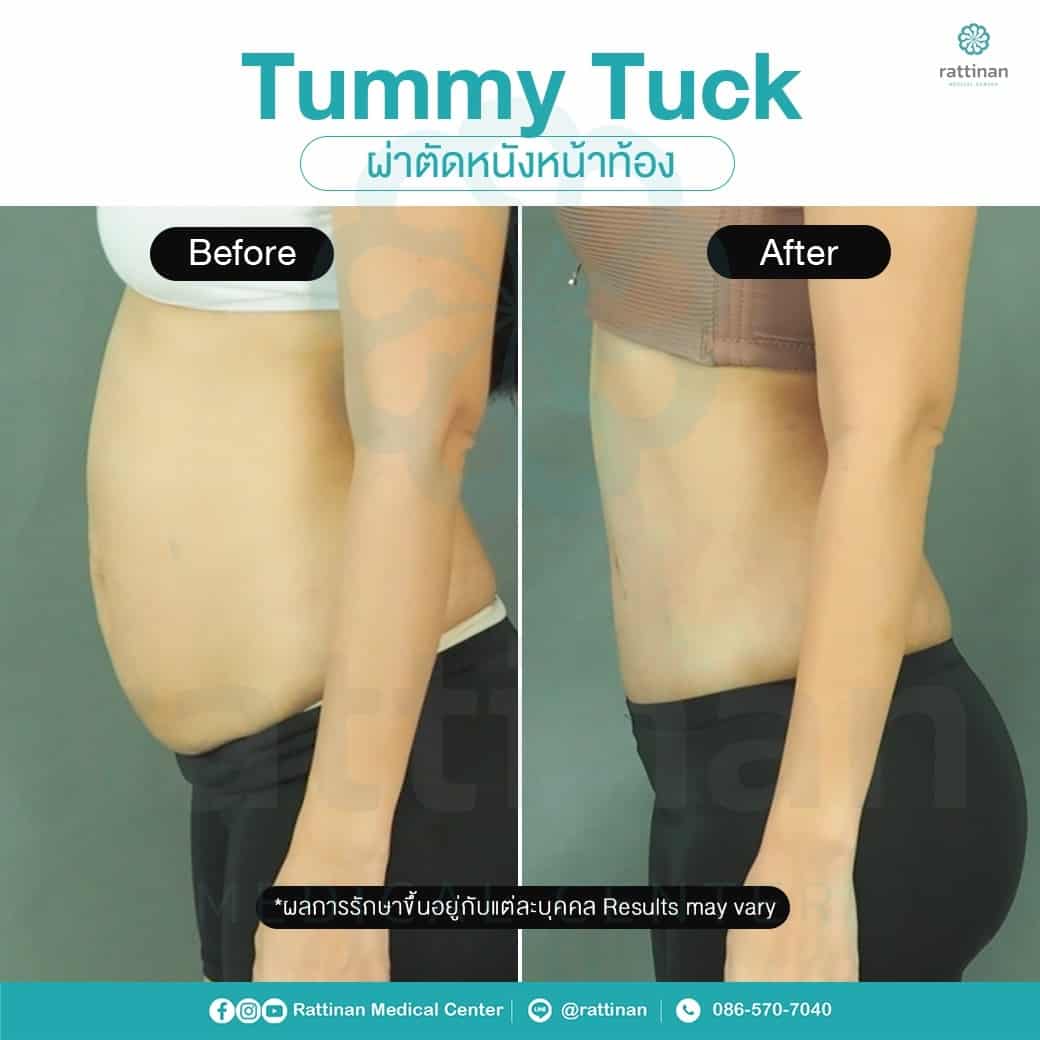 If you have any questions, please reach out to us. We're here to here to help you get the best tummy tuck in Thailand and achieve your ideal figure!
Tummy Tuck Surgery Before and After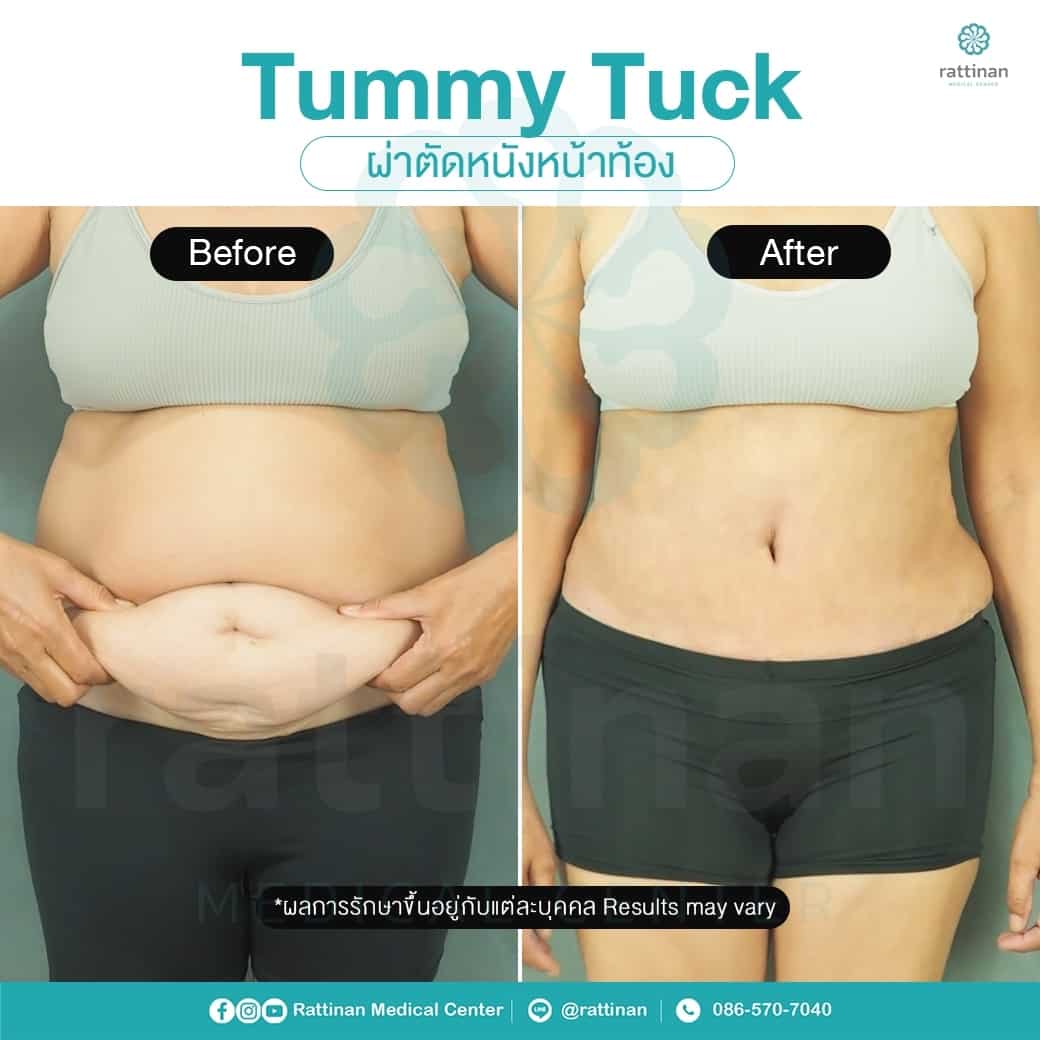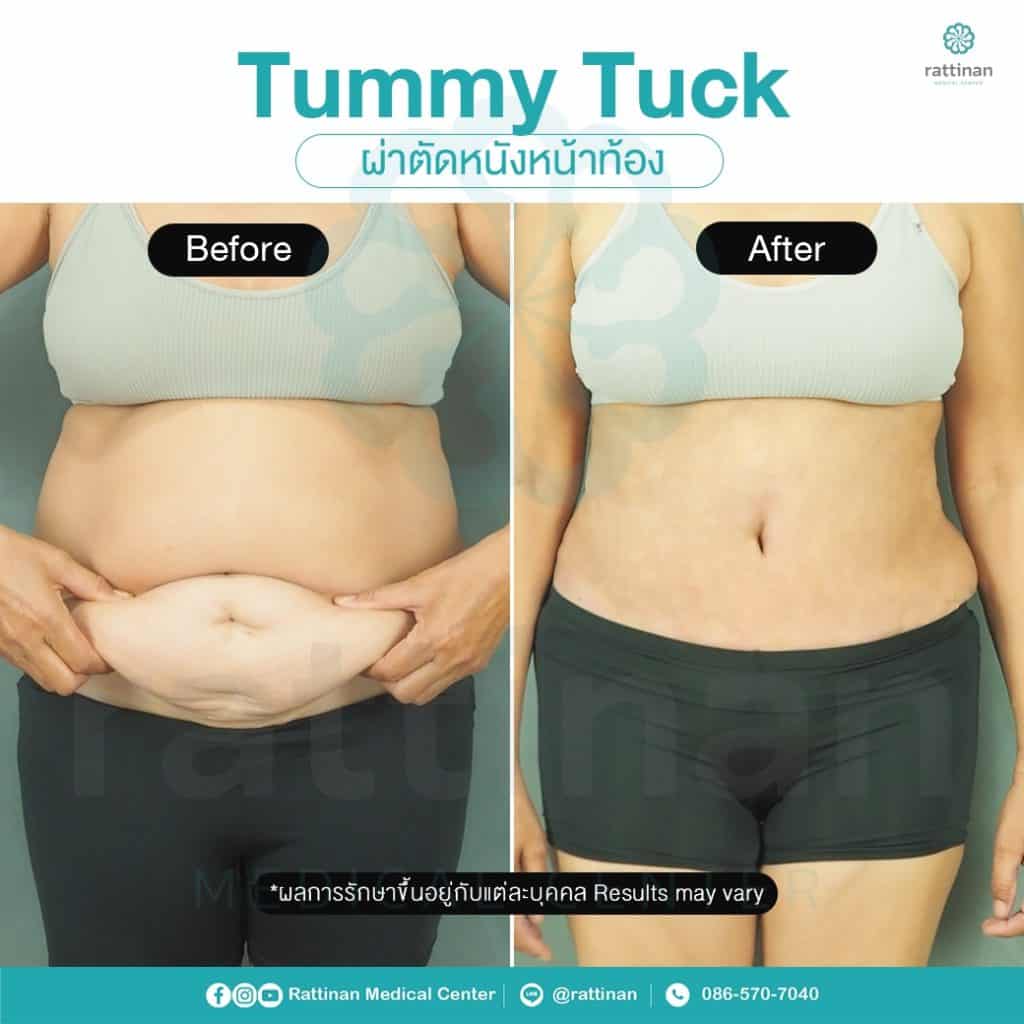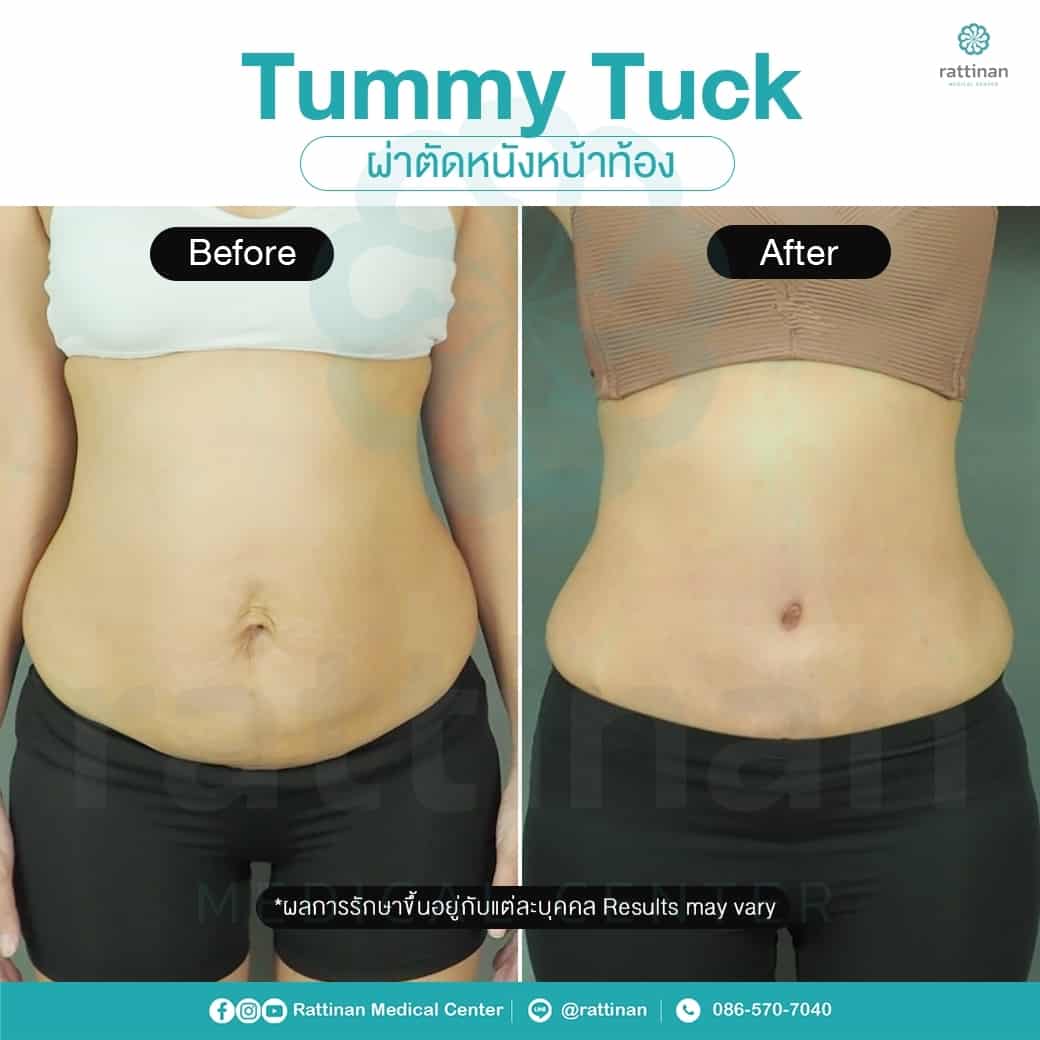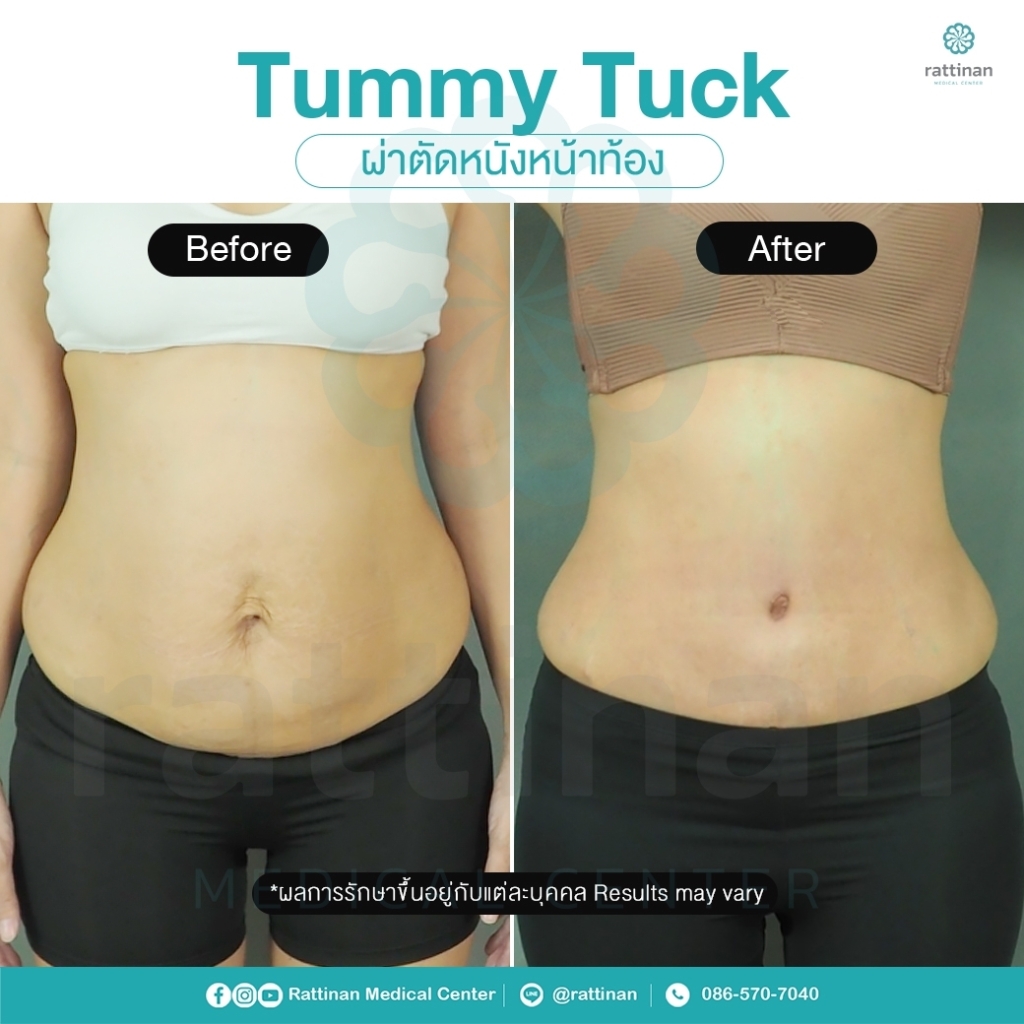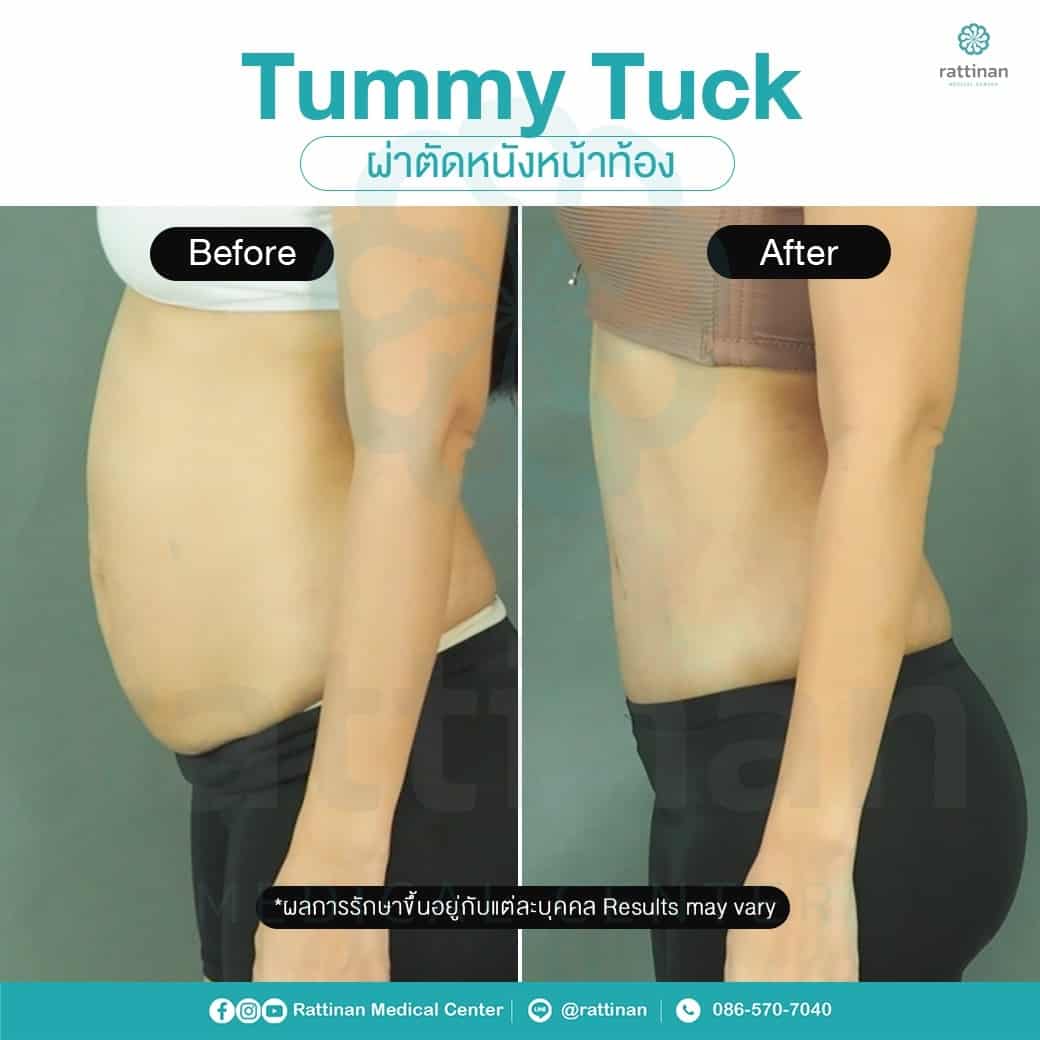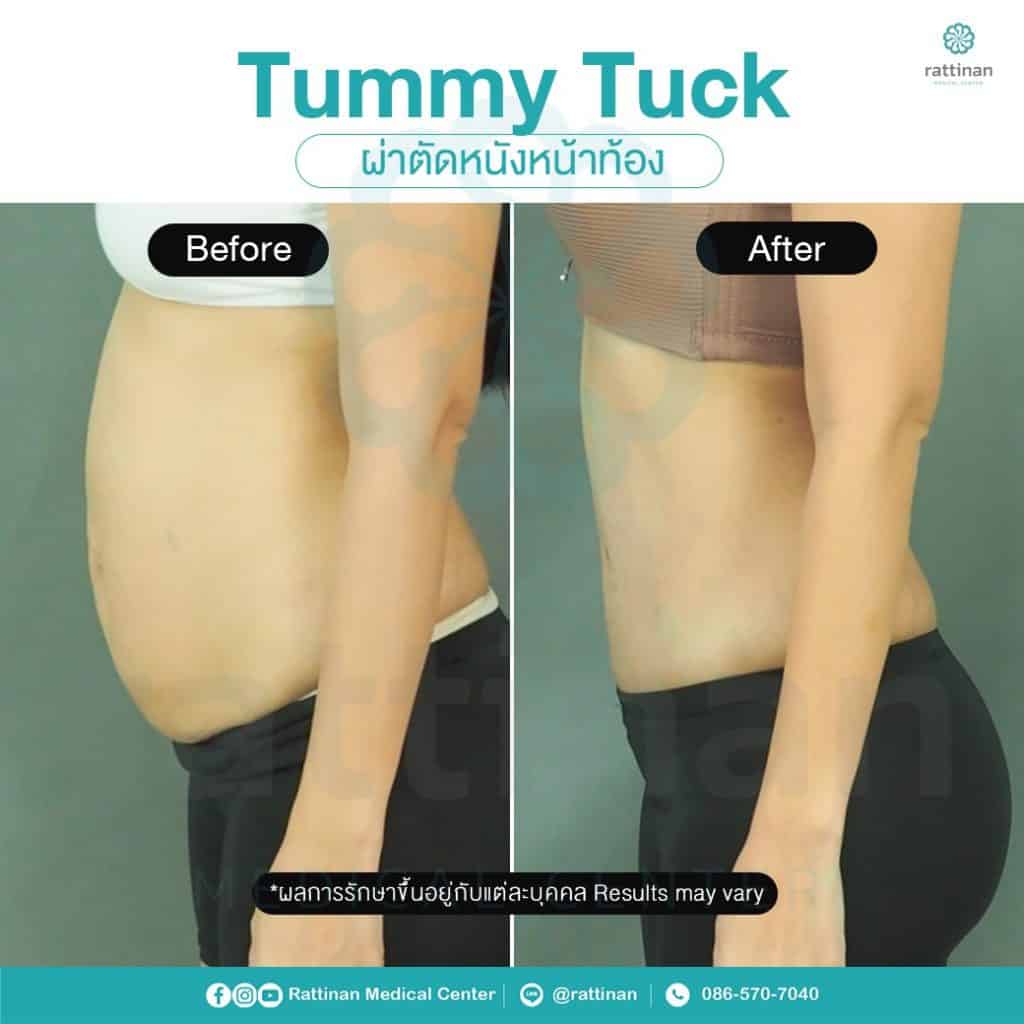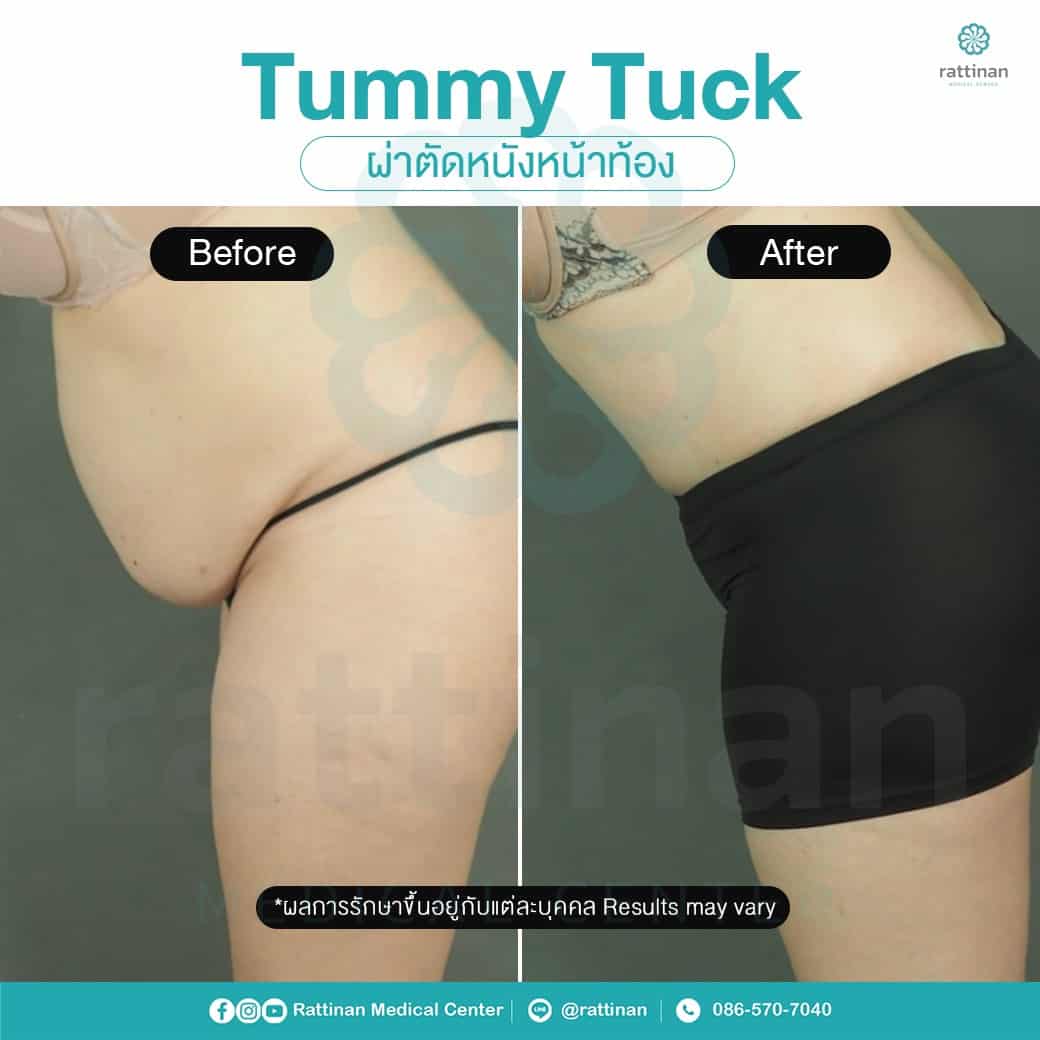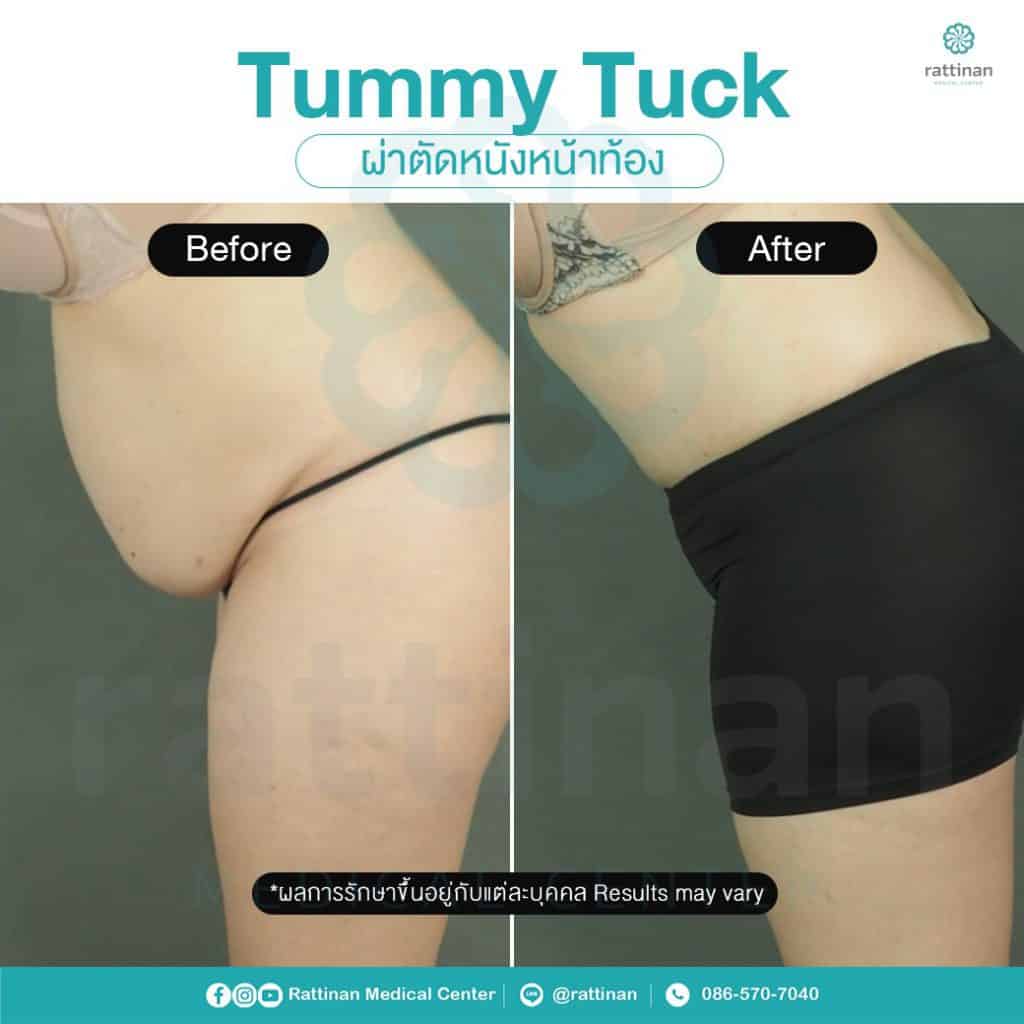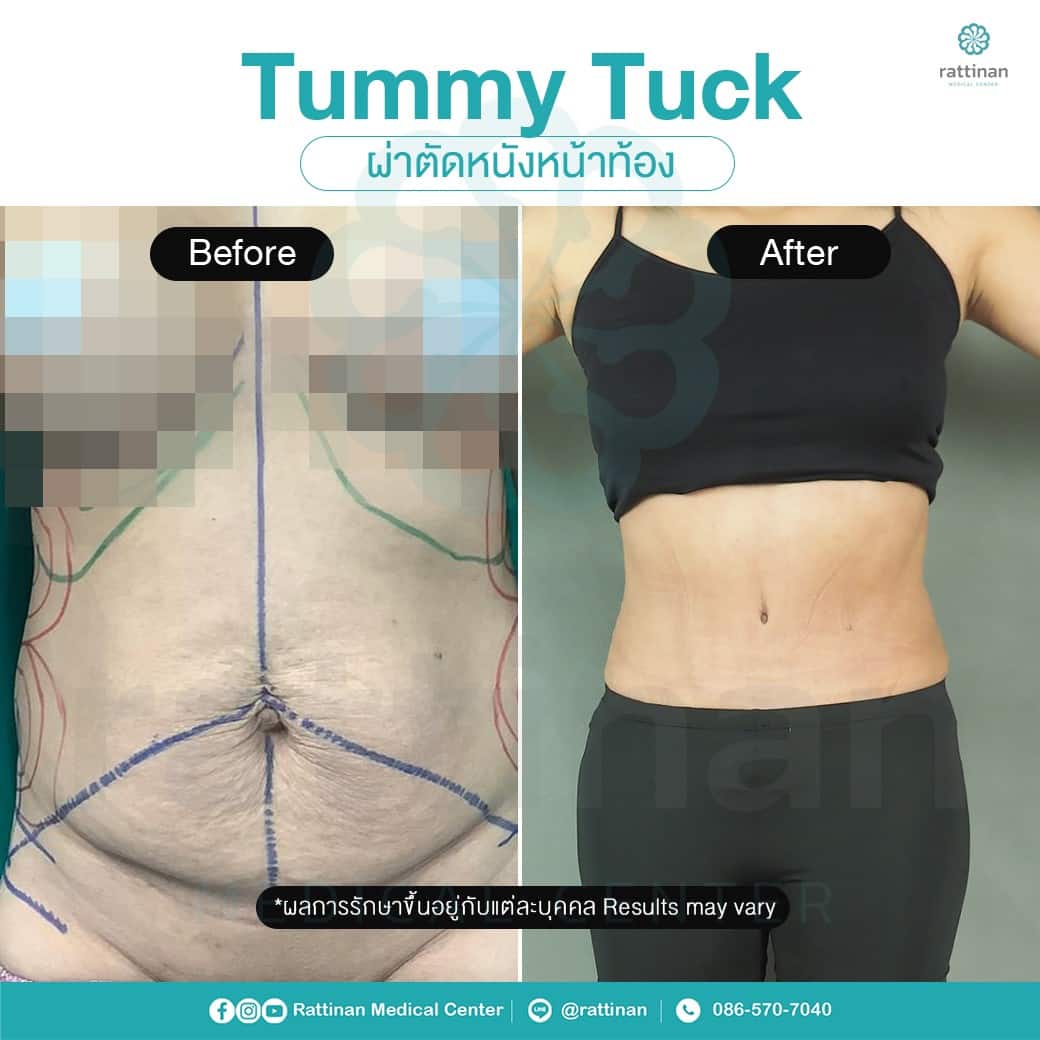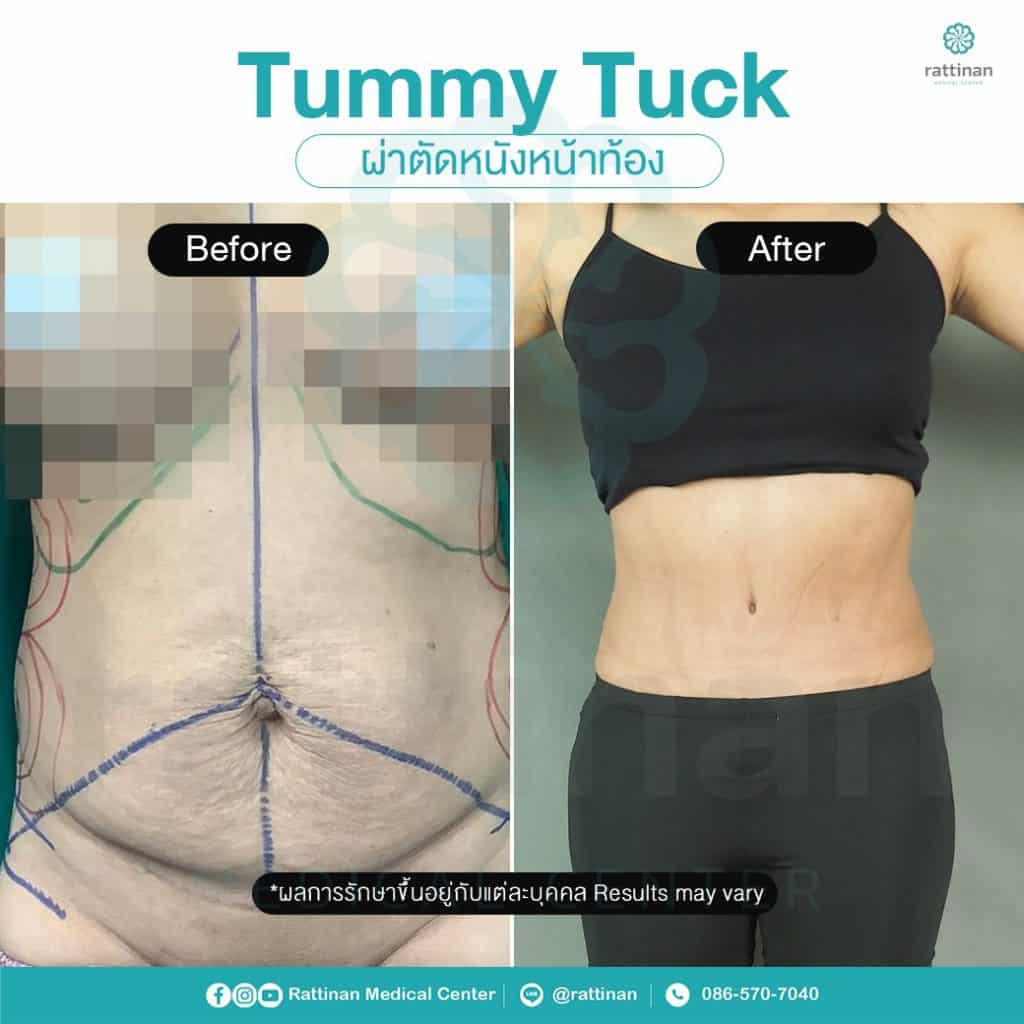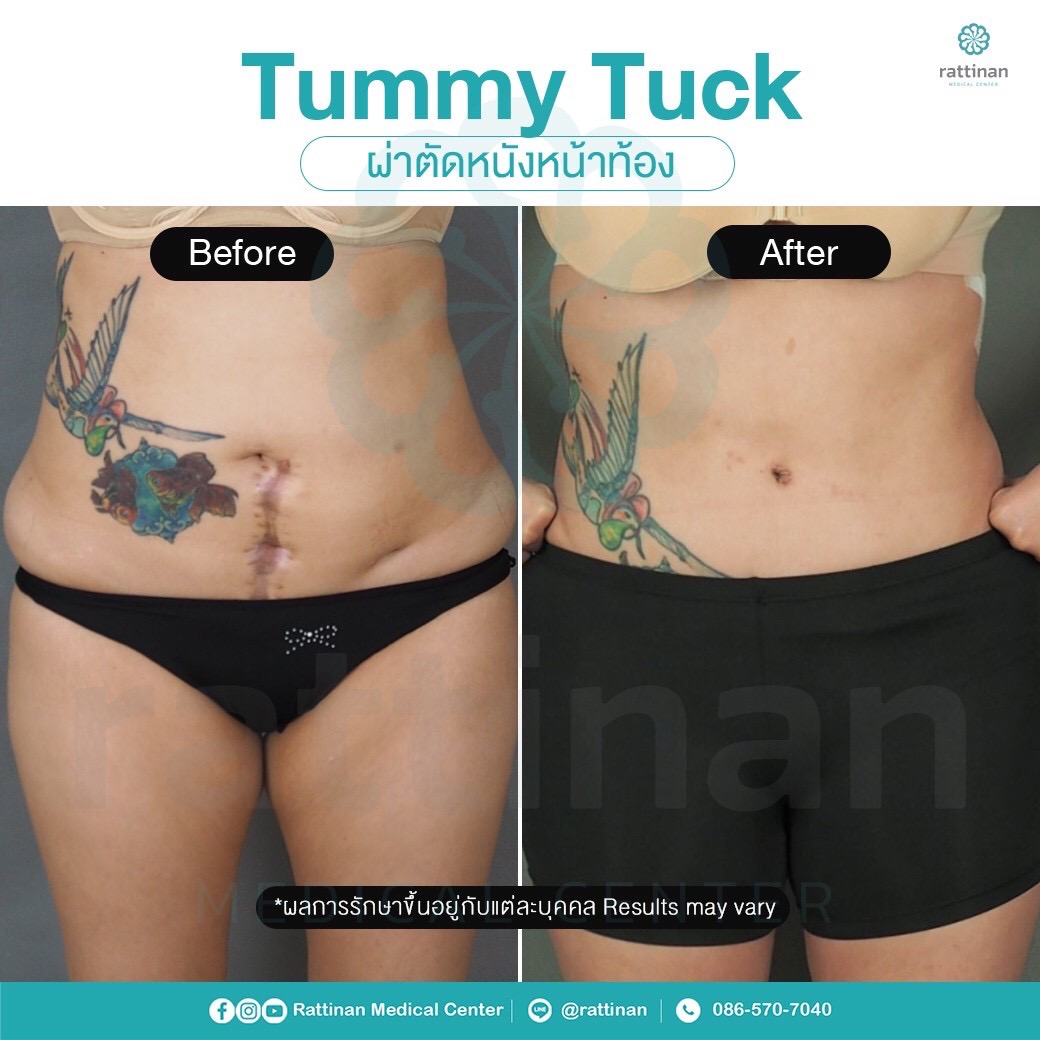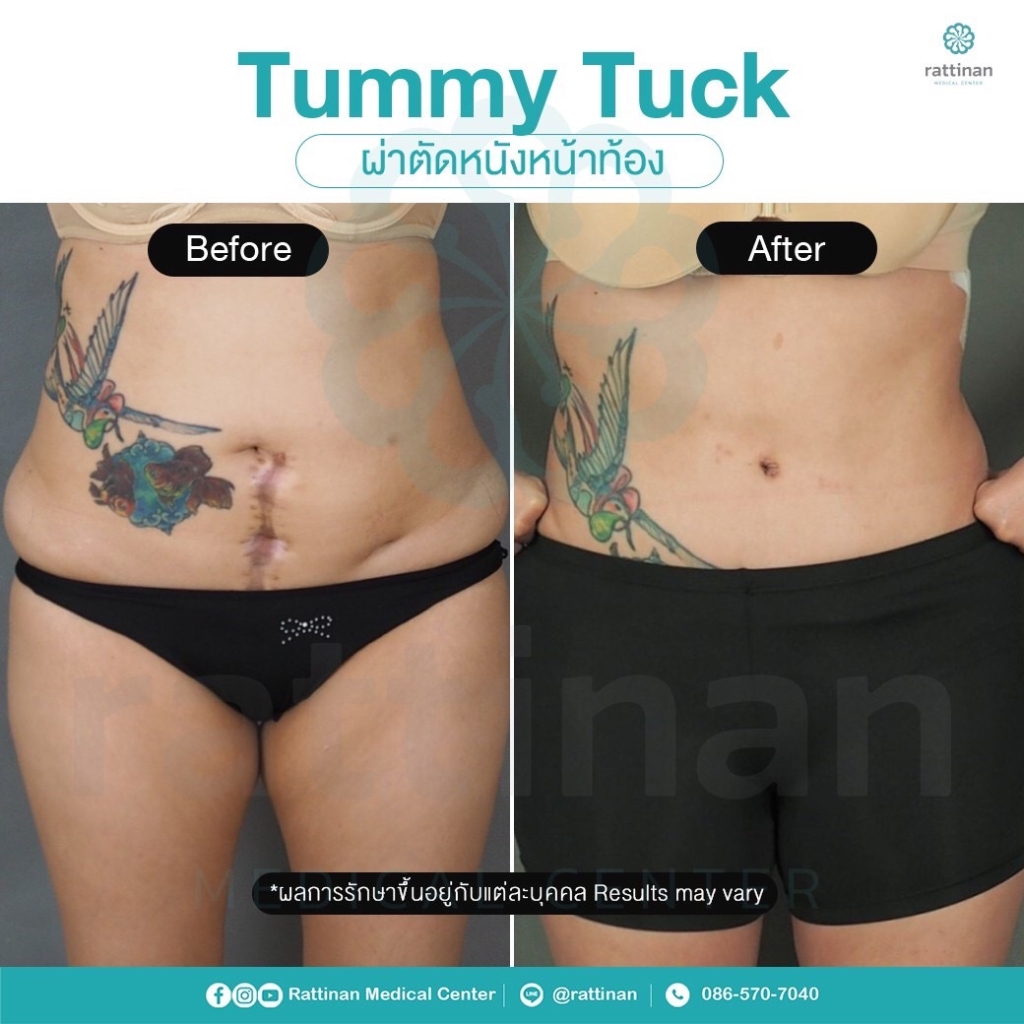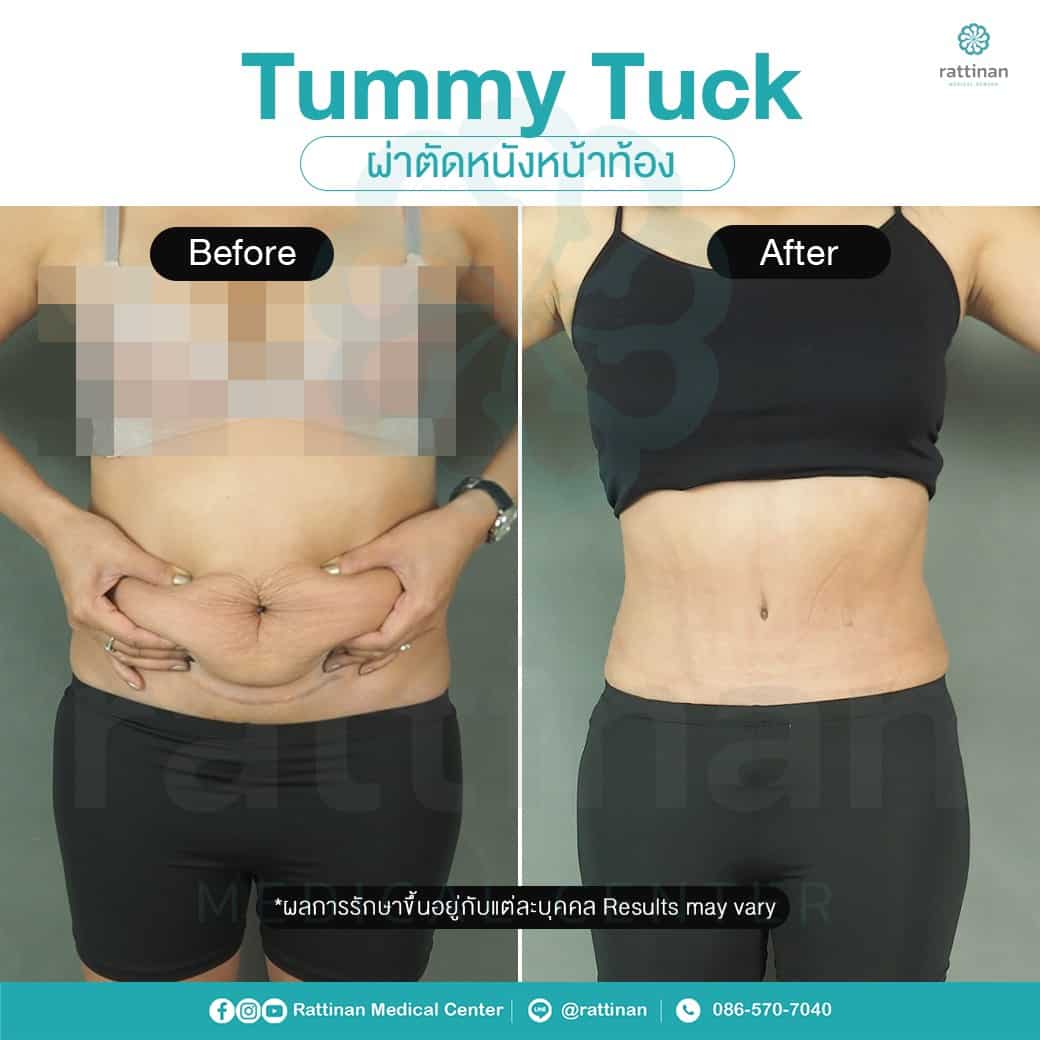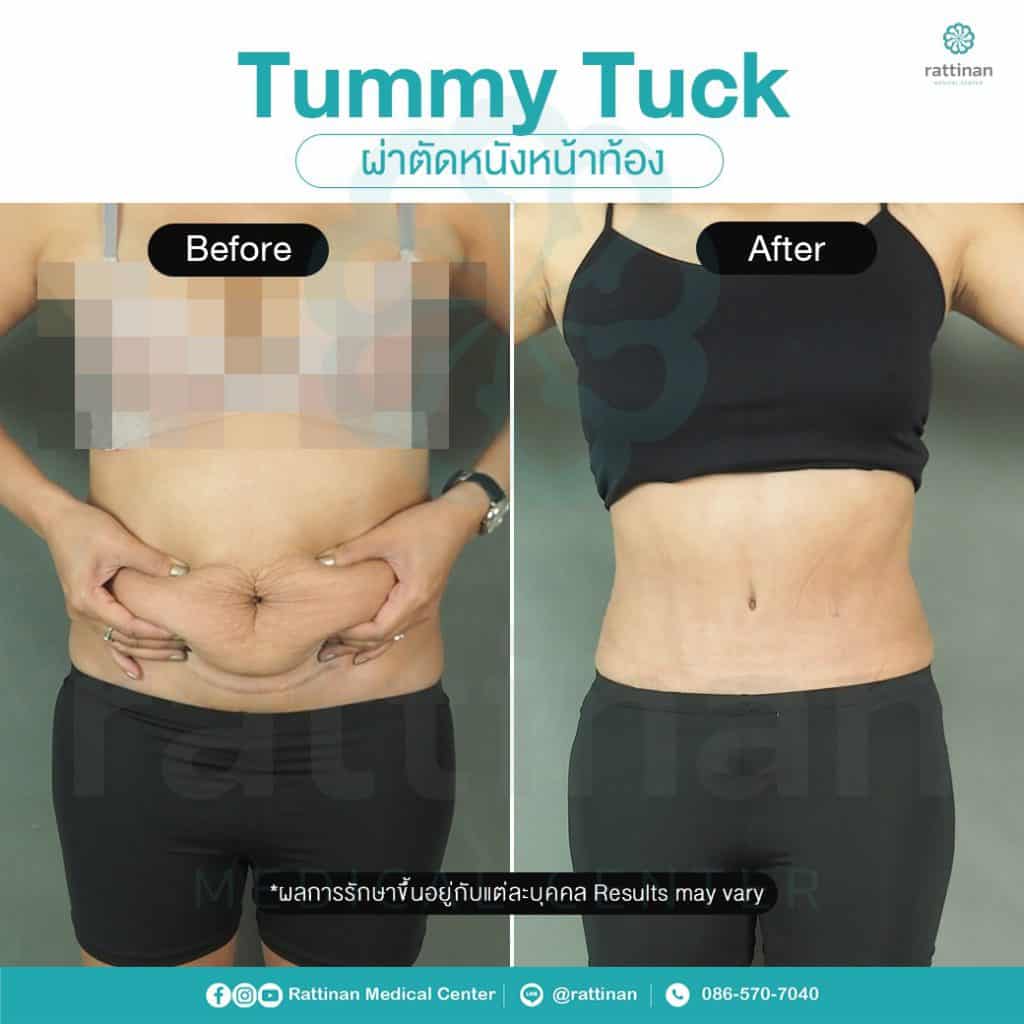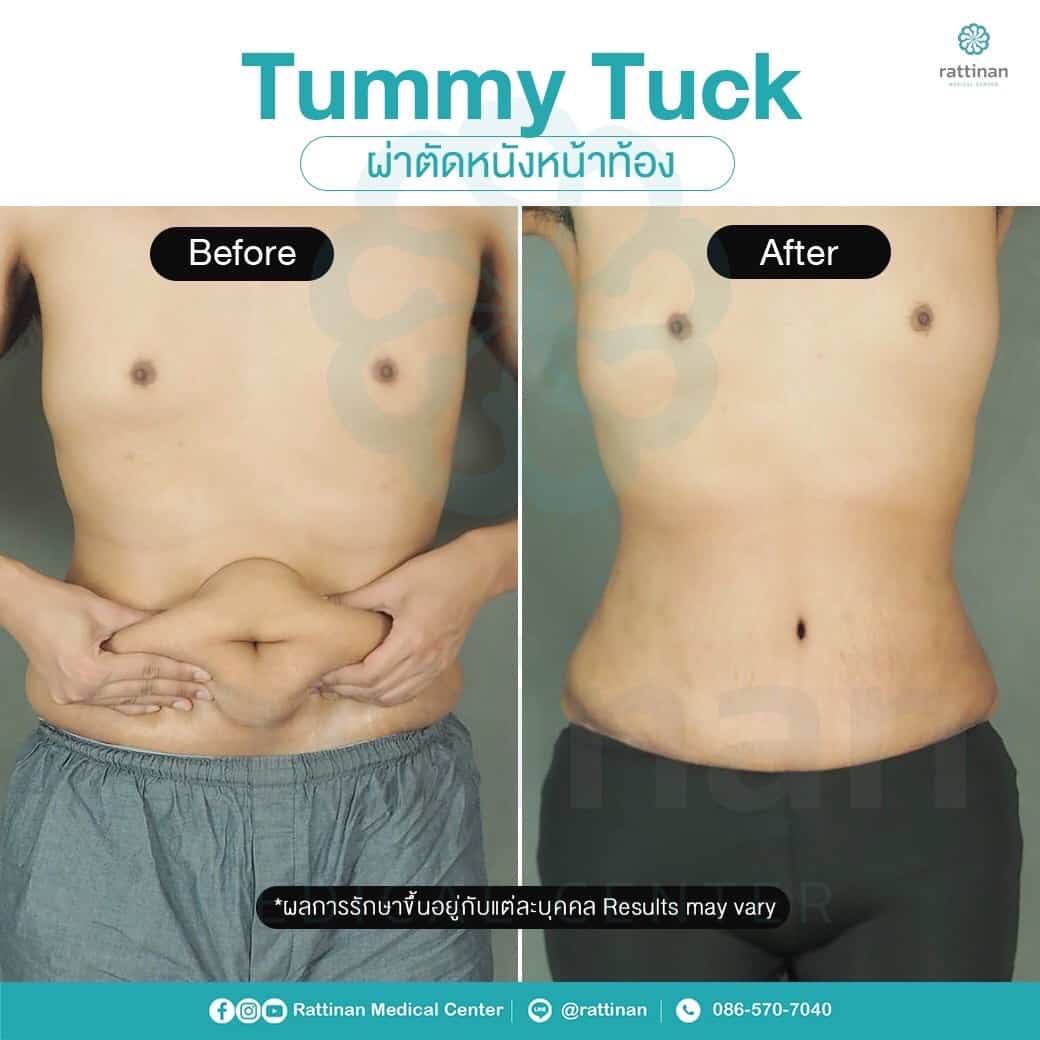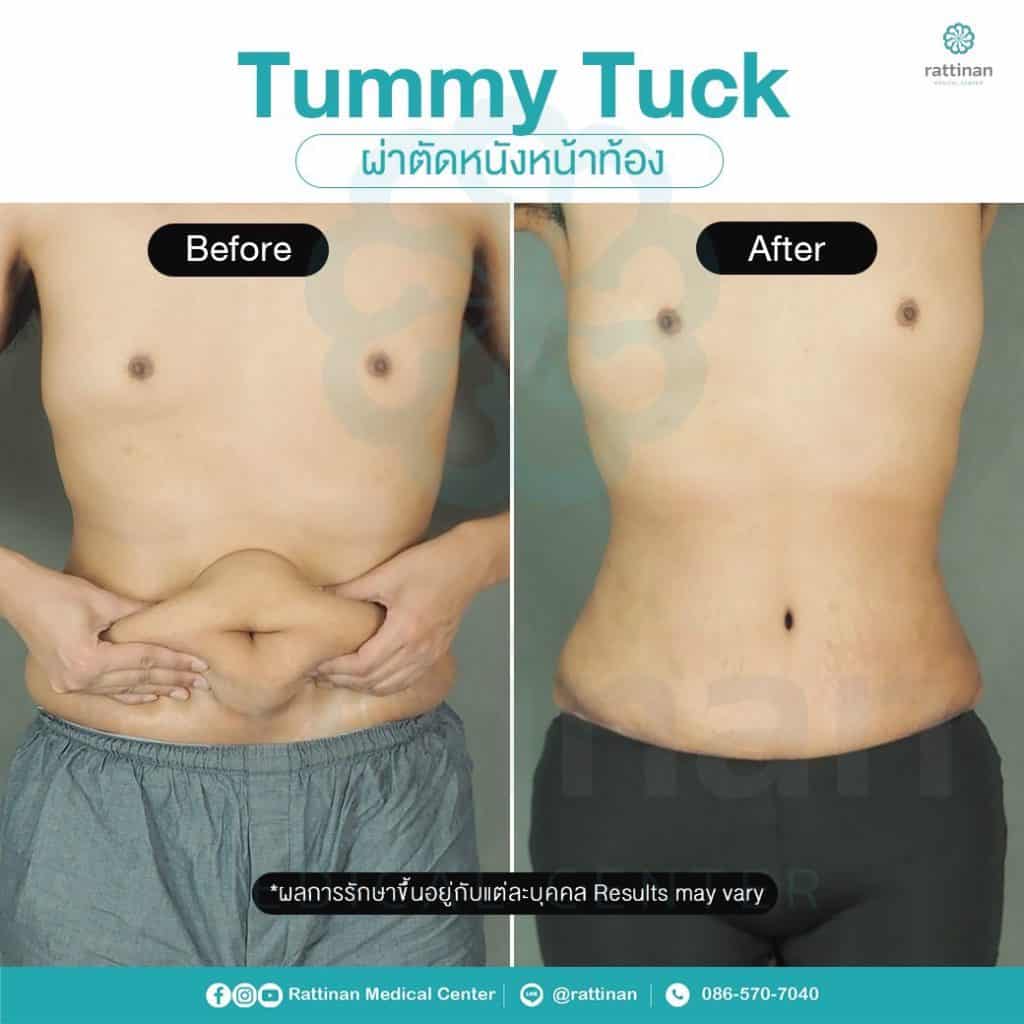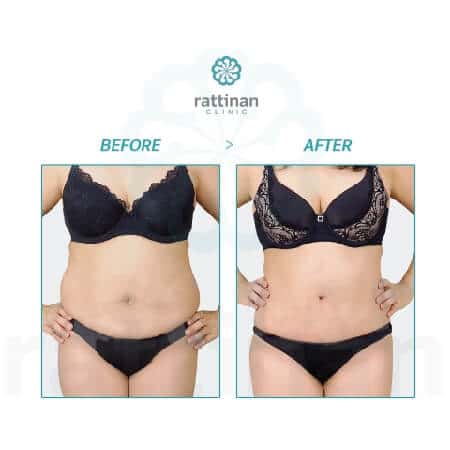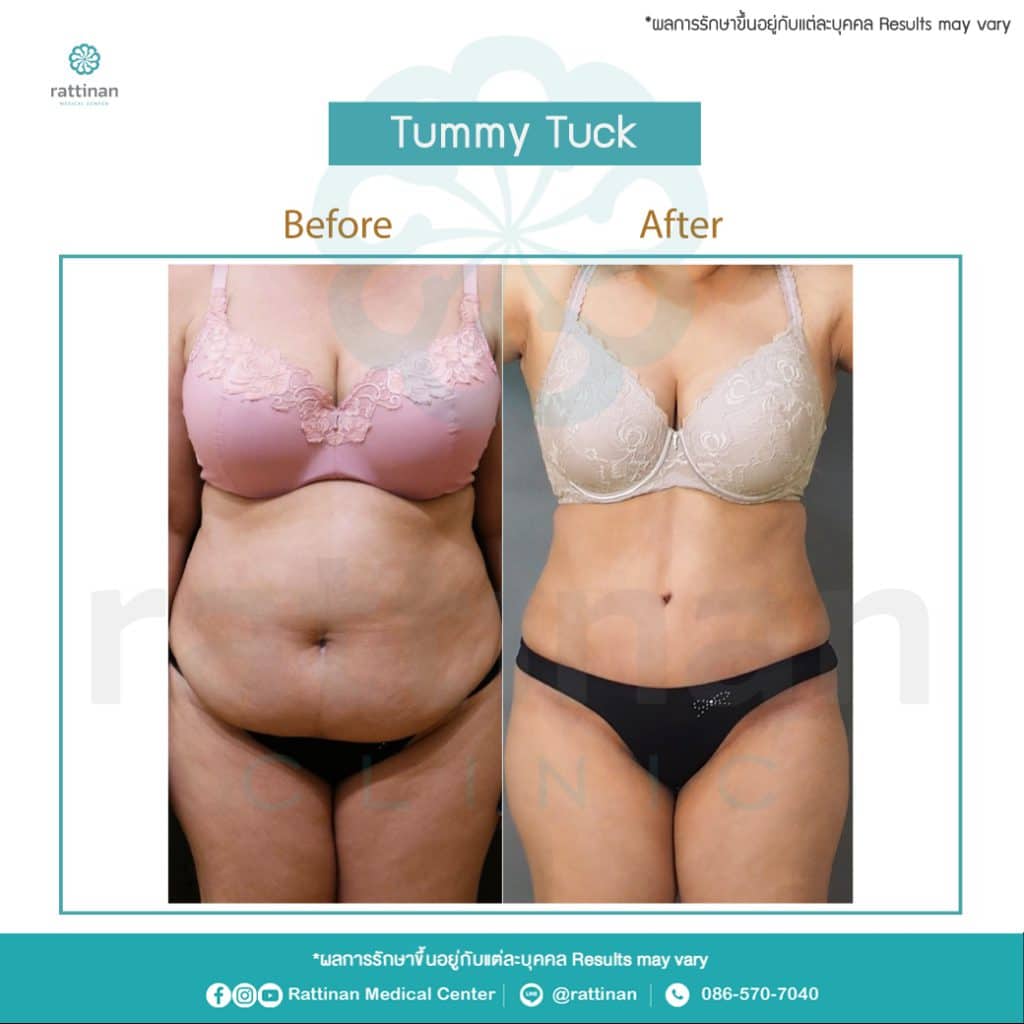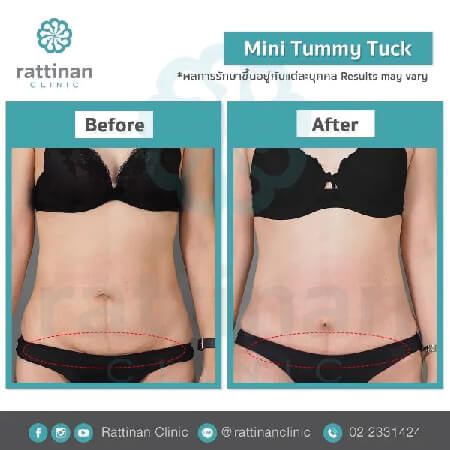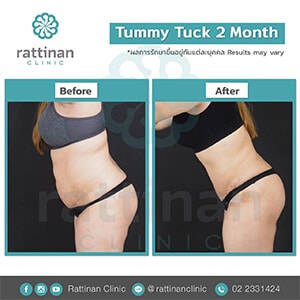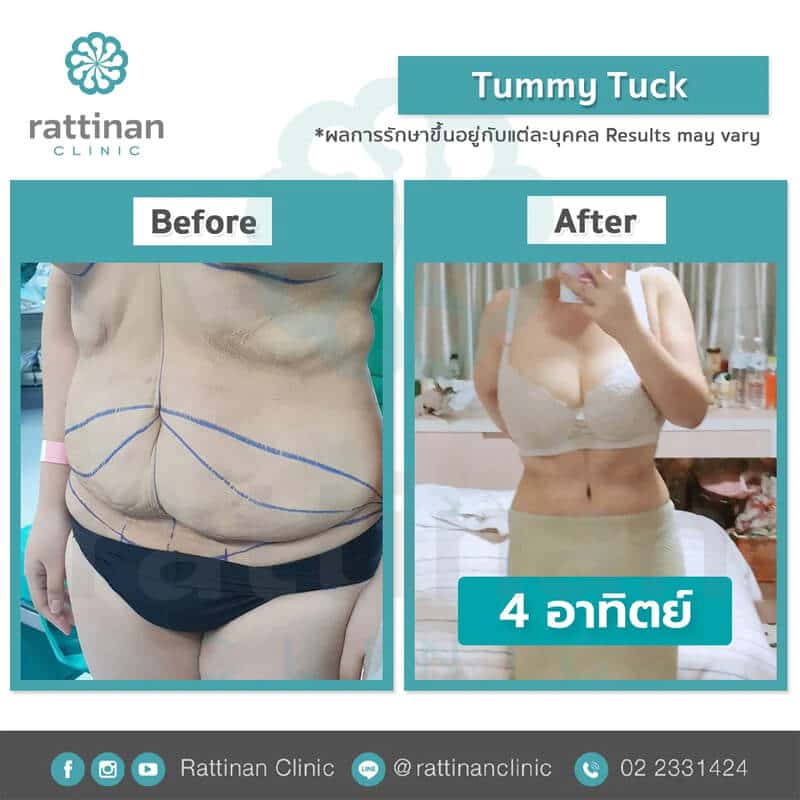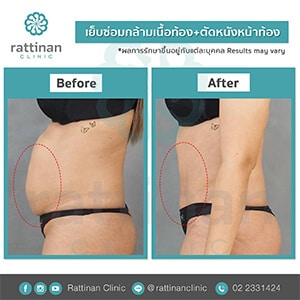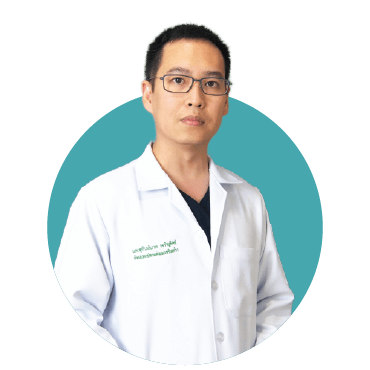 Board certified plastic & Reconstructive surgeon
The surgeon who performs the treatment
Dr. Surinnart Charoenchitt
Biography
M.D license no. 33163
Doctor of medicine (2005)
Board certified Plastic and Reconstructive surgery , Chulalongkorn University (2013)
Fellowship at Air force Military Medicine
Fellowship, Post Bariatric surgery body lifting , Geneva , Switzerland
Certificate, Buttock augmentation , Paris, France
Member of the International Society of Aesthetic Plastic Surgery (ISAPS)
Job Title
Specializations
Plastic and Reconstructive Surgery
Buttock augmentation
Tummy tuck
Arm lift
Thighs lift
Braline Backlift
Breast Lift

Operation Time
1 1⁄2 Hours

Anesthetic Method
Anesthetic


Recovery Period
1 Week After Surgery
Alert : Common complications that can occur after surgery include: Bleeding, infection Or that inflammation They differ depending on the physical condition of each person. Therefore, caution should be followed strictly.
Atmosphere Rattinan Medical Center
Clean, safe and meet international standards
Class A surgical facility
Along with a team of expert doctors
Established 1999, over 24 years of experience
Accredited by AACI (American Accreditation Commission International) 2021- current