From beginning to end we will be with you all the way on your exciting journey to a transformed life, thanks to the support network provided by some of the very best board-certified bariatric surgeons and wonderful nurses and staff in some of Thailand's and Bangkok's finest JCI accredited hospitals.
Imagine saying goodbye to all those negative feelings of self-consciousness and lack of confidence and get ready to embrace the new and positive you. Only bariatric surgery can create such a dramatic change in such a short period of time – it is one of the most effective weight loss solutions available today.
Enjoy the prospect of permanent weight loss with bariatric surgery (also known as gastric band surgery) as you say goodbye to yo-yo diets and that constant battle to keep off the pounds. From here onwards, the results are only ever going to be spectacular and life-changing for you.
Laparoscopic bariatric surgery is a minimally invasive operation that reduces the stomach capacity to a very small volume and helps a person to lose weight. The most commonly performed laparoscopic bariatric operations are the Intragastric Balloon (Balloon), Laparoscopic Gastric Banding (Lap Band), the Laparoscopic Gastric Sleeve (Sleeve) and Laparoscopic Roux En Y Bypass (Bypass) operations.
Our Value Proposition :
The surgery is done by Col. Dr. Panot Yimcharoen, an American trained bariatric surgeon with more than 30 years of Bariatric surgical experience.
Benefits include :
Hygiene and safety – The operation is done in our affiliated large hospital in a standard hospital setting
AACI accreditation
Using special technique to reduce pain with regional nerve block and Covidien's a pain pump.
The double lock technique for leakage prevention
1. Intragastric Balloon (The Spatz' adjustable Balloon)
It is relatively new, non-invasive bariatric procedure developed to "bridge the gap" between diet and exercise weight loss program and other complicated bariatric procedure. Balloon will be inserted through your mouth while you sleep (light sedation is used to ensure smooth procedure and it is NOT general anesthesia). Then, Balloon will be inflated with saline solution (salt water). Patient will return to home on the same day. One or two day off work is optional.
Balloon will be placed for 12 months and will be removed, according to the FDA's guideline.
( * Spatz adjustable balloon, Spatz FGIA Inc, USA)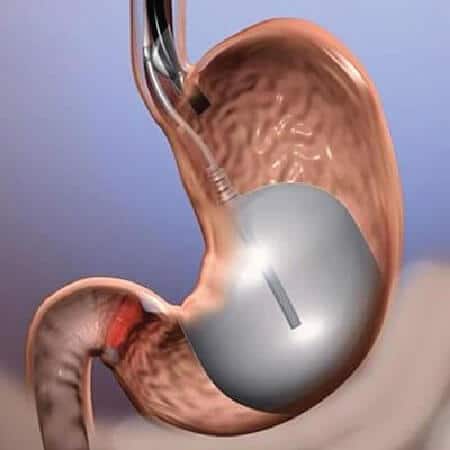 Back to the table of contents
2. Laparoscopic Sleeve Gastrectomy
The surgeon will removed 75-80% of the stomach. The remaining stomach is a tubular pouch that resembles a banana. Sleeve gastrectomy is a relatively new but has gained popularity because of its low complication rate and good weight loss results. Almost 42 percent of all bariatric surgeries performed in the United States in 2013 were Sleeve gastrectomies, which make it the most popular weight loss surgery.
How does Sleeve gastrectomy work and it benefits?
The new stomach pouch holds considerably less than the normal stomach and helps to reduce the amount of food you can eat.
It reduces a gut hormone that helps you feel less hungry. This is the main difference between Sleeve Gastrectomy and Lap Band.
Similar weight loss to Roux-En-Y bypass
Lower complication rate than Banding and bypass
Lower chance of nutritional deficiency.
Our unique techniques to ensure 0% leakage rate
Tri staple technology – Use "gold standard" of staple equipment to ensure 0% defect. Surgical staplers and stapling products from Covidien (Made in USA) enable surgeons to handle the broadest range of tissues and applications with outstanding clinical performance. The robot stapler are now being used at our center to offer the more precise cut and maintain our 0% leak rate.
Double Lock technique – Rather than finish the operation after the staplers are used. Our surgeons then push the staple line in and laparoscopically sew the stomach upon itself, thus creating an additional layer of strength. This requires more surgical time and resources but with more benefits: more strength, reduce the size of stomach for additional 5% and prevention of stomach dilation months after the Sleeve.
TISSEL tissue sealant – At the end, we additionally use TISSEEL

TISSEEL

is a fibrin sealant indicated as an adjunct to standard surgical techniques (such as suture and ligasure) to prevent leakage from colonic anastomoses following the reversal of temporary colostomies
Back to the table of contents
3. The Laparoscopic Gastric Bypass operation (also called Laparoscopic Roux-en-Y Gastric Bypass)
The Laparoscopic Gastric Bypass operation (also called Laparoscopic Roux-en-Y Gastric Bypass or Bypass surgery in short) is considered the standard operation in bariatric surgery.
It is performed by laparoscopic technique. Stapling instruments are used to construct a new tiny stomach pouch (about 15-30 ml), which is connected to the small intestine, bypassing the rest of the stomach (see details of the operation). Because it is minimally invasive, incisional pain is usually minimal.
Bypass is greatly recommend for obese patient with diabetic. Diabetic will be cured in 88% of the case due to hormonal change effect after the procedure.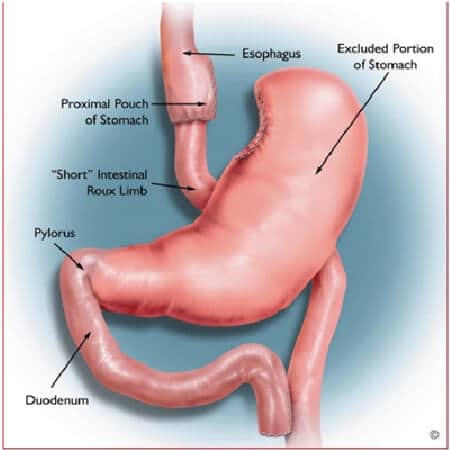 Back to the table of contents
Hospital
Surgery will be performed at one of the nation's top-ranked private hospitals in Thailand. Our operation continuously by using state-of-the-art scientific methods, modern equipment, and comprised of well-trained medical personnel. Patients and families can be assured to receive best in class services of treatments that are complied with International Standards.
Reviews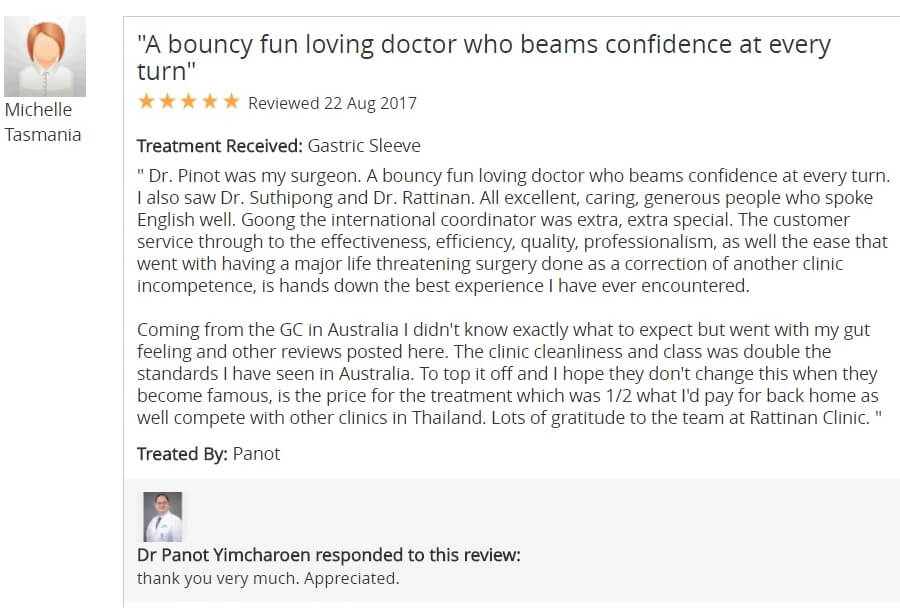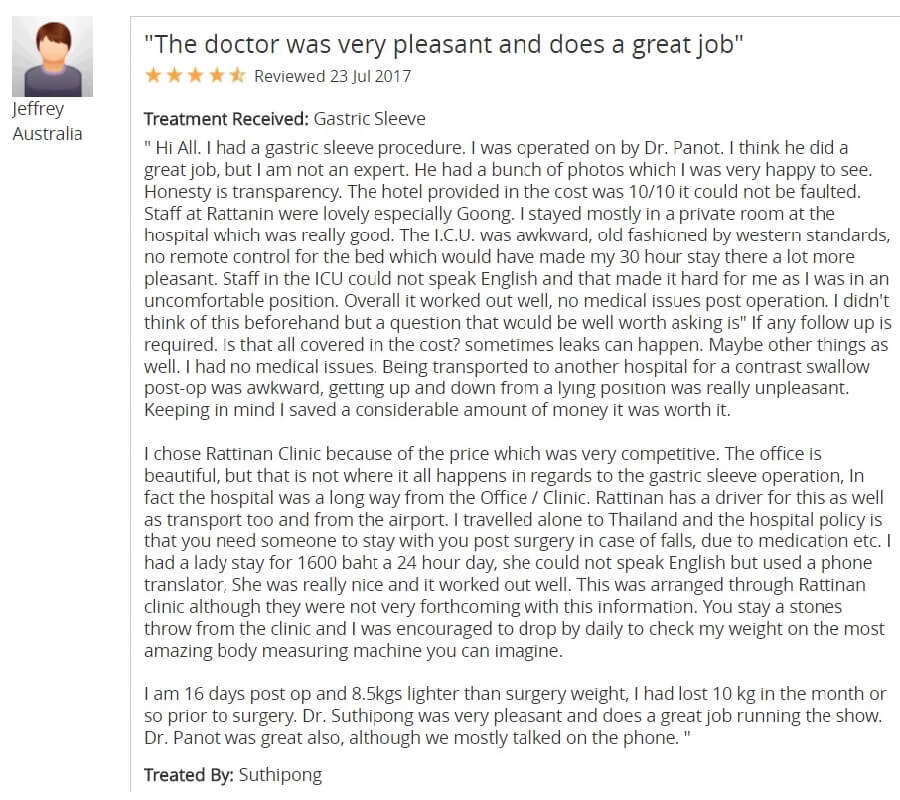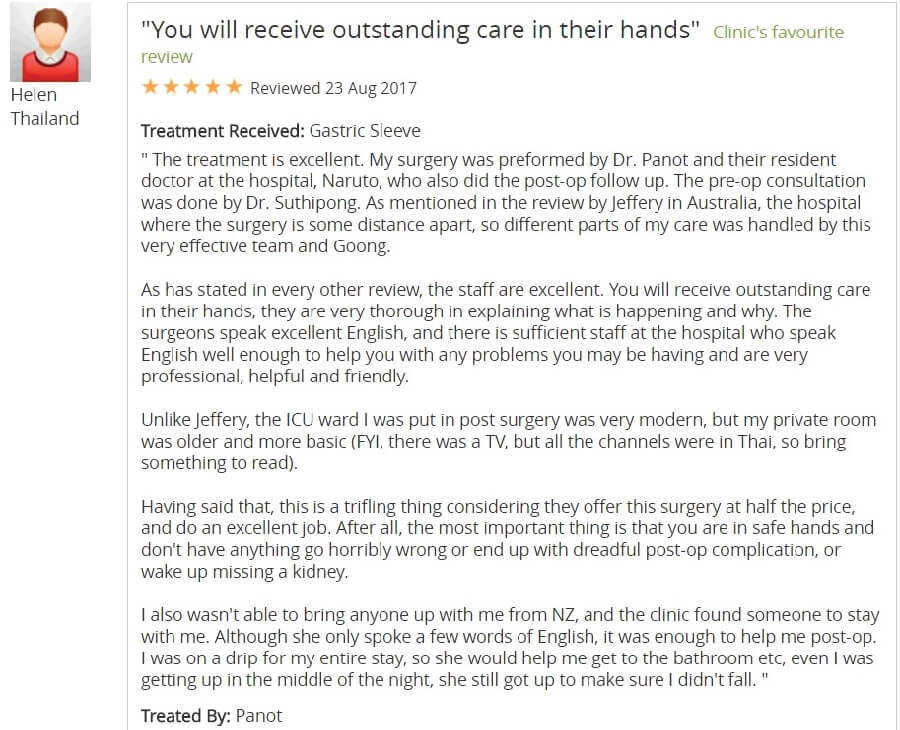 Back to the table of contents
Waiting time for bariatric surgery and stay
We usually perform the weight loss surgery with 1-4 weeks waiting time depending on patient medical condition. For Sleeve and Bypass the patient will be admitted into the hospital one day before for preparation.
After 1-2 days of the surgery, the leakage x-ray test will be performed before you can start to sip water and will be released from the hospital. Total hospital stay for weight loss surgery is around 3-5 nights. No hospital stay for Balloon.
Cost of weight loss surgery Thailand :
Why choose the Rattinan Clinic in Thailand
We offer you surgery at one of the nation's top-ranked private hospitals in Thailand. You can be assured to receive best in class services of treatments that are complied with International Standards, at affordable price.
100% success rate for all our bariatric surgeries
The best surgeons with over 20 years' experience
Thailand is a wonderful country in which to spend a few days recuperating from your surgery.
Free online consultation to understand more with the treatment option
In some cases, if the surgeon is inexperience, the patient may encounter leaks from the cut edge of the stomach or sleeve stenosis. Some may vomit after eating.
Our surgeon, Dr. Panot Yimcharoen has already performed over 1,000 cases of bariatric surgeries at Rattinan Clinic alone. Currently he also holds positions as consultant surgeon at Thai government hospital and other JCI private hospitals in Thailand. 
Other benefits of choosing Rattinan Clinic include :
Rattinan Clinic has been in operation since 1999.
Less waiting time and quick health assessment before scheduling the surgery.
After the surgery, patients will be followed up by a team of endocrinologist and nutritionist for 12 months.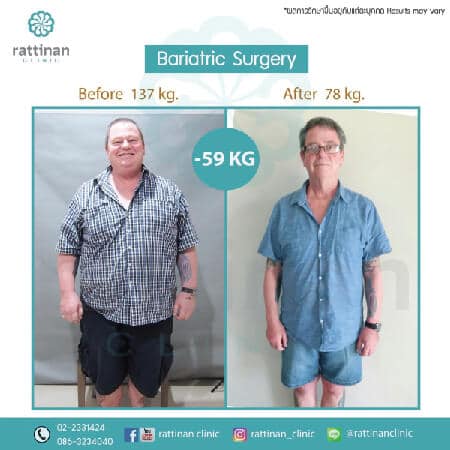 Back to the table of contents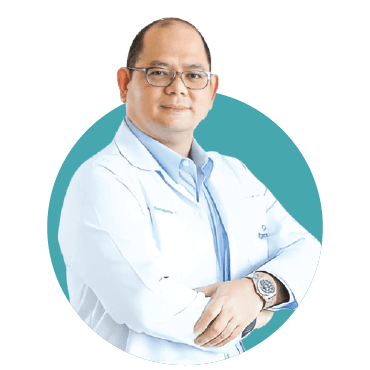 Chief bariatric surgeon
The surgeon who performs the treatment
Dr. Panot Yimcharoen
Specialty
Surgery – Bariatric surgery and Minimally
Diplomas and Educational Institutions
M.D. degree , Mahidol University. 1994
Diploma
Board certified  of General Surgery 1999
Postgraduate studies
Fellowship in ERCP, Indiana University School of Medicine, Indiana, USA, 2547-2548
Fellowship in Bariatric and Metabolic, Cleveland Clinic Education Foundation, Ohio, USA, 2552-2554
Branches of particular interest
ERCP
Laparoscopic Surgery
Bariatric surgery
Acids reflux surgery (Nissen's)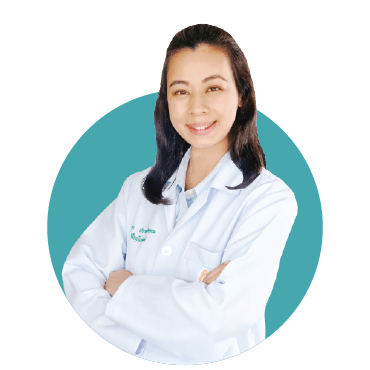 Anesthesiologist
The surgeon who performs the treatment
DR. Suchada Prapruettham
Board Certifications
M.D., Faculty of Medicine Siriraj Hospital, Mahidol University, Thailand, 2002
Fellowships
Anesthesia Residency, Department of Anesthesiology, Chulalongkorn University, Thailand, 2009
Research Fellow, Neuroanesthesiology Fellowship of the Department of Anesthesiology & Pain Medicine, University of Washington, Seattle, Washington, USA, 2013
Special Clinic Interests
Anesthesia for bariatric surgery (experience ~40 sleeve gastrectomy per year from 2016 – present, Maximum BMI 60 kg/m2)
Neuroanesthesia

Operation Time
1 1⁄2 Hours

Anesthetic Method
General Anesthesia


Recovery Period
10 days After Surgery
Alert : Common complications that can occur after surgery include: Bleeding, infection, inflammation. They differ depending on the physical condition of each person. Therefore, caution should be followed strictly.
Atmosphere Rattinan Medical Center
Clean, safe and meet international standards
Class A surgical facility
Along with a team of expert doctors
Established 1999, over 24 years of experience
Accredited by AACI (American Accreditation Commission International) 2021- current