Cosmetic Dermatology
Dr.Sasipaka Sindhusen, MD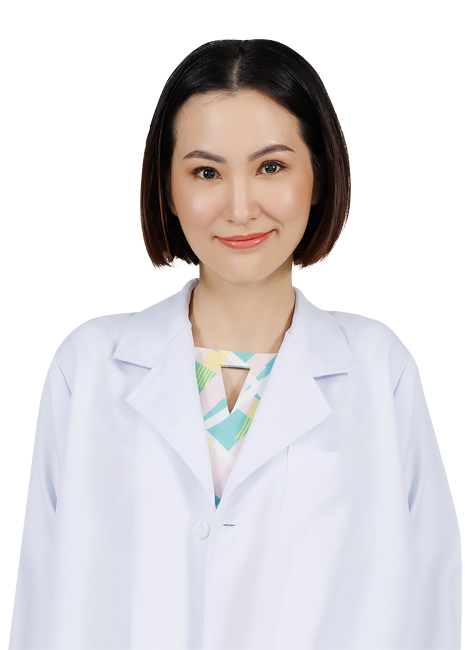 Education
2008-2014 M.D. Faculty of Medicine Chulalongkorn University, Bangkok, Thailand (honors)
2017-2021 Resident training in Dermatology, Division of Dermatology, Department of Medicine, Ramathibodi Hospital, Mahidol University
Graduations
2014 The Degree of Doctor of Medicine
2021 Certified Board of Dermatology, Ramathibodi Hospital, Mahidol University
Experience
2014-2015     Internship at Chandarubheksa Hospital
2015-2017     Internship at Wing 23 Hospital
2021   Bhumibol Adulyadej Hospital
Certificate of training
Chulalongkorn Annual Surgery & Aesthetic 2016 "Tips and Tricks in Aesthetic Dermatology"
Ramathibodi Training Course in Cosmetic Dermatology 2016, 2018, 2019
Cadaveric Workshop, Ramathibodi Hospital, 2018, 2019, 2021
Research and Publication
Wattanakrai P, Sindhusen S, Ploydaeng M. Effectiveness of an epidermal growth factor-containing cream on
postinflammatory hyperpigmentation after 1064-nm Q-switched neodymium-doped yttrium aluminum garnet
laser treatment of acquired bilateral nevus of Ota-like macules (Hori's nevus) in Asians: A split-face, doubleblinded,
randomized controlled study. J Cosmet Dermatol. 2022;21(5):2031-2037. (Top 10 Dermatological Society
of Thailand Best Abstract of Year 2021)
Sindhusen S, Chanprapaph K, Rutnin S. Adult-onset linear discoid lupus erythematosus on the forehead
mimicking en coup de sabre: a case report. J Med Case Rep. 2019;13(1):350.
Special Clinical interests
Profile of other doctors