Chin augmentation is not necessarily difficult to understand, but it can be difficult to make it beautiful and match the face. Some people undergo a lot of revisions but are still not satisfied, or some people only did it choosing the trendy shape. For example, sometimes pointed chin is popular and sometimes slightly dimensional chin is more popular. The more revisions made, the more skills required for the plastic surgeons.
Achieve an Attractive Chin at Rattinan Clinic
Why chin augmentation? Nowadays people pay attention to looks first. Those who look attractive may get more advantages either in love or in their career. Having a beautiful appearance attracts others and makes them want to get to know you.
In this changing world, people are more into the fashion and beauty no matter how old or young they are. Many people have higher beauty standards than in the past, and many people are paying attention to their looks more than ever. Thus, many choose to undergo plastic surgery procedures to enhance their look.
Procedures include breast augmentation, eyelid surgery, rhinoplasty, "chin augmentation," and more. All of these procedures share the same purpose – to increase the confidence of new generation. Dr. Surinnath from Rattinan Clinic has shared some tips on chin augmentation as initial information for those who are considering pursuing this procedure.
Who Is the Ideal Chin Augmentation Candidate?
Generally chin augmentation suits individuals who have a round face or unsymmetrical face proportion, such as having the upper facial structure with forehead or cheek bones that point out but have recessed chin. Chin augmentation can help add more dimensions to the face. It also suits those who would like to contour their face to a more oval shape, which is trendy these days. Chin augmentation also enhance the personality and features.
Back to the table of contents
How Should I Prepare for Augmentation?
There are two techniques – non-surgical and surgical augmentation procedure.
Let's begin with surgical augmentation.
There are two types of surgical augmentation:
Silicone Implant
If it is hidden incision augmentation, the surgery will be done from the inner or inside the mouth. This technique is very popular right now. As for the surgery from outside, sometimes a scar is left under the chin.
Sliding Genioplasty or Jaw Move
For this technique, apart from giving a good result for beautiful chin, there is a benefit which helps with snoring because the jaw bone is connected to the breathing and air flow. When it was moved, the ventilation path will be widened. This technique can be costly as it is a lower jaw bone surgery and should be done only be a specialist.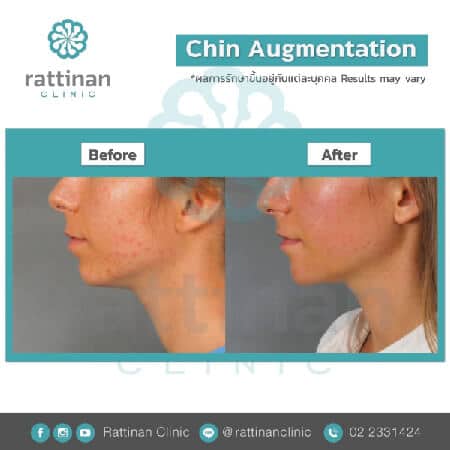 Back to the table of contents
What Is the Post-Op Care for the Incision?
The process is not complicated. Just take the antibiotics prescribed by the doctor and keep the cleanliness by frequently mouth washing. The incision will heal quicker and not risk for infection.
The period that must be closely taken care of is during the 7 days before the stitches are removed. After that, the patient can return to daily activities.
If ones would like to wear makeup, they can do so. It is important to be careful as to not bump into the chin area.
Avoid some extreme sports that could be a problem as the implants could stick out.
*For beautiful shapes, patients should be careful not letting their chins hitting anything for the first three weeks of post operation to avoid swelling, deform and inflammation.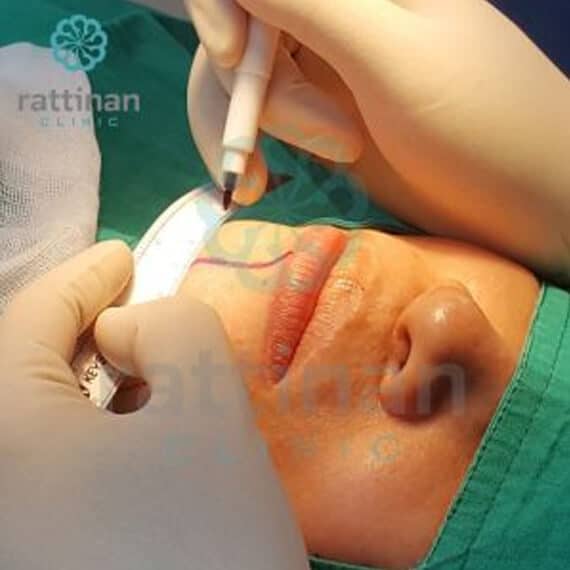 After Chin Augmentation, Can One Rest One's Chin on One's Hands?
Yes, once the area has healed. During the early periods of post-op recovery, it is important to avoid this because of the risk of inflammation.
What Other Procedures Can Be Combined with Chin Augmentation?
For a comprehensive improvement of the lower fat, chin liposuction and buccal fat removal may be performed with chin augmentation.
Meet the Doctor
Consult with Dr. Surinnart Charoenchitt – Board Certified Plastic & Reconstructive Surgeon. Our clinic provides many choices, from filler to silicone implants, so the patients can choose what they like. If not confident whether implant will be suitable choice, a patient can try filler first. If they are satisfied, then can do more. If they feel that it is not quite right, waiting for just a few months, the filler will melt away and the face will return to the shape before the injection. Start your journey today when you contact us to schedule a consultation!
Back to the table of contents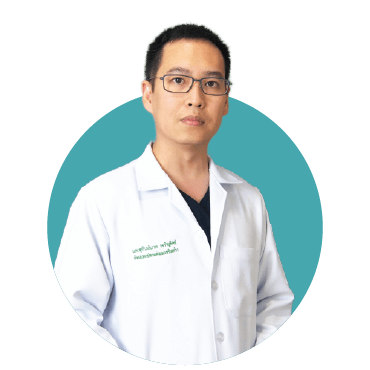 Board certified plastic & Reconstructive surgeon
The surgeon who performs the treatment
Dr. Surinnart Charoenchitt
Biography
M.D license no. 33163
Doctor of medicine (2005)
Board certified Plastic and Reconstructive surgery , Chulalongkorn University (2013)
Fellowship at Air force Military Medicine
Fellowship, Post Bariatric surgery body lifting , Geneva , Switzerland
Certificate, Buttock augmentation , Paris, France
Member of the International Society of Aesthetic Plastic Surgery (ISAPS)
Job Title
Specializations
Plastic and Reconstructive Surgery
Buttock augmentation
Tummy tuck
Arm lift
Thighs lift
Braline Backlift
Breast Lift

Operation Time
1 1⁄2 Hours

Anesthetic Method
Anesthetic

Stay in Hospital
1 Day

Recovery Period
1 Week After Surgery
Alert : Common complications that can occur after surgery include: Bleeding, infection Or that inflammation They differ depending on the physical condition of each person. Therefore, caution should be followed strictly.
Atmosphere Rattinan Medical Center
Clean, safe and meet international standards
Class A surgical facility
Along with a team of expert doctors
Established 1999, over 24 years of experience
Accredited by AACI (American Accreditation Commission International) 2021- current