Morpheus 8 is a cutting-edge facial lifting innovation that effectively reduces subdermal fat and can be customized to target various skin issues such as wrinkle reduction, smoothing of textured skin, tightening of sagging skin, and treatment of scars.
The best part? It's a non-surgical solution. However, it's crucial to understand the innovation's pros and cons and determine its suitability for your needs before undergoing the procedure.
Morpheus 8 - The Latest Non-Surgical Lifting Innovation
Morpheus8 – Get to Know the Latest Skin Lifting Innovation
Morpheus 8, created by InMode in the United States, is a cutting-edge technology that reduces wrinkles and lifts skin without surgery. It utilizes Fractional Microneedle RF radio energy to stimulate the skin layer with 24 coated pins. Its Multi-Layer Technology allows for the adjustment of pin depth from 1-4 millimeters to target individual skin issues such as uneven skin tone, wrinkles, sagging skin, and scars.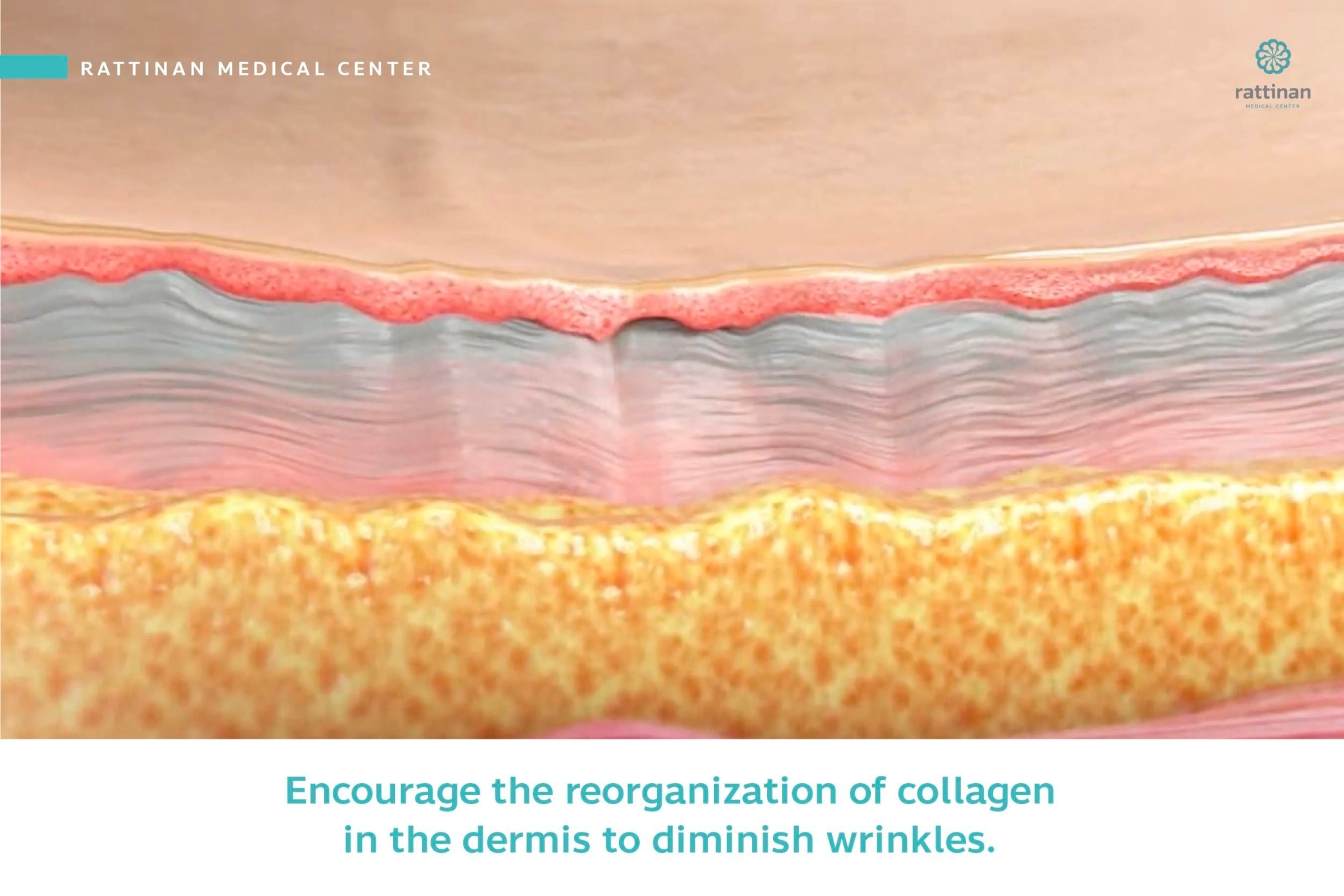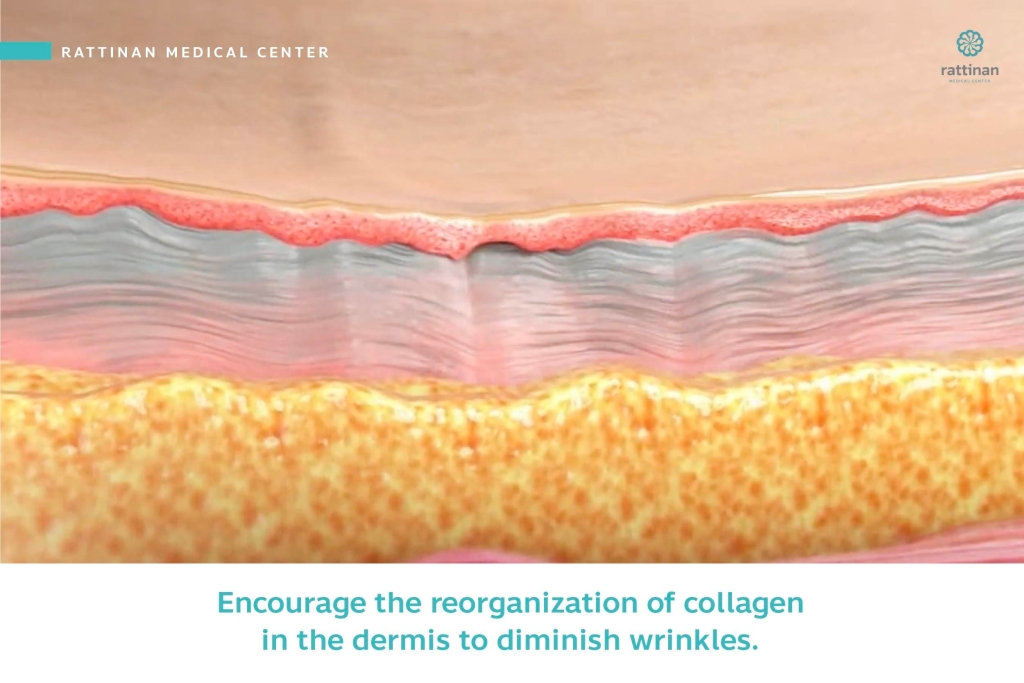 Moreover, Morpheus 8 has the ability to decrease the subcutaneous fat layer, resulting in its reduction. It has received approval from the US Food and Drug Administration (FDA) as the deepest fractional technology that can penetrate the skin, reaching the fat layer underneath. As a non-surgical skin lifting method, it is completely safe.
At Rattinan Medical Center, Morpheus 8 stands out for its precision and ability to deliver optimal results. Dr. Rattinan Treeratana, a skin and laser treatment expert with over 20 years of experience, has carefully analyzed and customized the machine's operation to address specific individual concerns. You can rest assured that the service will yield satisfying outcomes from the very first visit.
The Operational Mechanism of Morpheus8
Morpheus 8 is capable of customizing the operational mode, energy output, and pin depth to match an individual's skin condition. It employs bi-polar radio frequency delivered via coated pins to perform fractional skin treatments, which strengthen the skin in the targeted area by reorganizing the underlying tissues.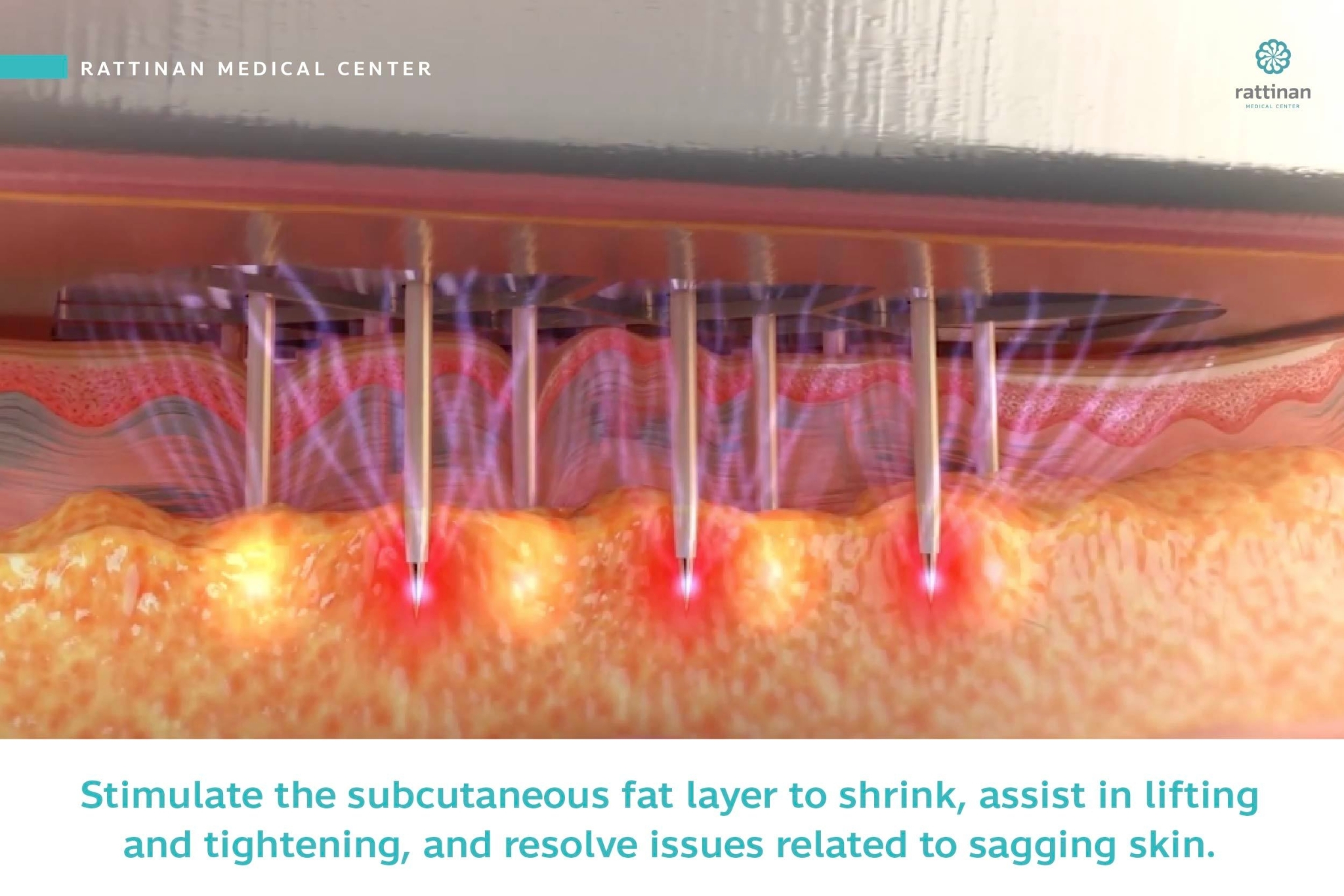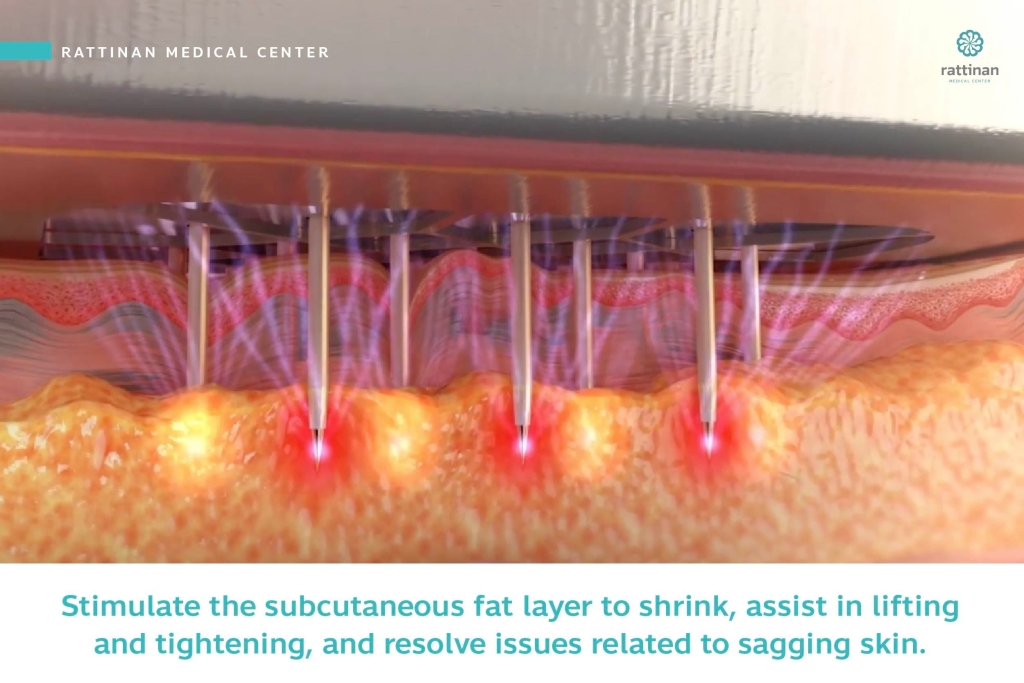 This versatile treatment utilizes Fractional technology and can be applied to multiple body regions, including the face, neck, chest, middle back, knees, elbows, and other folds, effectively addressing wrinkles, creases, and sagging. It is particularly beneficial for individuals with multiple skin conditions, such as facial and neck wrinkles, chubby cheeks, and excessive jowls.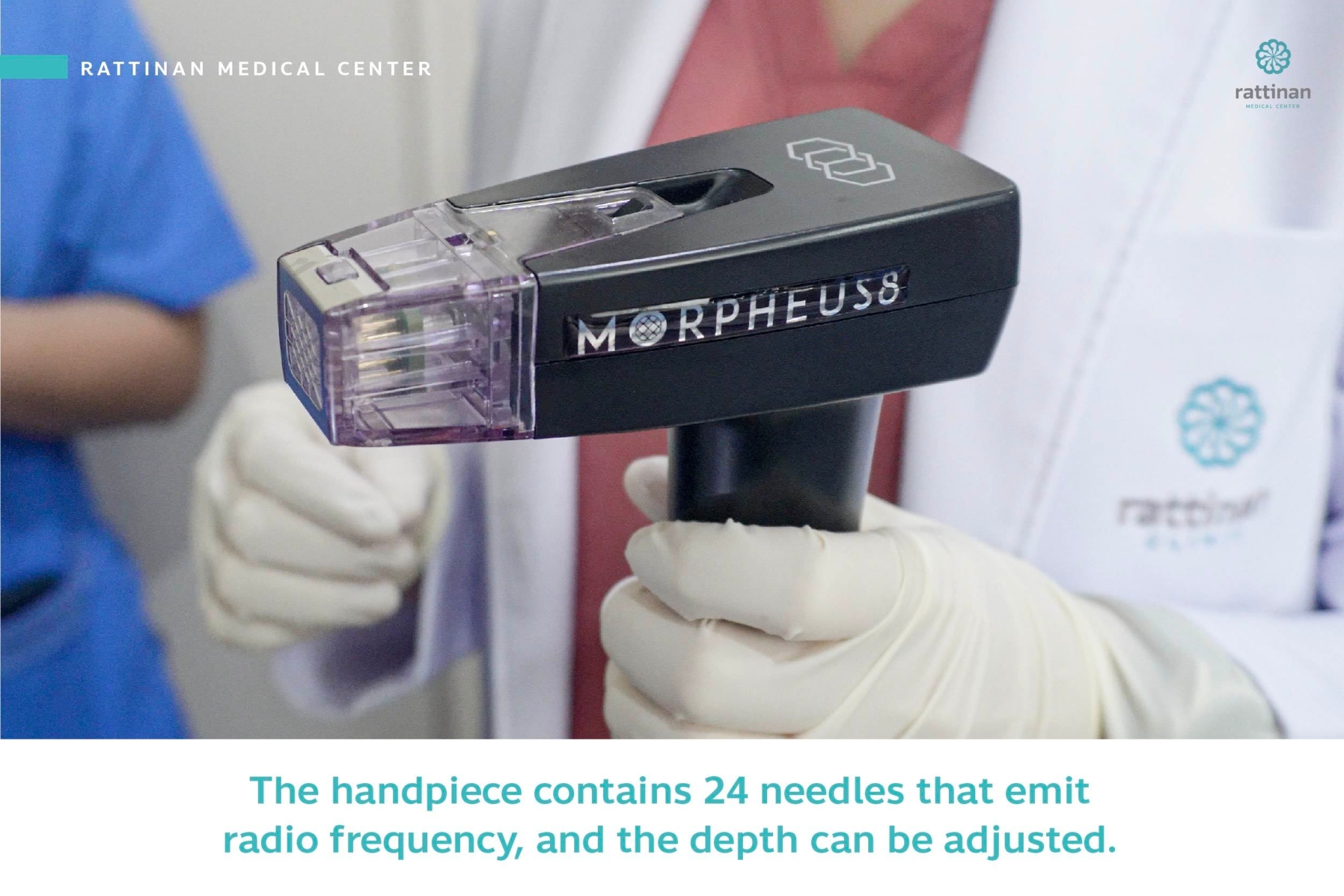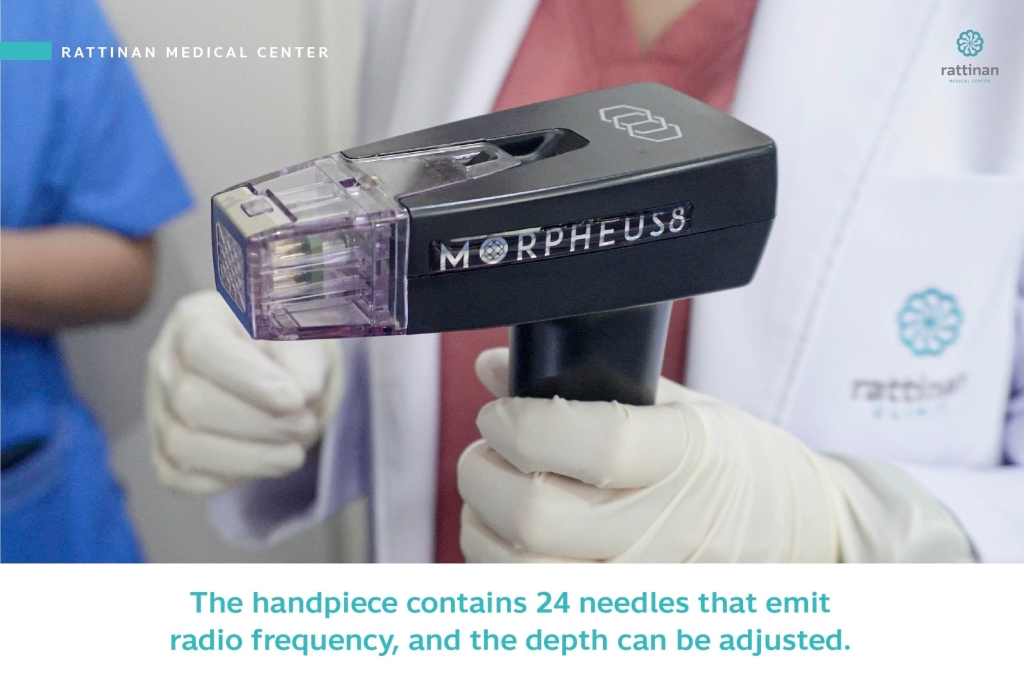 To ensure safety and effectiveness, the handpiece is packed in a sterilized envelope using a gamma system (GAMMA sterilized) and is intended for single-use only. Once used, it will be promptly discarded.
This technology allows for the adjustment of energy values. Therefore, it is essential that a physician with expertise in the treatment area customizes the mode to suit each patient's needs. This approach ensures optimal results that meet individual needs and are achieved with the highest efficiency.
How Morpheus 8 Can Benefit Your Skin?
The benefits of Morpheus 8 can be divided as follows:
Stimulates the formation of collagen in the dermis layer, making the skin look younger and smoother naturally.

Helps shrink the subcutaneous fat layer and make the face slimmer.

Helps lift and tighten sagging skin.

Stimulates the process of creating hyaluronic acid, which adds moisture to the skin, making it look plump and youthful.

Helps reduce wrinkles on the skin.

Helps heal scars, such as surgical scars and uneven skin.

Adjusts skin color regularly and reduces skin pigment production.

Helps solve the problems of large pores, acne scars, and rough skin.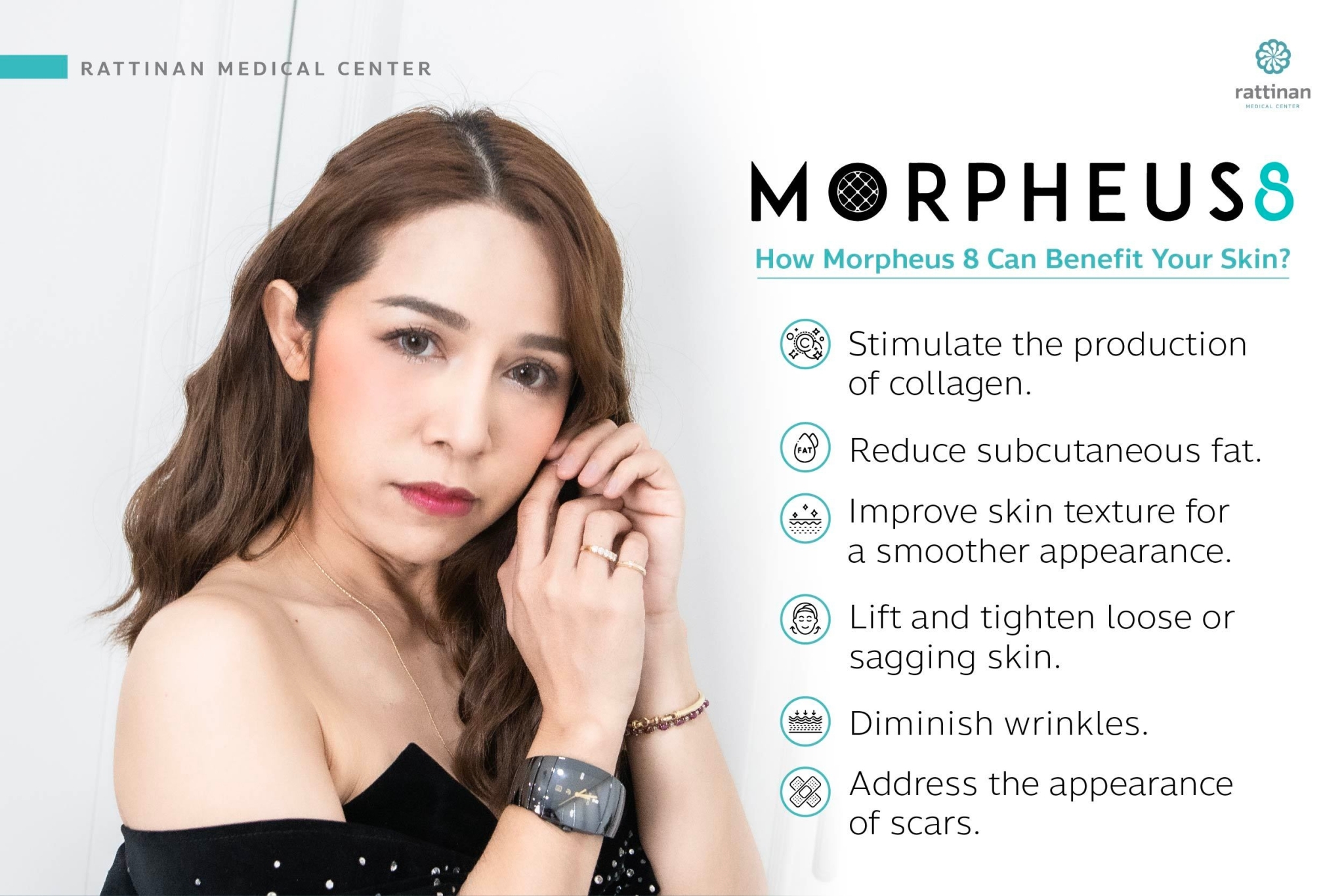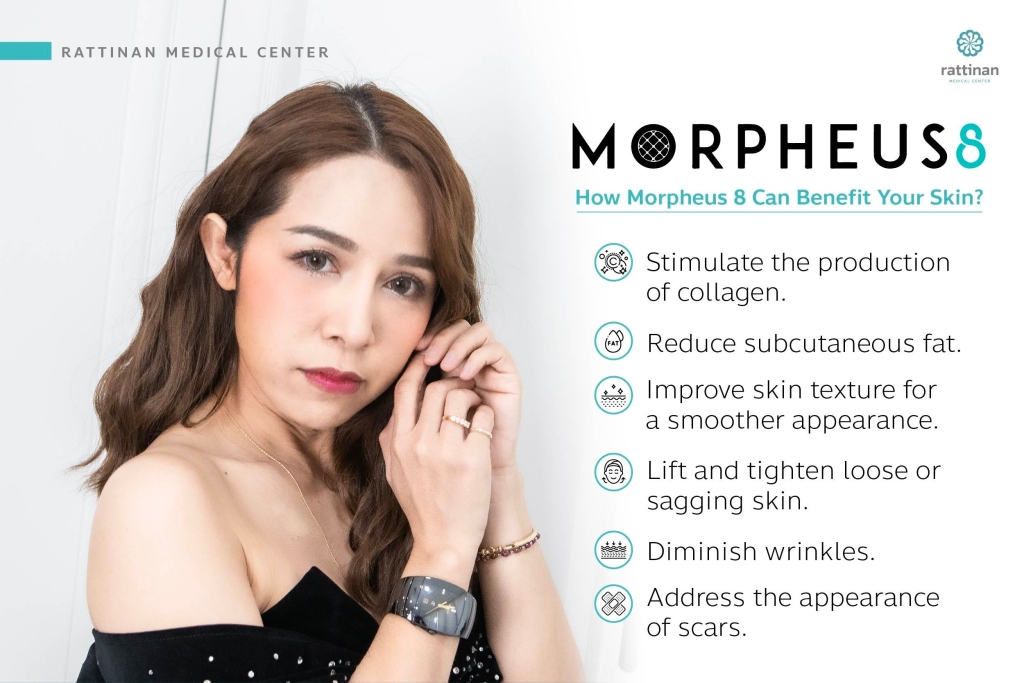 Who is Morpheus 8 suitable for?
Morpheus 8 can address various skin concerns, and it is suitable for the following individuals:
Individuals who have hollow temples or cheeks can benefit from this treatment.
The procedure is also suitable for those with wrinkled or droopy eyebrows.
Those with pronounced smile lines or nasolabial folds can also see improvement with Morpheus 8.

Individuals seeking to reduce wrinkles

Those with scars or uneven skin tone

Those seeking to even out their skin tone

Those with sagging or loose skin

Those with excess fat around the cheeks or jowls
Individuals who may not be suitable candidates for Morpheus 8:
Individuals with a pacemaker, internal defibrillator, or any electronic device in the body
Those who have undergone surgery involving metal plates, screws, silicon, or deep injections of chemicals into the periosteal layer and have metal in their bones
People who have received mesotherapy for a clear face, Meso fat, or other fillers should wait for at least 6 months, and for Botox, at least 1 week
Individuals with a history of or undergoing treatment for skin cancer, other types of cancer and tumors, as well as other skin diseases.

Pregnant and breastfeeding women

Individuals with hair in the treated area

Those who have exposed their treated skin to sunlight within the past 2 weeks
What areas can Morpheus 8 treat?
It can be used at various points to address problem areas such as wrinkles and sagging. These problem areas may include the entire face, forehead, under the eyes, eyebrows, temples, cheeks, under the chin, neck, underarms, knees, and sagging abdomen.
Is Morpheus 8 painful?
A single shot of Morpheus Eight releases all 24 coated pins at once, penetrating the skin and retracting instantly in a fraction of a second. This process can cause little or no pain, depending on the individual, but some patients may feel a warm sensation or experience slight bumps on the skin. Additionally, we offer an anesthetic service prior to administering Morpheus Eight, which greatly reduces any potential discomfort.
What results can be achieved from Morpheus 8?
After undergoing a Morpheus 8 treatment, the skin will appear lifted, with the full extent of the results becoming visible after three months of treatment. These results can last for a period of 6 to 12 months.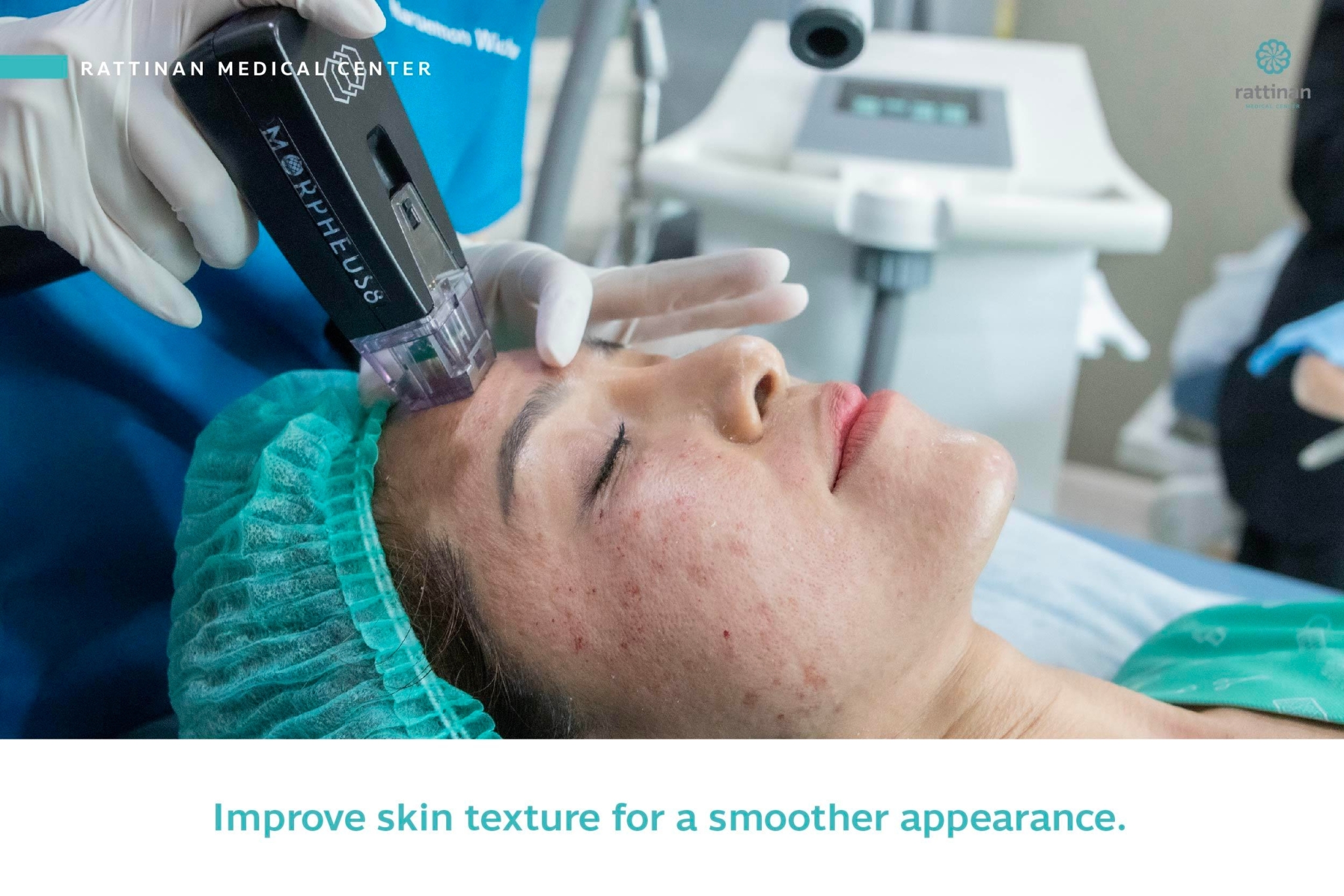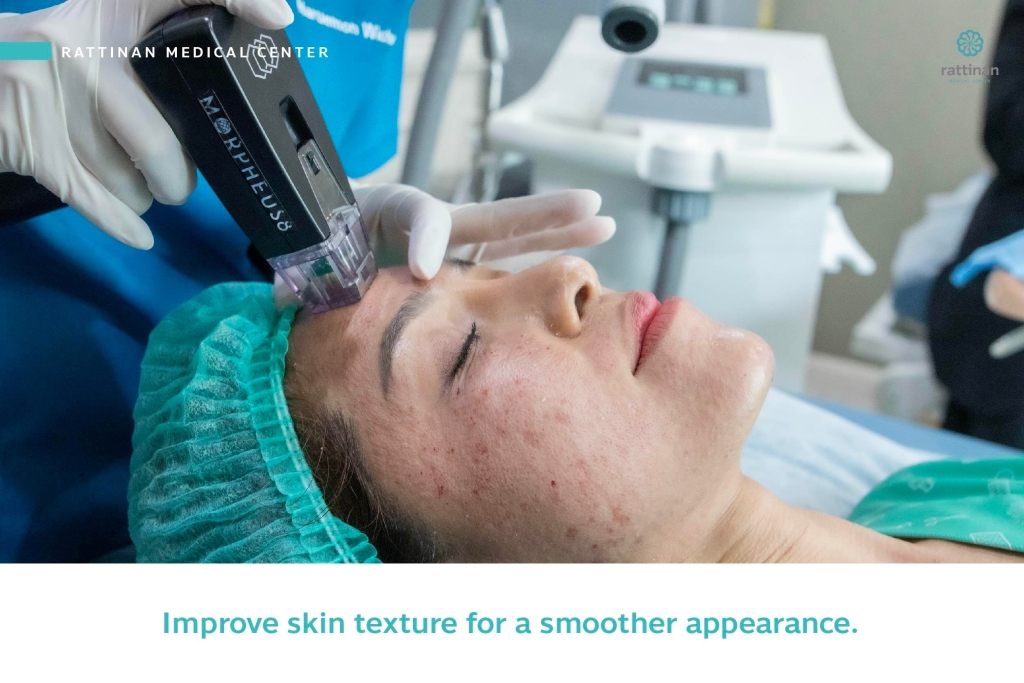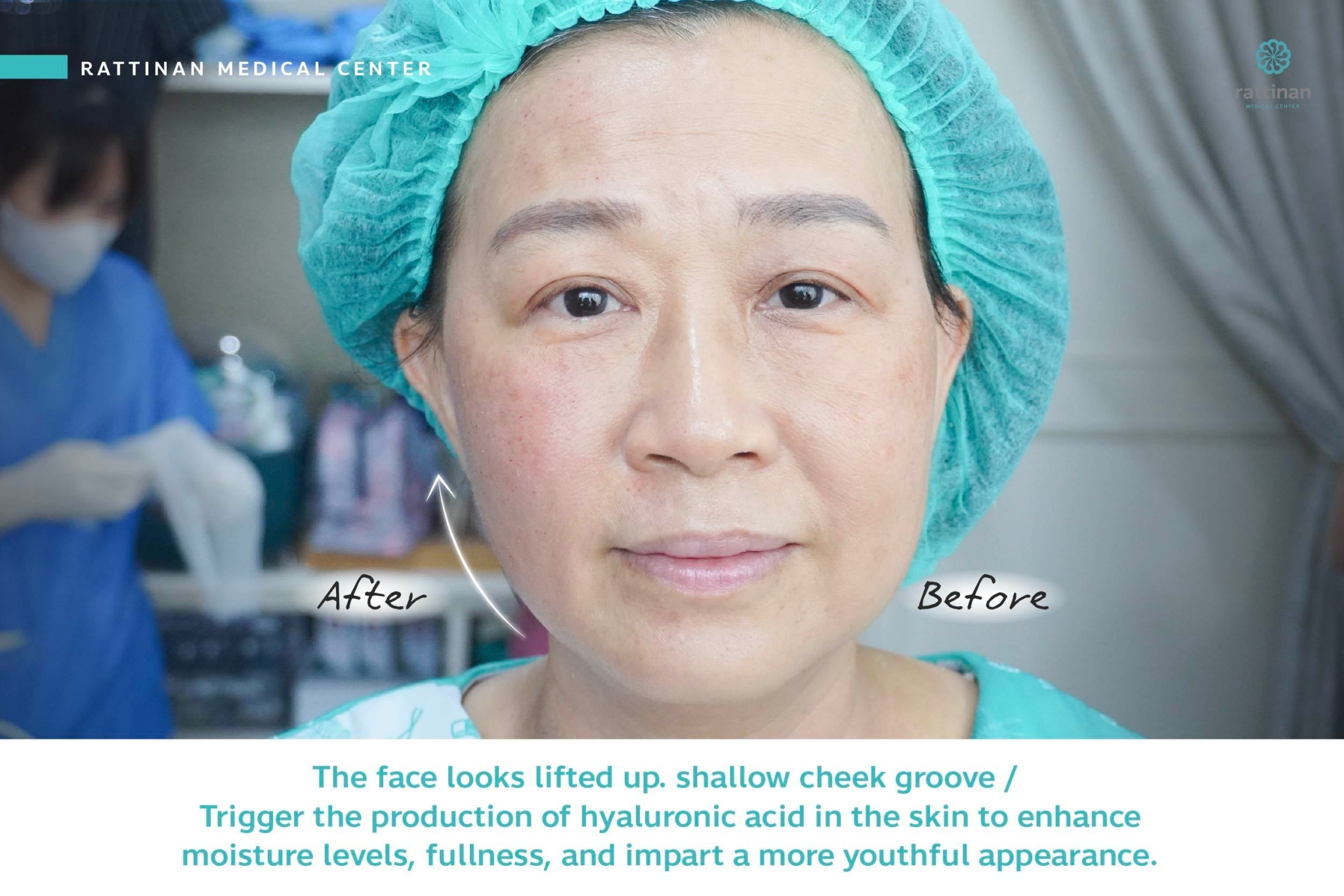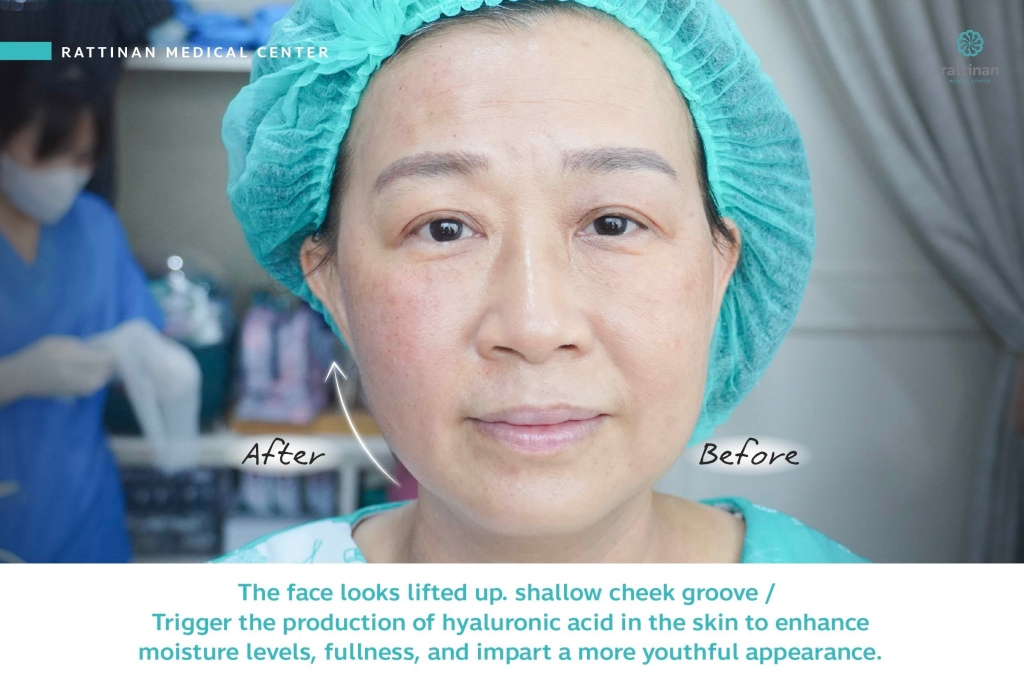 What is the frequency of Morpheus 8 treatments required to achieve visible results?
Patients should undergo this treatment at least twice a year since the results are not permanent. However, patients can maintain the results in the long term and receive the service as frequently as recommended by their treating physician.
What are the possible side effects of Morpheus8?
After undergoing Morpheus 8 treatment, patients may experience the following side effects:
Redness and swelling may occur, but typically subside within 24 hours.

Flaky skin may develop, which can naturally shed within 1-2 weeks.

It is important to follow the doctor's instructions for post-treatment care.
Advantages of Morpheus8:
Morpheus 8 is effective for addressing a range of skin concerns across all skin layers, including uneven texture and reduced fat layer thickness.
The long-term results of Morpheus 8 treatment can minimize the need for frequent follow-up procedures and save on overall costs.
Morpheus 8 offers adjustable modes to address specific skin issues, resulting in a personalized and effective treatment experience.
The handpiece used in the Morpheus 8 procedure is designed for single use only and is disposed of after each treatment to ensure safety and hygiene.
Morpheus 8 is a non-surgical procedure that does not require any recovery time.
Disadvantages of Morpheus8:
The treatment cost for Morpheus 8 may be relatively higher compared to other lifting procedures due to the various adjustment modes and the use of a single-use firing handpiece.
Due to the pin-piercing nature of Morpheus 8 to deliver heat energy, it is not recommended to perform other procedures such as Botox or filler injections on the same day.

The lifting results are not permanent, but they can last for 6-12 months.

The treatment should only be provided by a medical professional.
How are Ulthera, Thermage, and Morpheus 8 similar and different?
All three technologies aim to provide lifting, but while Morpheus 8 uses RF radio frequency technology like Thermage, it allows for the selection of the skin layer for energy emission, which is similar to Ultherapy.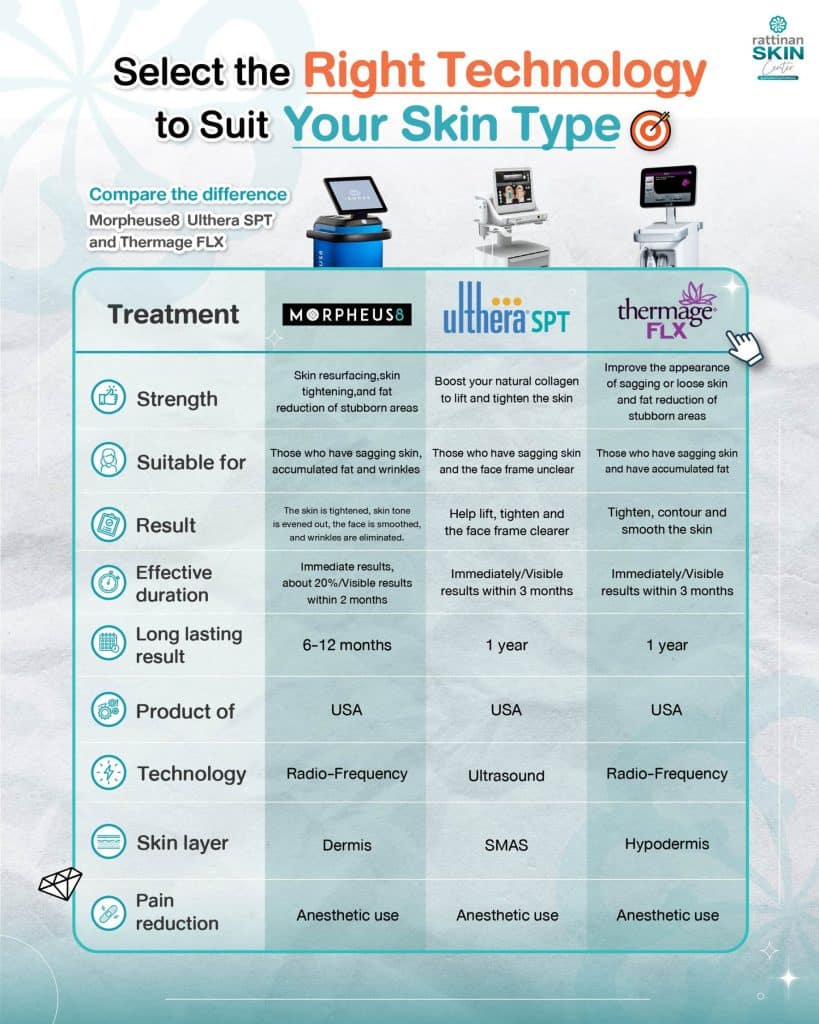 Can Morpheus 8 Work with Other Procedures?
Combining Morpheus 8 with other procedures, such as facial injections with Botox, fillers, mesotherapy, or other procedures that use energy waves to lift the skin, is generally not recommended as it may reduce the effectiveness of either procedure.
On the other hand, Morpheus 8 can be safely used with stem cell injections for skin rejuvenation. This approach can help repair and heal the skin more effectively and quickly, utilizing the body's own cells.
Recover Wrinkled Skin and Make the Skin Fuller with Morpheus 8
Preparation for Morpheus8:
The treatment is suitable for all skin types, including dark skin.

Avoid exposure to strong sunlight for at least 2 weeks before the treatment.

Refrain from outdoor activities that may cause skin irritation.

Avoid taking dietary supplements or anticoagulants for at least 1 week before the treatment.

Do not scrub or exfoliate the skin in the treatment area.

Do not apply makeup before the treatment.
Steps to Receive Morpheus8 Treatment:
The provider will apply a topical anesthetic to the treatment area approximately 45-60 minutes before the procedure. The anesthetic will be wiped off before the treatment begins.

A medical professional will use the Morpheus 8 device to deliver radiofrequency energy to the targeted area.

Patients may experience mild discomfort, irritation, slight swelling, redness, and bleeding during the treatment.

During the treatment, the provider may use a cold air dryer to soothe the skin.
Upon completion of the treatment, the provider will apply a cold compress to the treated area for 20 minutes to calm and comfort the skin.

To prevent accidents from radio frequency, jewelry or metal should not be worn in the treatment area.
Self-Care after Morpheus8 Treatment
:
After the procedure, the staff will apply a cold compress to make the skin more comfortable. It takes about 20 minutes, after which you can take care of yourself as follows:
Use Healing Ointment or Antibiotic Ointment to nourish the skin by applying it for 1-3 days after treatment.

Avoid touching the treated area with your hands or anything for at least 24 hours.

Do not wash your face or use wet tissues to wipe the treated area for at least 24 hours.

After 24 hours, the treated area can be washed normally.

Apply antibiotics every time after washing your face or before applying makeup.

Apply sunscreen with SPF 30 PA+++ to protect your skin from sunlight.

Avoid strong sunlight for 2 weeks after treatment.

Refrain from outdoor activities such as exercise, sauna, and swimming for at least 2 weeks.

After the skin becomes flaky, apply moisturizer or skin cream.
Where should I get Morpheus 8 treatment?
A specialist doctor with experience in both skin and laser treatments should provide Morpheus 8, which is a non-surgical skin lifting procedure that utilizes the latest technology. This is essential to ensure accurate assessment and performance of the procedure. It's also important to choose a reliable and clean facility that meets reasonable standards and pricing. When selecting a provider for Morpheus 8 treatment, it's recommended to avoid choosing a provider solely based on cost and instead choose one based on the qualifications and experience of the doctor. Additionally, reading reliable reviews can provide insight into the quality of service provided by the facility.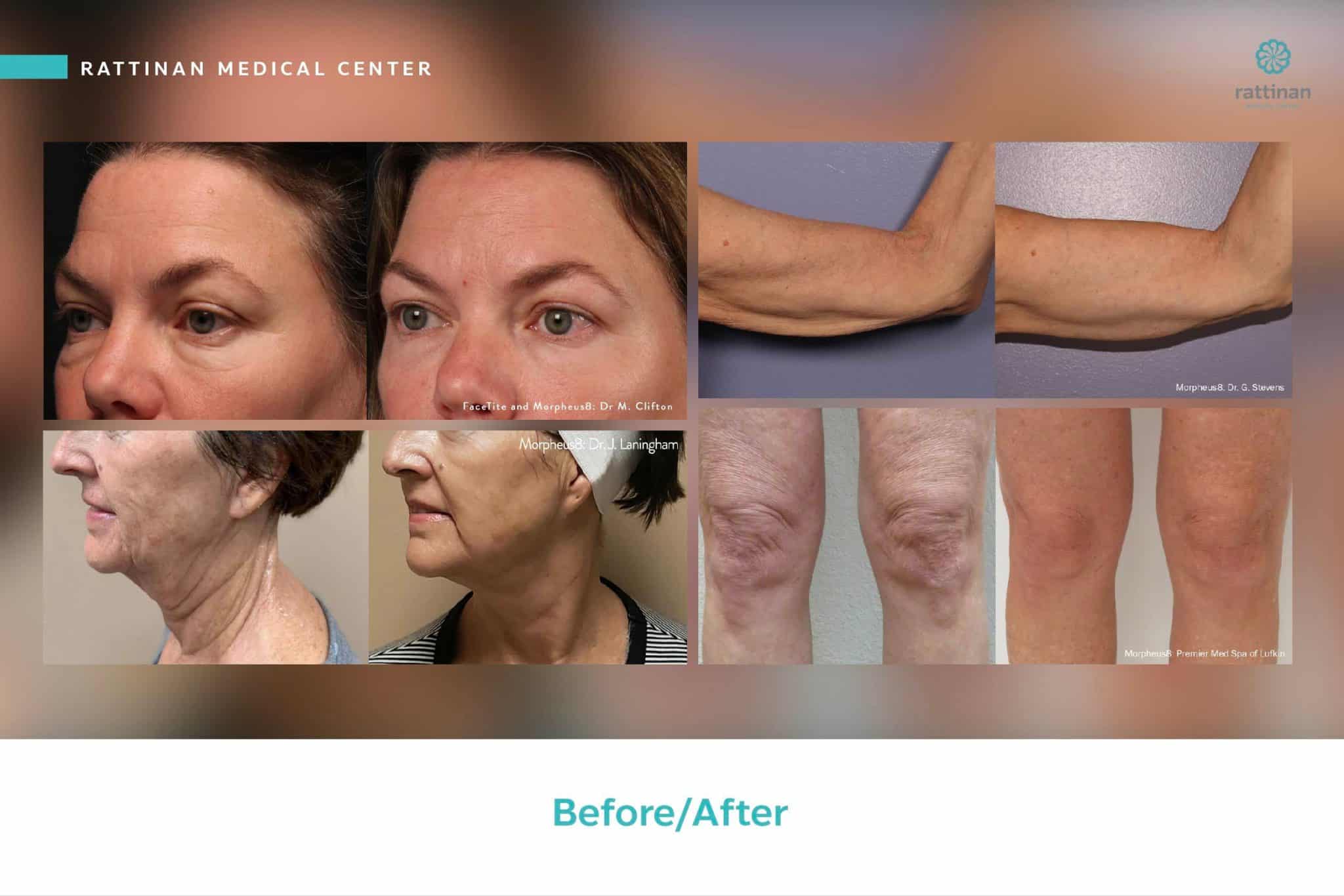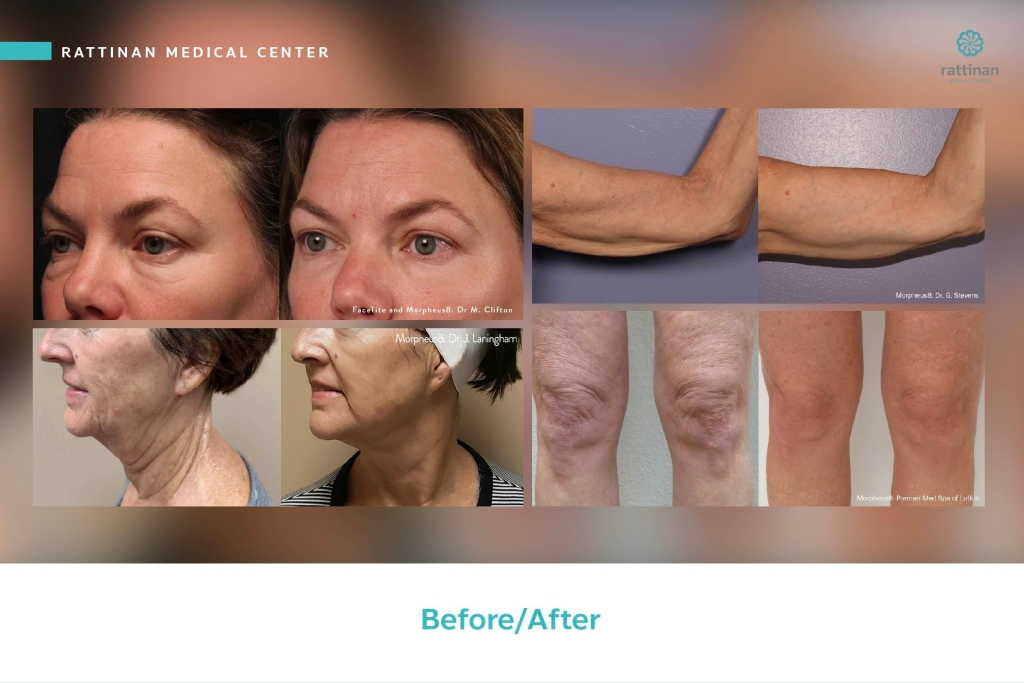 How Much Does Morpheus 8 Cost?
When it comes to the cost of Morpheus 8, it can vary depending on the location. However, it's important to consider the following factors to ensure the price is appropriate:

Care is provided by specialist doctors with specific experience.

There are service rooms and facilities that are safe and standardized.

Modern tools and technology are available.

You can consult with a doctor directly.

There are clear reviews available.
Rattinan Medical Center offers Morpheus8 treatments starting at 35,000 baht for the face, neck, and body. The treatment includes customizable areas such as the abdomen, waist, hips, inner and outer thighs, arms, flanks, and breasts. The prices for each area may vary depending on ongoing promotions, so we recommend checking with our staff for the current prices before scheduling your treatment.
Dr. Rattinan Treeratana, an expert with over 20 years of experience in skin and laser treatments, supervises the use of the latest Morpheus 8 technology at Rattinan Medical Center. This ensures the provision of standardized services, safety, and confidence in the results.