Even if you are healthy, it can still be very difficult to get rid of fat in some body parts, especially the abdominal area. Many body-conscious people try different options in order to have beautiful abs so they can show abdominal muscles. The innovative Sexy Line liposuction technique (also known as 11 line ab) is another alternative that can help them achieve this new aesthetic and strong look. To learn more about this innovative procedure, contact the team at Rattinan Medical Center today and schedule a consultation!
What is Sexy Line?
Sexy Line, also known as "11 lines abs," is a term used to describe the line down the middle of a female's abs and the side lines. These muscle lines are slightly visible, mostly called by the media as the "Number 11" or "11 line abs" as the line looks like the shape of the number 11, which is different than six-pack abs in male bodybuilding.
How Can It Be Done?
When performing Sexy Line with the liposuction technique, the doctor will assess each individual and draw the lines on the patient's body to mark out the natural lines and where to harvest the excess fat and create 11 line abs. The doctor will use BodyTite and microAire techniques on the targeted abdominal area to suck out the excess fat and on particular parts to tone the areas along the muscles to create beautiful abdominal abs.
A drainage tube will be inserted within the incision site to drain any excess fluid and blood. After 2 hours in the recovery room, the patient can walk and resume their daily activities. The patient will wear a compression garment to reduce bruising and swelling. Antibiotic and painkilling medication will be provided. The drainage tube will be removed 2-3 days after the operation. Recovery typically takes 1-2 weeks while swelling may last from 6- 12 months. The patient can return to work within 3-5 days.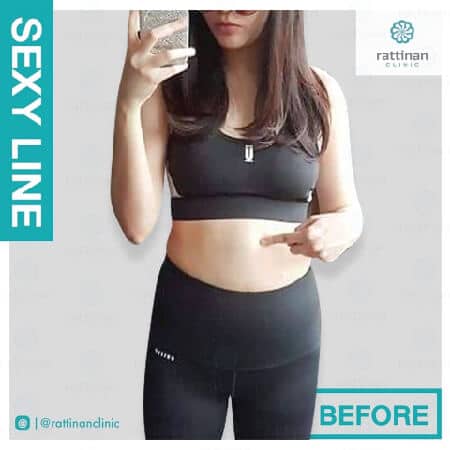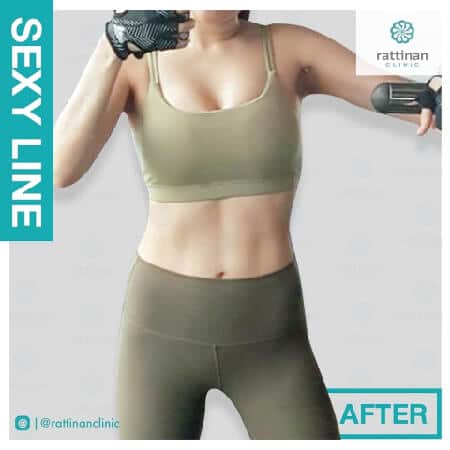 Understand First That Sexy Line Can Be Created, But It Needs (Close) Attention
In order to lose the stubborn fat in the abdominal area, many women try different methods, from researching on the internet to exercising. Sounds easy, right? There is a lot of information, and some even succeed in doing that, but what about most people? Of course, they will face three major challenges.
After reading or watching exercise guidance and following the instructions with 10-min daily workouts and adjusting food intakes for low calories, most people would give up. And although they may succeed, the BMI may reduce, but the abdominal fat still stays there. When doing fat exercises in specific body parts, one also needs to create some muscles to substitute the excess fat and tone one's muscles for the attractive and slimmer body.
Back to the table of contents
Why is It Difficult to Get Rid of Abdominal Fat?
Many people find that even after getting to a normal BMI and losing the weight, with some parts becoming much smaller than what was previously their standard, they still have areas of the abdomen that look too think, even though they have been exercising like crazy.
This is because the human body system wants to collect the fat in some important body parts. This is not a strange thing for other creatures. Only human beings would like to reduce fat, which is opposite to the nature of other living things. Each individual has different eating and exercising habits in each lifespan, which is why losing weight when aging brings about different results for individuals. Body liposuction, thus, is a shortcut for many women who would like to achieve the 11 abs quicker.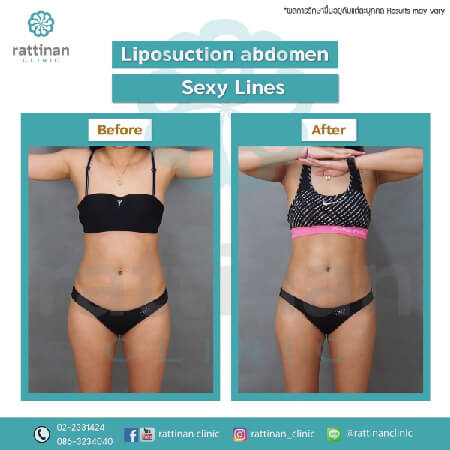 Back to the table of contents
Is Sexy Line Different Than Abdominal Liposuction?
In general, we offer abdominal liposuction to get a flat stomach (Using the BodyTite technique to eliminate stubborn fat and tighten and smooth the skin rather than other liposuction techniques). For Sexy Line creation, the liposuction technique is slightly different as the doctor will remove the fat from the designated areas in order to get the number 11 lines.
It also depends on the natural body muscle of each individual whether this look can be done. Some people choose to go for abdominal and waist liposuction at the same time so the abdominal muscle can be clearly visible.
After Getting the 11 Abs, You Need to Be Health-Conscious
The Sexy Line liposuction technique is only designed to help women get the 11 abs quicker; it does not magically create the 11 line abs line for people with excess fat. Therefore, Sexy Line may not be suitable for those who do not have a daily exercise routine. In order to keep a good result, a patient needs to control her weight and get regular exercise after recovering from the surgery.
Back to the table of contents
Why Choose Rattinan Clinic?
Experienced surgeons with more than 10,000 liposuction cases
The procedure is done in a high-standard and certified Class A operation theatre with safety and comfort in mind
AACI accredited facility since 2021
Closely monitored by the anesthesiologist
Using combination techniques of BodyTite and MicroAire PAL
Keep in mind that body-transforming BodyTite treatments are typically performed before the liposuction procedure. As a breakthrough body reshaping technology, BodyTite aims to eliminate stubborn fat and address cellulite while smoothing and re-contouring the treatment area without the downtime and discomfort associated with more invasive procedures. This cutting-edge treatment system takes advantage of RFAL™ (Radio-Frequency Assisted LipoTightening) for precise, dramatic results with the patient's safety and comfort in mind at all times.
Common treatment areas include the :
Abdomen
Hips
Buttocks
Thighs
Knees
Arms
Jawline
BodyTite may be the treatment you've been looking for to get the slimmer, contoured figure you desire. Talk to the professionals at Rattinan Clinic in Soi Phiphat, Silom, Bang Rak for more information about Sexy Line. Contact us today to schedule your consultation!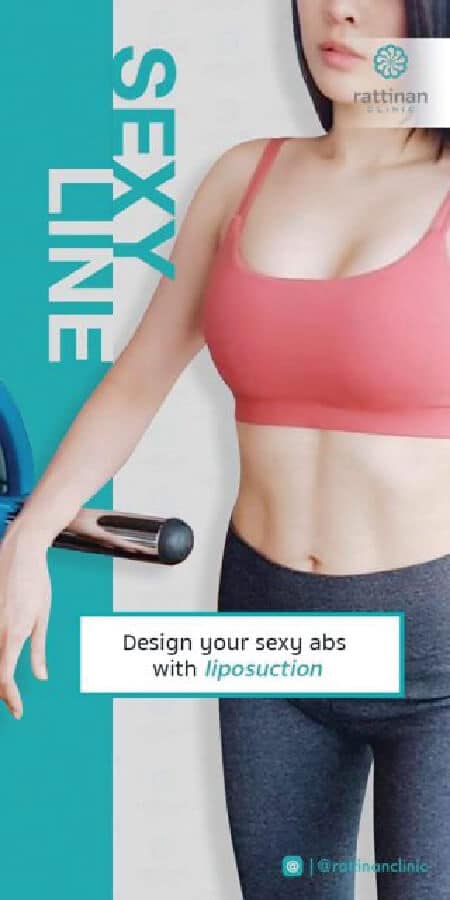 Back to the table of contents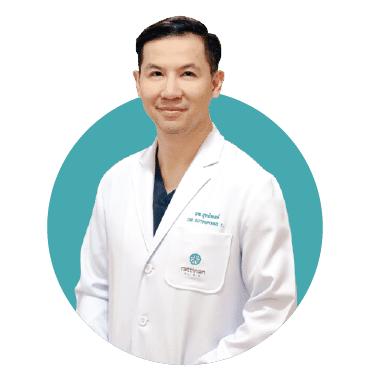 Cosmetic Surgeon
The surgeon who performs the treatment
Dr. Suthipong Treeratana
Biography
M.D , 1994 (Born 1969)
Visiting professor, Master of Science in Aesthetic Medicine, DPU
Former Executive Director, Bumrungrad International Hospital
Official Chief Medical Trainer, Bodytite & Inmode - Asia - Pacific 2012 - current
Diplomate, American Board of QA & UR, 2001
Certificate of Metabolic and Weight Management , University of Sydney  1999
Certificate of Aesthetic Medicine, American Academy of Aesthetic Medicine
Certificate of Liposuction and Fat Graft (Canada)
Diploma, Post bariatric surgery body-lifting, France
Certificate, Madrid International Bariatric Endoscopy, 2017
Member, International Society of Dermatology Surgery
Member, American Society of Bariatric Physician
Member and Instructor, TACS (Thai Academy of Cosmetic Surgery)

Operation Time
1 1⁄2 Hours

Anesthetic Method
Anesthetic

Stay in Hospital
1 Day

Recovery Period
1 Week After Surgery
Alert : Common complications that can occur after surgery include: Bleeding, infection Or that inflammation They differ depending on the physical condition of each person. Therefore, caution should be followed strictly.
Atmosphere Rattinan Medical Center
Clean, safe and meet international standards
Class A surgical facility
Along with a team of expert doctors
Established 1999, over 24 years of experience
Accredited by AACI (American Accreditation Commission International) 2021- current